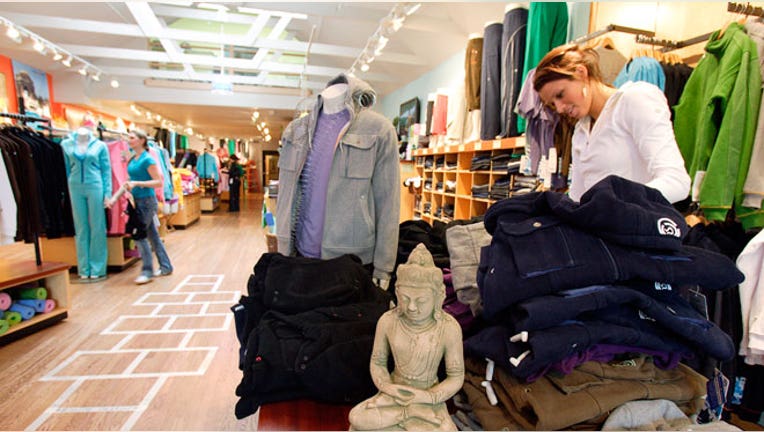 Two days after naming a new chief executive, shares of Lululemon (NASDAQ:LULU) fell close to 11% on Thursday as the yoga apparel maker issued a disappointing outlook that seemed to take analysts by surprise.
The Vancouver-based company blamed the tepid full-year view on slower-than-expected traffic and supply chain issues that have plagued the apparel company since the March see-through pants debacle.
Shares of Lululemon fell 10.5% to $61.31 in recent trade, pushing them down about 20% on the year.
The women's sports apparel company once again lowered its fiscal 2013 revenue outlook, now anticipating sales between $1.605 billion and $1.61 billion, down from $1.625 billion and $1.635 billion previously, and below the Street's view of $1.64 billion. Full-year earnings per share are estimated between $1.94 and $1.96, mostly under the consensus view of $1.96 a share.
For the fourth quarter, it estimates earnings of 78 cents to 80 cents a share on revenue between $535 million and $540 million, both weaker than the 84 cents and $572 million being predicted by analysts.
Analysts still seemed taken off guard by the guidance.
Canaccord Genuity analyst Camilo Lyon said the brokerage was "perplexed" by the  change in same-store sales trends implied by the outlook, which would imply a significant, disproportionate structural shift in the business.
Lyon also said the outlook could be overly cautious in the wake of the new CEO arrival.
UBS (NYSE:UBS) analyst Roxanne Meyer said she continues to believe Lululemon  remains one of the best long-term growth strategies, though she sees limited margin expansion.
In a statement, Lululemon CEO Christine Day spoke of 2013 as a year of  "challenges, learnings and growth" for the business.
"While our outlook for the fourth quarter is being impacted by both macro and  execution issues, I believe that the investments we are making in the business combined with the team in place create a strong platform for growth in the years ahead," Day said, who will step down at the end of the fiscal year.
Day is being replaced by Toms Shoes president Laurent Potdevin.
Despite the weak outlook, Lululemon pulled off a solid third-quarter performance, having reported a 20% increase in third-quarter sales of $379.9 million, which topped average analyst estimates of $376 million in a Thomson Reuters poll.
Same-store sales, a key growth metric, increased 5%.
Net income was $66.1 million, or 45 cents a share, up from a year-earlier profit of  $57.3 million, or 39 cents. The results topped the Street's per-share view of 41 cents.