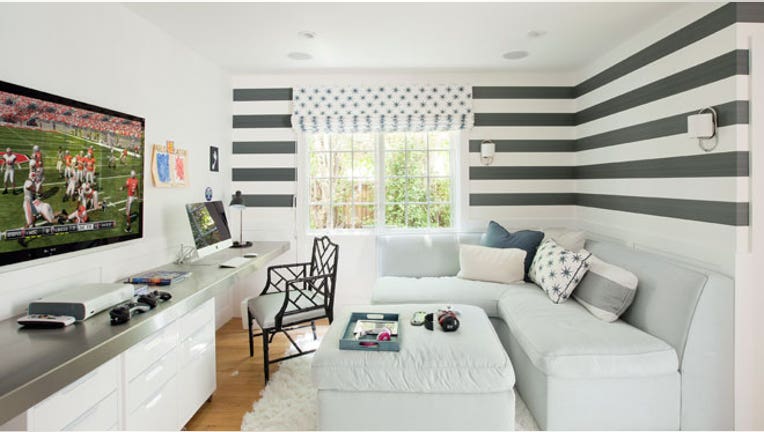 Forget about man caves. The new trend in home renovation is creating kid zones to entertain children at home.
Parents are increasingly creating functional spaces that can include enhancements like a slide, lounge chairs, or movie screen to provide a safe, fun place for their kids at home.
Chris Pollack, president of New York-based real estate investment firm Pollack + Partners, recently installed a children's playground equipped with slides and swings inside a client's vacation home. An architect who deals exclusively with high-end clients, he is also currently adjoining two townhouses for a client who has reserved one entire floor for the kids that includes a ping pong table, movie studio and a gym.
The father of two young children, Pollack plans to create an indoor kid zone for his kids when he renovates his home.  "It's not like the old days when kids would get on a bike or their skateboard."
Safety concerns are the main driver for parents who want to keep their children inside in a more-controlled environment, claims anthropologist Anthony Graesch, assistant professor of anthropology at Connecticut College and co-author of Life at Home in the Twenty-First Century.
Designers and architects echo the sentiment and say parents across the nation are looking for similar home upgrades, but not every kid zone has to come with a hefty price tag.
People work with a designer and pay anywhere from $125 to $250 or $300 a square foot or a more modest $40 [a square foot], says Wayne Visbeen president of Michigan-based Visbeen Architects. Visbeen created a DJ station for one client's son who liked to spin records and bunks hanging from chains suspended from the ceiling to accommodate a hip youngster with rock star flair.
"People can really go to town," says Visbeen who has designed about 850 homes with about 10 being really high-end.  "Spending can go as high as $1,000 [a square foot]; a blow-out teen space well into six figures."
W. Keith Campbell, a psychology professor at University of Georgia and co-author of The Narcissism Epidemic, says kid zones can serve a positive purpose. "Kids can do their thing and parents don't have to worry about them breaking the furniture."
But Campbell does worry about a kid's future. Fifteen years later she's out of college and trying to adapt to a 300 square foot apartment with two roommates in Manhattan. Families make decisions during the child-rearing years, but what will the kids have to look forward to? "My concern is the rest of life is downhill."
Still, "In our child-centric culture, it's not surprising families create a protective space in their home if they have the means to do so," concedes Graesch.
And, emphasizes Visbeen, it's more about innovation and use of space than it is about luxury.
Creating Your Own Kid Zone
Experts say parents don't need a lot of square footage to create an escape for their kids.
Parents need to balance room size with functionality and budget requirements, recommends Christine Markatos, founder of Christine Markatos Design in Santa Monica."It can be as simple as a corner or part of a room where you organize a desk space or play area."
The trickiest part may be how to best lay out the space. But Carie Smith, a designer for Baltus Collection, says stores like Pottery Barn, IKEA or CB2 have in-house staff who can help execute ideas.
Another idea is maximizing a kid's closet. Navigating around an adult-sized or height closet is frustrating, for kids, says designer Lisa Adams, CEO of LA Closet Design in Los Angeles. What's more, "the closet has been underappreciated and accepted as a shelf and a rod for far too long." She says people are now seeing closets as multifunctional spaces to put on make-up, change clothes or even hang out with friends.  "Closets are one of three rooms in a house people are really starting to care about."
Parents who have nostalgia for the "good old days" and a vision of "the Beaver" playing backyard baseball don't have to sacrifice these values—all that's changing is the setting, experts claim.
Mike Demeter has installed an indoor basketball court in his house for his sports-loving kids, and their friends and cousins. Parents play too, says Demeter, a pediatric dentist.
Dan O'Neill, a securities trader, says when his wife, Laura, and Visbeen suggested a stair landing in their vacation house be built into a compact space for the kids he "went along with the idea." Five years in, the otherwise dead space is still used for board games, chess or puzzles. As a chess player himself, O'Neill says the space offers great bonding time with his kids.
Smith, who has created several luxurious kid zones in her clients' Florida vacation or primary residences, emphasizes parents are not trying to spoil or trap their children. "Times have changed. When parents have the means they want to provide a safe place for their children to enjoy their [childhood and adolescent] years."
You can load kids with luxury, but you still need to spend time with them, says Visbeen. "Nothing substitutes for good parenting."
Whether you're working with a designer or creating on your own, here are some tips to get your kid zone started.
Take inventory. Before you begin, start editing, says Adams. Purge all unwanted items and then allocate a spot for everything.
Think ahead. Create a base that allows modifications. "If you design a room for Charlotte, remember Charlotte grows from five to 15," says Visbeen.
Consider the closet. There's a time-saving value to waking up to an organized closet. Plus, kids learn to respect their belongings and learn stuff gets put away where it belongs.
Be creative. "Being organized doesn't have to cost a million dollars," says Adams. Be sure to research stories, catalogs and websites for different storage ideas, products and furniture to create the perfect space.