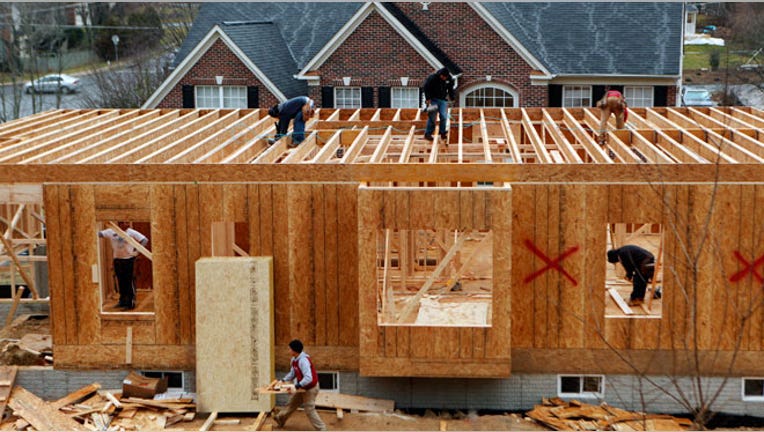 U.S. housing starts, a key indicator of the overall state of economic health, climbed to their highest level in nearly six years in November, jumping 22.7%, the biggest month-over-month increase since January 1990.
New home starts were at a seasonally adjusted rate of 1,091,000 beating forecasts of 954,000 units, the Commerce Department said on Wednesday. It's the first time in eight months and only the second time since 2008 that housing starts have been above one million. (Starts are up 29.6% from last November when the rate was 842,000.)
"The strong rise in housing starts in November is an encouraging sign that home builders have not been overly spooked by higher mortgage interest rates," said Capital Economics economist Paul Diggle in a statement. "And with starts still below the level needed simply to satisfy household formation, there is still plenty of upside for homebuilding."
"Homebuilding needs to rise all the way to 1.8 million just to meet underlying demand. We suspect that this level of homebuilding isn't as far away as many currently assume,"
The data for September, October, and November were released jointly because of delays caused by the 16-day federal government shutdown – and while the first two months were fairly flat, November's gains energized Wall Street, with Goldman Sachs increasing their fourth quarter GDP outlook by 0.2% to 2.1% after the better-than-expected housing news.
"The level of housing starts stands at a new post-recession high," said Goldman Sachs in a statement. "The Census Bureau did not suggest that any special factor was behind the large jump in November starts. Weather, which was unseasonably cold on a national average basis in November, was likely not the cause."
Housing permits, which indicate the future construction of new private residences, rose to a seasonally adjusted annual rate of 1,007,000 units, and while that number below was below the revised October rate of 1,039,000, it was higher than economists' forecast of 990,000 and the rate of permitting continues to stay at a 5-year high.
"Single family permits rose moderately up 2.1%, while more volatile multi-family permits retraced some of their solid gains in recent months [down 10.8%]," said Goldmach Sachs.
The overall positive housing report was released as Federal Reserve officials met for a second day to assess whether or not to start tapering its 85-billion dollar bond buying program after a recent round of better jobs and retail data. Some economists anticipate a taper reduction announcement from the Fed, though more forecast it will not happen until 2014.
"Although better U.S. economic data and the Congressional budget deal last week increased the possibility of a taper, we believe many on the FOMC require more evidence that the rate of growth is accelerating and inflation is firming before slowing the pace of purchases," said Barclay analysts in a statement.
Diggle said that whether or not the Fed decides to begin to taper its asset purchases, the outlook in housing construction is still upbeat.
"With household formation currently running at 1.1 million per year, second home buying around 500,000 and demolitions around 200,000, homebuilding needs to rise all the way to 1.8 million just to meet underlying demand," he said in a statement. "We suspect that this level of homebuilding isn't as far away as many currently assume."