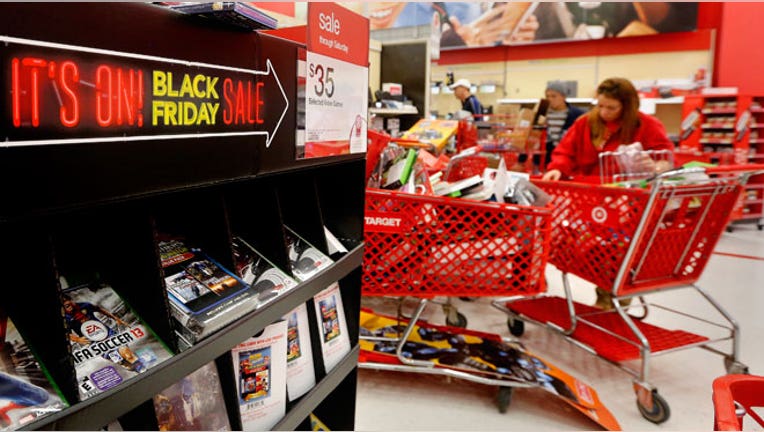 It's no longer all about Black Friday or even Cyber Monday: Stores like Walmart (NYSE:WMT) and Target (NYSE:TGT) are offering deep discounts throughout the month of November.
Walmart announced its "New Black Friday" initiative Wednesday, with sales planned from Thanksgiving morning through Cyber Monday.
Walmart's online sales will begin Thursday morning, with in-store deals available starting Thursday evening at 6 p.m. From 6 a.m. to 12 p.m. on Friday, shoppers will get 30% off CDs and Monster High toys, as well as some Samsung TVs and home audio products, among other items. The sales continue through Sunday, Nov. 30, with deals offered on tires, phones and diamond jewelry. The company says it plans to release details on its Cyber Monday specials soon.
Target Sales
Target's also spreading out its sales throughout the month.
From Nov. 23 through Nov. 29, shoppers can access deals using Cartwheel, Target's mobile app. Each day, Target will offer 50% off a different toy, as well as 25% off on more than 100 other items. The app will also have deals on select movies (60% off), bakeware sets (40% off) and board games (30% off).
Target's also going to offer a number of deals online and in stores on the Wednesday before Thanksgiving. Specific promotions will be announced on Sunday, Nov. 23.
Target is posting online deals Thursday morning, with doors opening on Thanksgiving Day at 6 p.m. On Friday, Nov. 28, shoppers can get 10% off gift cards worth up to $300 from 6 a.m. to 12 p.m. Other items will go on sale Saturday both online and in-stores, and on Cyber Monday, Target will put more than 100,000 products on sale.
Many companies have taken flack for having employees work on the holidays. Walmart is providing employees who work on Thanksgiving Day with a 25% discount on purchases made Dec. 4 or 5. Target employees who work on Thanksgiving will receive pay equal to time and a half.