Wal-Mart Error Prices Computer Monitors at Steep Discount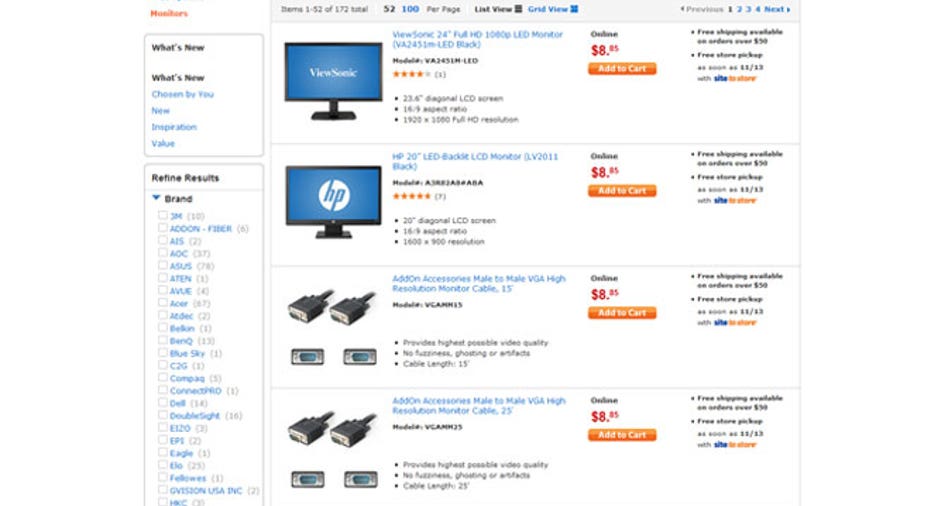 Everyone knows Wal-Mart (NYSE:WMT) for its discount goods, but this deal might be a bit too sweet. The world's largest retailer erroneously priced a handful of computer monitors at a heavy discount online Wednesday morning.
Monitors ranging from a high-definition, 24-inch, product by Viewsonic, to a 20-inch version made by Hewlett-Packard (NYSE:HPQ) were made available at the bargain price of $8.85. The suggested retail price of those two monitors are $199.99 and $185, respectively, although retailers often offer them at discounts.
Many of the monitors were sold out by 8 a.m. ET, although the prices persisted on walmart.com.
A spokesperson declined to specify whether an error was made, but said the tech goodies were unavailable in the retailer's brick-and-mortar stores and are "no longer available" online. She also couldn't immediately comment on whether people who swooped in on the pre-holiday snafu would be able to buy the monitors at the specified prices.
These sort of glitches are certainly not unheard of in the technology realm. In September, United Airlines (NYSE:UAL) accidentally offered some flights at $0. That month, Abercrombie and Fitch's (NYSE:ANF) Hollister brand mistakenly offered bras for free.
This holiday season is expected to be a tough one for retailers. Indeed, analysts at Morgan Stanley (NYSE:MS) are calling for the worst holiday selling season since 2008. The New York-based investment bank sees retailers offering the deepest discounts since '08 as well.
"With six fewer shopping days between Thanksgiving and Christmas, retailers could push the promotional 'panic button' earlier than needed, putting margins at risk," the analysts, led by Kimberly Greenberger, wrote.