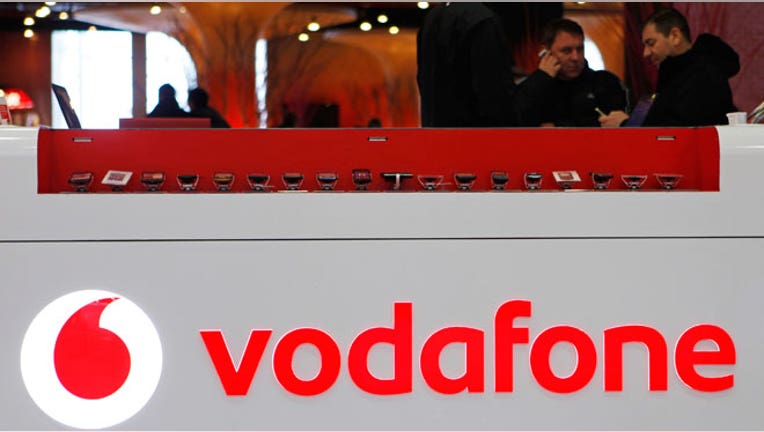 Britain's Vodafone said next year's earnings would be hit by vital investment in its network, as it again wrote down the value of some of its European business - this time by 6.6 billion pounds - owing to tough market conditions.
Shares in the stock dropped 4.3 percent, wiping 2 billion pounds off the market value of Vodafone - which has reported record falls in underlying revenue in the last 18 months, and made several multi-billion impairment charges as it grapples with fierce competition, regulator-imposed price cuts and consumers who are making fewer calls to save money.
The latest charge takes the total impairment figure for Vodafone in the last four years to 24.4 billion pounds.
To fight back, Vodafone has stepped up spending on its network - the first among its rivals Telefonica, Deutsche Telekom and Orange to boost its investment plans. All have all reported lower profits due to competition and the need to rebuild.
But before the spending and improvements can kick in, Vodafone has suffered particularly poor revenues in Germany, Italy and other European markets and said on Tuesday it had been forced to write down the value of its assets across Europe due to lower projected cash flows.
"Vodafone continues to spin the plates with mixed success," Richard Hunter, head of equities at Hargreaves Lansdown Stockbrokers, said.
"The writedowns across several European regions are further proof of the challenges the company is facing, with underlying profit continuing to move in the wrong direction."
Vodafone has earmarked 19 billion pounds over the next two years for investment in Europe and across its emerging market operations in a bid to get ahead of its rivals, after selling its U.S. business in a $130 billion deal.
It has bought cable operators in Germany and Spain to increase the range of services it can sell - betting, like its rivals, on fiber-optic networks and packages of services combining mobile and fixed-line phone, high-speed internet and TV to attract customers and boost future growth.
In its mobile business, it has pinned its hopes on the sale of superfast fourth-generation mobile networks, or 4G, and said on Tuesday it had 4.7 million 4G customers across 14 countries. Europe has lagged regions like the United States in rolling out 4G and much of Vodafone's spending will go on this development.
Verizon, Vodafone's former U.S. partner, had 26.3 million 4G subscribers by the end of the first quarter.
"It is time to muscle up," Vodafone's Chief Executive Vittorio Colao told reporters of his spending plans, describing the move to 4G as a potential changing point in the company's history as customers using it tend to use more data and spend more.
SUBSTANTIAL CHALLENGES
Vodafone's investment plans will bring core earnings down to between 11.4 billion and 11.9 billion pounds for 2015, from the 12.8 billion pounds it recorded in 2014 - itself down 7.4 percent.
The forecast for 2015 was well below the average expectations of 12.5 billion pounds by analysts, according to Reuters data, and is affected by the higher spending, the impact from foreign exchange movements and other factors.
"Full year 2015 is an interesting one for Vodafone as the company makes substantial investments in order to make a clearer distinction between the quality of its network and the competition," Espirito Santo said in a note to clients.
"Should this be achieved, then alongside an improving macro environment Vodafone shares should benefit, however at this juncture, visibility of success is low and competitive forces remain substantial. We reiterate our Neutral recommendation."
Overall 2014 results were helped by an improvement in underlying trading in the fourth quarter. That had been expected however and was largely overlooked due to the weaker than expected earnings outlook.
Colao said the highlights for the year came from India and its African unit Vodacom, where an increasing number of customers are using data, and where prices have held up.
Germany and Italy were deemed to be particularly difficult, while Britain and Spain showed some signs of improvement. Colao said Italy had turned highly competitive again in recent months and that Vodafone would respond to the more aggressive tariffs.
Group organic service revenue for the fourth quarter fell by 3.8 percent, an improvement on the 4.8 percent drop recorded in the third quarter and the 4.9 percent fall in the second.
For the year, organic service revenue - which strips out items such as handset sales, currency movements and acquisitions - was down 4.3 percent, dragged lower by a 9.1 percent drop in Europe.
Shares in the group were down 4.8 percent to 206.7 pence by 1244 GMT, making it the top faller on the FTSE 100 Index.