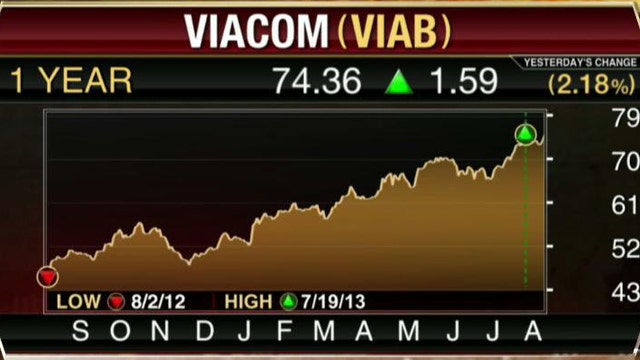 Driven by an increase in domestic affiliate and advertising revenue in the third quarter, Viacom (NYSE:VIA) on Friday revealed better-than-expected quarterly sales and stronger year-over-year profits.
The company also doubled its stock repurchase program to $20 billion from $10 billion earlier and said it will continue the same quarterly pace of buybacks. In its most recent quarter, Viacom bought 10.5 million of its shares for $700 million.
Shares of Viacom climbed more than 7% in early trade to $79.82.
"Viacom's aggressive investment in content, outstanding operational execution and fiscal discipline helped deliver a strong quarter with double-digit revenue and profit growth," Viacom CEO Philippe Dauman said in a statement.
The New York-based broadcaster operating channels like MTV and Nickelodeon as well as the movie studio Paramount Pictures posted a 14% increase in revenue for the three months ended June 30 of $3.69 billion.
That's up from $3.24 billion a year ago and ahead of average analyst estimates of $3.58 billion, according to a Thomson Reuters poll.
Sales growth was led by higher Media Networks affiliate fees and advertising revenues amid new original programming and ratings momentum, which helped offset the impact of increased distribution costs in its Filmed Entertainment business.
Viacom reported net earnings of $647 million, or $1.32 a share, compared with a year-earlier profit of $523 million, or 99 cents. Excluding one-time items, non-GAAP EPS was $1.29, a penny below expectations.