Veteran with PTSD creates jewelry to empower women
Tara Hutchinson calls herself a fine jewelry artist and goldsmith. In fact, she runs and supports herself through her small business Tara Hutch Designs.
Jewelry was never something Hutchinson had planned on pursuing, however, let alone something she was aware that she had talent in creating. In fact, Hutchinson was passionate about her job in the U.S. Army as a Sergeant First Class. "When I became NCO, non-commissioned officer, in the military, it was like I was always meant to be there," says Hutchinson. "It was amazingly awesome."
Everything changed for Hutchinson on Valentine's Day 2006. She had just been deployed to Iraq when her vehicle hit an IED roadside bomb that she says was disguised as a concrete curb. "I remember looking down and seeing the cross-section of the bottom part of my leg, and could see my femur and the incredible amount of blood," recalls Hutchinson. "I knew I was going to die, I just knew there was no way that I could survive this." Hutchinson subsequently lost her right leg above the knee and tells Fox Business that her heart stopped for 20 minutes. The lack of oxygen to her brain resulted in a Parkinson's-like movement disorder.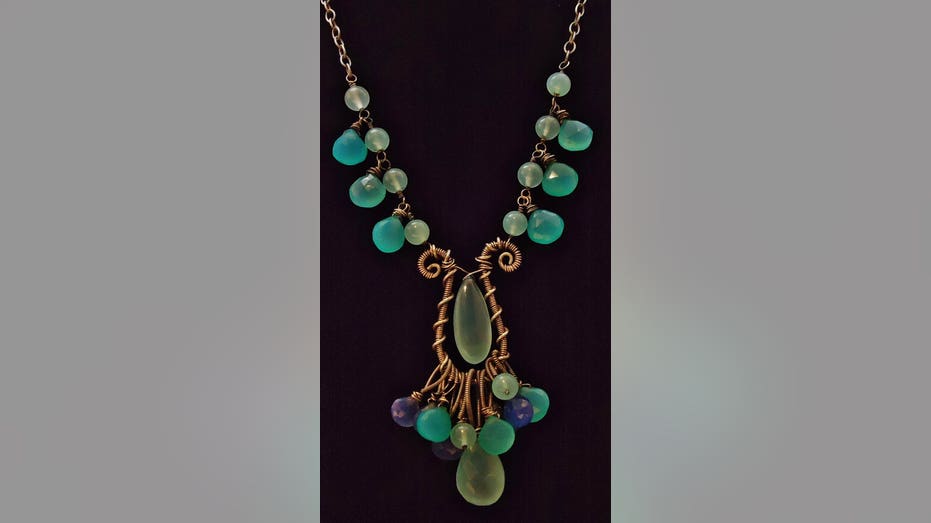 Hutchinson's physical therapist suggested she try a hobby to help with her tremors and fine-motor skills. "So, I started to make jewelry on a whim, and I realized that I enjoyed it so immensely because I was able to focus on one thing and see it to completion," explains Hutchinson. She says that jewelry-making also helped her movement disorder. She went from not being able to sign her name or type on a computer to making very intricate pieces of jewelry.
Hutchinson says she began making jewelry every day and ended up having an entire closet full of finished pieces. "At first, I was too self-conscious to show anybody my work, so I just kept it all," reveals Hutchinson. That is, until Christmas of 2009, when she decided to have an open house to showcase her jewelry. She says the positive feedback from her open house set her on the path to owning her own jewelry business. "I just got every book I could find, every magazine, every YouTube video, just anything I could find that taught me how to run and create a sustainable business," says Hutchinson.
She says that coping with her traumatic brain injury (TBI) and with her PTSD is a daily challenge, and that her jewelry business also helps her manage those symptoms. "For me it's not only my TBI and my physical disability, but it's also PTSD for me which makes me basically not want to ever leave my house," says Hutchinson. "But if it is jewelry-related it's very weird because I don't mind leaving my house for a show or for an event, but for anything else like grocery shopping, sometimes, I would prefer to just not leave."
Despite all of her injuries, Hutchinson truly believes she is meant to be creating jewelry. "I've found my calling in life," says Hutchinson. "I really feel very strongly that what happened to me, happened for a reason and it's so I can help women feel beautiful with my jewelry."
Emily DeCiccio is a video producer and reporter for Fox News Digital Originals. Tweet her @EmilyDeCiccio