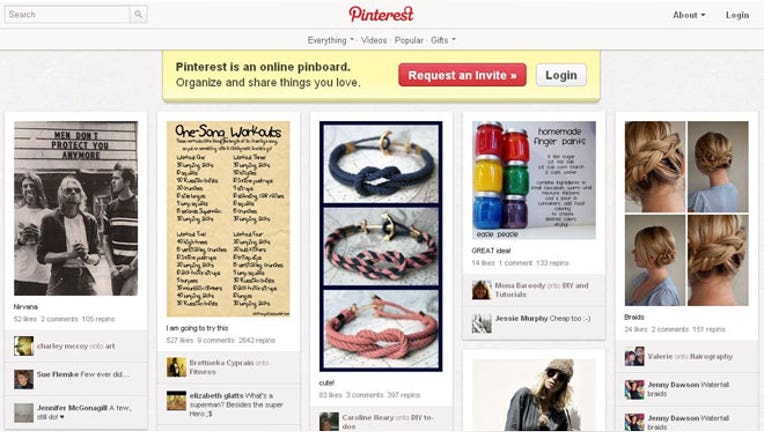 From the depths of Silicon Valley has emerged a new social network that some watchers say has grown faster in its first few months than any other standalone site in history – including Facebook.
Pinterest, an online pin board similar to a virtual scrapbook that allows people to share ideas and passions through photos from the web that go viral, reached one million Facebook "likes" on Friday and continues to expand by the hundreds per hour.
The new social network passed 10 million unique monthly visitors in January, according to data from comScore, which has made it one of the fastest growing tech startups ever since it began extending VIP invitations last year.
It averages one post a minute from fans on Facebook, more volume than some of the nation's most popular consumer companies, according to Jan Rezab, CEO of social media analytics company Socialbakers, who called Pinterest "the hottest new startup in Silicon Valley."
"Brands the size of Starbucks do not get posts that fast," Rezab said.
Palo Alto, Calif.-based Pinterest has garnered attention from investors in Silicon Valley, touting on its site that it is "well-funded by a group of successful entrepreneurs and investors," including Yelp CEO Jeremy Stoppelman and Milo founder Jack Abraham.
It's the most talked about new social site - but that is only one side of the story.
It's unclear whether the company will be able to keep up its meteoric growth or compete against mainstream tech heavyweights like LinkedIn (NASDAQ:LNKD) and Twitter. It also faces competition from similar sites like weheartit and Etsy.
While Pinterest did drive more referral traffic to retailers in January than LinkedIn, You Tube or Google+, that figure is less of a popularity metric than the fact that Pinterest allows users to share links of products, in many cases sending people directly to retailers' web sites and checkout pages.
Of course, that could end up being a huge profitability driver down the road if the company opens its doors to advertisers.
Pinterset is a social network dedicated to people's interests and ideas, a "unique way for people to share their passions," according to Dean Alms, vice president of marketing and business development at Facebook commerce provider Milyoni.
While Facebook is people centric and LinkedIn is business-relationship centric, he called Pinterest passion centric, competing, in a way, on a different field than the industry's veterans.
Anyone peering into Pinterest's digital world will find a seemingly endless amount of photos of women's outfits, hairdos, wedding dresses, recipes and creative home ideas.
But there are still questions looming as to whether the largely female-dominated site will be able to attract more men.
"Like many of these companies in Silicon Valley, they don't have to think about their business model right away – it will be evolving"
If that's the goal, Pinterest may need to expand vertically, Rezab said, creating more male-centric topic "boards," which are the virtual platform where individual "pins" are stored.
Of the 32 topic boards Pinterest currently features, there are categories for sports, men's apparel and cars and motorcycles. Users can also create their own boards.
One male user on Facebook identified as Josh Velasquez called Pinterest "surprising and delightful."
"I've only been using it for a day and I can see it replacing a lot of the sharing I do on Facebook and Twitter," he said in a post of Pinterest's fan page.
Its founders have taken an exclusive invite-only path in building interest, similar to Google's (NASDAQ:GOOG) marketing technique when it launched Google+ and Facebook's college-only approach in 2004.
Marketing ploy or not, it seems to be working.
A majority of people on Pinterest's Facebook page have publicly posted their email addresses in an attempt to get an invite. The desire to belong to a seemingly exclusive site, mixed with a growing Pinterest buzz, seem to have greatly enhanced demand.
Over the weekend, the Facebook page scored another 55,000 "likes," and tens of thousands of comments, many of which were people asking for an "invite please."
Of course, the site is still a toddler and just recently started opening its doors to the public so  there are bound to be questions, such as how the company makes money or how tight its lid is on personal information.
Privately-held Pinterest, co-founded by former Google and Facebook product specialists Ben Silbermann and Evan Sharp, has been tight-lipped about its finances.
It is being supported by a handful of investors contributing a sizable amount of money, but ads, the revenue driver behind some of the world's biggest tech companies, are no where to be found.
Content monetizing startup SlimLinks said last week that it helps Pinterest generate revenue through affiliate links. While that's a legal service, it sparked a wave of criticism over the bookmarking site's disclosure policies.
"Like many of these companies in Silicon Valley, they don't have to think about their business model right away – it will be evolving," Rezab said. "They have space to grow until they feel the audience is in the right mood."
Rezab is sure Pinterest will soon be a source of desire for retailers trying to expand their presence in the digital market space. Some have already created their own boards, allowing customers to more easily follow new products.
Nordstrom (NYSE:JWN), for example, displays boards for various topics, such as "Spring 2012 Weddings" and "Spring Trend: Nautical Vibes." Clicking on one of the wedding dresses brings a user directly to Nordstrom's checkout page.
"Once they build a fan base to a certain level, advertising and/or sponsorship will come into play," Alms said. "You sell your product where people are - if there are millions of people on Pinterest, there's going to be businesses trying to figure out ways to drive business."
He said Milyoni, which helps companies make money through Facebook Credits, is one of probably many interested in working with Pinterest somewhere down the road.
"Pinterest has caught on quite famously," Alms said. "We are going to go after the passion industries."
Pinterest hasn't posted on its blog since Jan. 18 nor publicly responded to negative reports about its disclosure of SlimLinks - yet it continues to grow.
The company did not respond to FOX Business for a comment regarding this story.