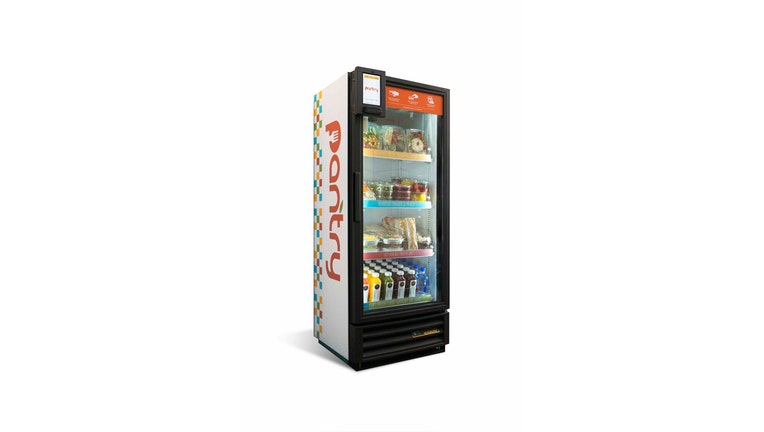 Americans have been chowing down on snacks and soda via vending machines since the early 1920's when the first automatic machine made its debut dispensing soda into cups.
Today those same vending machine chow hounds have new options to eat healthy especially in the workplace.
"The food is terrible in those machines. I hate to even call it food," says Russ Cohn, CEO of Pantry, a kiosk vender looking to provide a healthier alternative for consumers to get snacks on-the-go.
Pantry's "smart fridge" provides instant access to fresh food through a swipe of your credit card. Consumers are able to pick up and look at different products without being charged.
"It's just like opening up your refrigerator at home. There are sensors on the food so you won't be charged for the item until you close the fridge door," says Cohn.
Pantry, which was launched in 2012, has deployed hundreds of kiosks across the U.S. to major Fortune 500 companies.
"We're in Google, PNC Bank, Cisco, and Chevron to name a few," he adds. "Overall we're in 28 states right now and we're looking to expand even more in the next few years."
Cohn is aiming use health conscience consumers to help remake convenient snacking.
"We believe today, there are 12 billion vending machines worldwide which makes about 100 billion in sales every year," says Cohn.
According to market research firm IBISWorld revenue for vending machine operators has just recently stabilized, following a steep decline in the last ten years. The reason for the shift is that consumer's priorities have increasingly moved towards "value over convenience." People are simply ditching the "junk" and want healthier options for their on-the-run needs.
The company which only provides the technology, teams up with local food partners to curate seasonal, fresh meals for each office setting.
"I was fighting for retail space for my products and this fridge allows my company to have a small footprint in multiple places with no one manning it," says Shom Chowdhury, CEO for Indie Fresh, a healthy food delivery service in New York City that has partnered with Pantry.
"It works out well in offices, too. Instead of a chocolate bar, workers can now grab a smoothie. The office setting is definitely where you're going to see the most bang for your buck," adds Chowdhury.
Pantry allows any office or business to work with a food partner of their choice and the food company typically picks up the cost of the kiosk and incorporates it into the price of their products. The average cost per meal is around $10.