USS Little Rock arrives in NY in advance of commissioning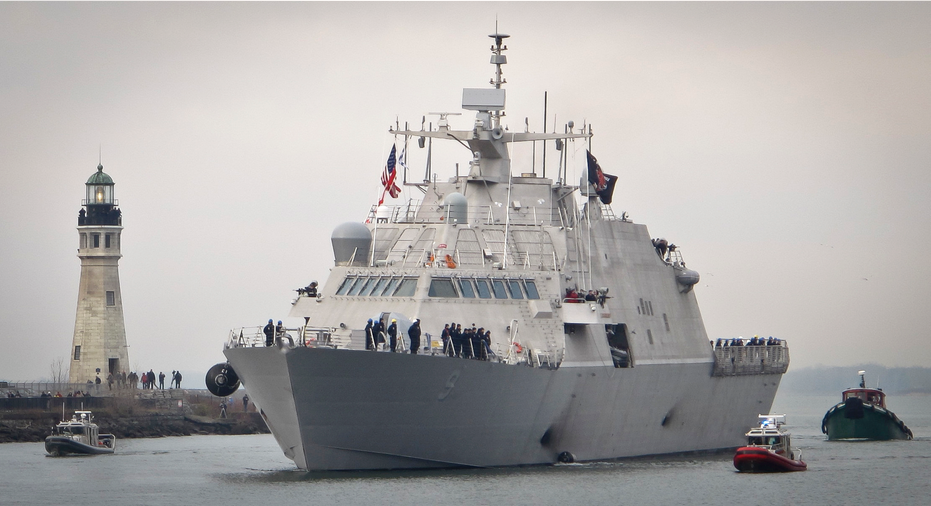 The U.S. Navy's new combat ship, the USS Little Rock, glided past its permanently docked World War II-era namesake Monday and into the Buffalo harbor, where it will be commissioned later this month.
The Dec. 16 ceremony will mark the first time in the Navy's 242-year history that a combat ship will be commissioned alongside its namesake, organizers said.
The original ship began its service as a light cruiser in 1944 and later was recommissioned as a guided missile cruiser. It was taken out of service in 1976 and is now a floating museum.
Several hundred people lined the Lake Erie waterfront at the Buffalo & Erie County Naval and Military Park, many waving small American flags, as the smaller, sleeker, higher-tech new ship arrived under escort by the Buffalo Fire Department's Edward M. Cotter fire boat.
The 389-foot littoral combat ship (LCS) was built in Marinette, Wisconsin, and has a helicopter pad, small boat ramp and can be used by small assault forces. The original USS Little Rock is 610 feet long.
"It's a very powerful looking ship," said Laurie Kostrzewski, of Buffalo, who took pictures and video with her phone as it passed. She planned to text them to her son, who just became a U.S. Marine.
"It's absolutely thrilling. It makes me think of him," she said.
More than 9,000 people requested tickets to the commissioning ceremony, organizers said.
Brian MacPeek, of Buffalo, held his 3-year-old son, Gavin, in his arms for a better view as the ship sailed into the harbor on the chilly morning.
"It's amazing," MacPeek said.
With Gavin waving two small flags with mitten-covered hands, MacPeek said he came to show respect to the crew and other service members.
"I'm teaching my son to honor our military," he said.
After its commissioning, the Little Rock will sail to Florida to be homeported in Mayport.