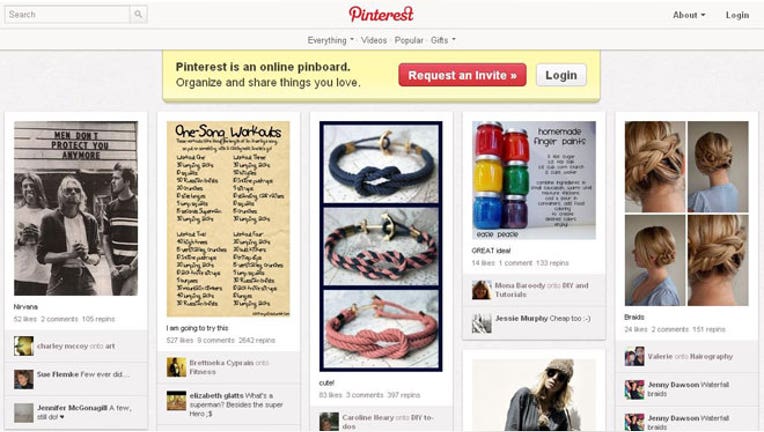 Pinterest, Tumblr and Instagram are revolutionizing online marketing. Find out why a picture really is worth a thousand words when it comes to these popular tools.
You're a Facebook ninja, a Twitter master and a LinkedIn maven. But do you know about the new breed of social media sites focused on sharing photos and images? Here's a closer look at three of the hottest and how you can use them to grow your business.
Pinterest
What it is: Pinterest users "pin" images to virtual bulletin boards, follow other users and repin their pins.
Why it matters: Pinterest's exponential growth is making waves. The site currently drives more referral traffic to retailers than LinkedIn, YouTube or Google Plus. In February, Pinterest attracted 17.8 million unique visitors, comScore reports. According to VentureBeat, Experian's 2012 Digital Marketer: Benchmark and Trend Report shows Pinterest has moved past more established sites like Tumblr, LinkedIn and Google Plus, and now boasts the third-highest number of social media site visits in February and March. The primarily female users average 89 minutes a month on the site.
Who it's for: "You use Pinterest to curate images, so there has to be a visual element to what your business does," says Monika Jansen, who is founder of marketing communications firm Jansen Communications and blogs about social media at Network Solutions' GrowSmartBiz blog. "That doesn't mean you have to produce a product. Service businesses could pin photos or videos from events, or photos of what inspires them when they're creating — anything you might pin on an actual inspiration board in your office."
What to do: Pinterest is still invitation-only, so get a user to invite you, grab your business name as a Pinterest account and describe your business in your account settings. "Add the Pinterest bookmarklet to your browser, so you can quickly pin things as you surf the Web," says Jansen. Link your Pinterest account to Facebook and Twitter so fans and followers can see you're on Pinterest.
Next, create pinboards in categories related to your business, and optimize what you pin by using keywords and hashtags in descriptions. Look at "Popular" boards in categories relevant to your business to see what types of images attract users.
The possibilities are endless. Think of Pinterest as a virtual catalog. Hair salons can pin popular hairstyles or recommended products, restaurants can highlight favorite dishes, house specials or recipes. Travel planners should pin destination pictures; architects, decorators and designers should show off their designs.
Key to success on Pinterest: "Engage,"' says Jansen. "Don't just focus on yourself — comment on other people's pins and respond to their comments on yours." And don't put it off — there's a good chance your customers are already touting your wares. Danielle Snyder, co-owner of Dannijo, a luxury accessories brand, discovered her company already had a following on Pinterest — before it was even signed up. "We were surprised to see how many people had already been pinning our designs," says Snyder.
There's been some concern about copyright violations when pinning other people's pictures. Pinterest issued new terms of service in April, explaining that users need to consider copyright law and fair use when pinning. Can you protect yourself? "There's no silver bullet, other than not pinning anything that you didn't create yourself," says Charley Moore, founder and executive chairman of Rocket Lawyer. "It's a good idea to always attribute a source to your pins to help stay out of legal trouble."
Who to learn from: Jansen cites design firm From the Right Bank as a small firm using Pinterest creatively. Also check out the board Brands Doing Cool Things on Pinterest.
Tumblr
What it is: Tumblr combines the social sharing features of Facebook and Twitter with a simple blogging platform that makes it easy to post any type of content — text, video, audio files, photos or links — through the Tumblr dashboard or a smartphone app.
Why it matters: According to comScore, Tumblr visitors spend an average of 2.4 hours on the site each month. That level of engagement is second only to Facebook. And since few brands have staked a claim on Tumblr, the field is wide open for you.
Who it's for: Fashion and design businesses have taken to Tumblr fastest, but it can work for any business that wants to share content quickly. There's virtually no learning curve, and it's simple to post from a mobile device.
What to do: Take advantage of Tumblr's flexibility by mixing up what you post. This is a great tool for entrepreneurs who are on the road frequently or want to live-blog from events. Share snippets of speeches, photos, quotes and others' content on the go.
Who to learn from: This Mashable post spotlights top fashion brands using Tumblr.
Instagram
What it is: Instagram is a photo-sharing platform that lets you take photos, modify them with filters, tag and geolocate them, then easily share them on Instagram and other social networks.
Why it matters: PCWorld says Instagram has over 27 million users who have shared over 150 million photos. Users skew young, male and hip, but the site's recent purchase by Facebook and addition of an Android version will undoubtedly increase Instagram's exposure and user base exponentially. In fact, within a few weeks of the introduction of the Android app, over 5 million were downloaded.
Who it's for: Graphic designers, photographers and interior designers are naturals for Instagram.  But a lot of business owners use the app to share photos (of events, grand openings, etc.) because it's so simple.
What to do: Because the emphasis is on photography, you'll want to post quality images on a regular basis. Use relevant hashtags to help users find your images, and increase engagement by liking and commenting on others' posts and asking followers to contribute photos.
Who to learn from: This post from Social Web Daily highlights 10 very different brands using Instagram.© Business on Main. Sign up for our Main Street Authority newsletter to get articles like this delivered monthly to your inbox.