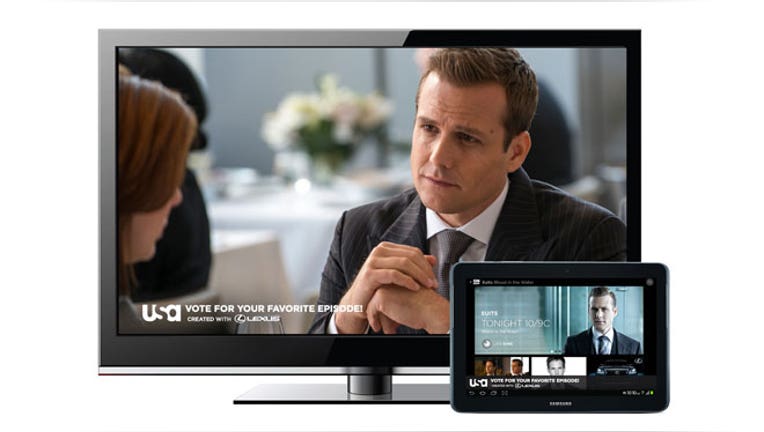 Comcast Corp.'s (NASDAQ:CMCSA) USA Network will launch next month a revamped version of its own social media technology, resisting an industry trend toward expanded integration with Twitter.
In recent weeks, several networks have announced partnerships with the micro-blogging service to increase video content and create new opportunities for advertising revenue.
But USA Network, the most-watched cable channel for the last seven years, is doubling down on a platform it created that curates digital conversations about its shows and synchronizes advertising across screens.
USA Network said it will unveil the rebuilt Web and mobile platform Thursday at its upfront presentation, a time when networks disclose to advertisers their plans for upcoming program lineups.
"As part of USA's digital evolution, we are embracing this multiplatform world by marrying all of the screens for stronger two-way engagements with our compelling content," Executive Vice President Alexandra Shapiro said in a statement. "We have eliminated the walls between TVs and mobile devices to give brands a unified and fluid fan interaction, organically extending their presence everywhere the consumer is."
USA Network's current platform, "Character Chatter," is used by as many as 30,000 people at a time and allows viewers to comment on shows.
With the upgraded website and mobile technology, advertisers can have television and digital ads displayed simultaneously. The network said social media capabilities are integrated into the site.
The latest iteration of USA Network's digital platform will debut on June 6, when its longtime hit show "Burn Notice" and new drama "Graceland" are slated to air. USA Network recently announced that the seventh season of "Burn Notice" this summer will be its last, while "Graceland" has been heavily promoted by the cable channel in advance of its first episode.
Earlier this week, The Wall Street Journal reported that Walt Disney's (NYSE:DIS) ESPN expanded its partnership with Twitter. The sports network plans to post video highlights in near real-time and sell ads that will run with the clips. Marketing sponsors will commit to paying Twitter for a minimum value of "promoted" tweets.
Fox said Monday it agreed with Twitter on a deal that will allow the broadcast network to post video clips of upcoming shows and episodes that have already aired. Marketers will be able to buy video ads to promote the clips.
Fox is owned by FOX Business parent company News Corp. (NASDAQ:NWSA).
Shares of Comcast were down 51 cents at $43.20 in early afternoon trading Thursday.