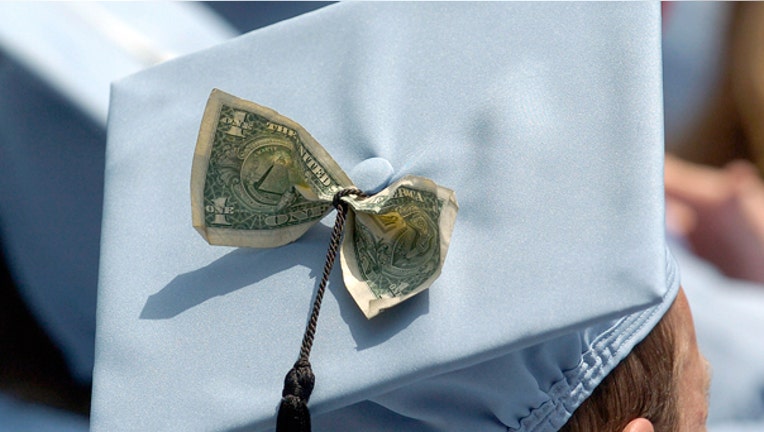 Imagine having strangers fund your college education, because they believe in what you're doing and see major potential for your future. The only catch? You have to promise them a set portion of your income.
And that's for the next five or ten years, no matter how successful you are.
Now this sounds great if you aren't making much money at all—but the model sets a percentage of income per funding amount, regardless of success.
Stephanie Usry, 25, decided the deal was worth taking a risk on. After graduating from college in 2010 from the University of California, San Diego, she was saddled with $60,000 in student debts, as well as a lump sum of medical bills from a car wreck she had been in several years earlier.
"I had to pay off those medical bills, and make a dent in my education bills, so that I could be a founding team member of Sixdoors [an app startup]," Usry says.
She went to Upstart, a crowdfunding firm specifically focused on education and entrepreneurship, and raised $12,000 from five different backers and funding from the company itself. She will be paying back around 2% of her income for the next decade.
How it Works
Upstart was co-founded by Dave Girouard, former president of Google (NASDAQ:GOOG) Enterprise. The fund currently has 220 backers, many from the entrepreneurial world, and has fewer than 150 profiles on the site, half of which have been successfully funded since last November. The goal in starting it was to bridge the disconnect many entrepreneurs experience when starting out, often starting companies on shoestring budgets, he says.
The model works similarly to the income-based repayment model President Barack Obama introduced in 2009 and updated in 2010, which capped repayments on federal loans to 10% of discretionary income for students who take out loans after July 1, 2014. This is aiding an estimated 1.6 million people, according to the White House.
With Girouard's model, the borrower or "upstart," completes an online profile and application, which includes where he or she went to school, what was studied, the GPA and more. That is submitted and the company decides if the applicant is eligible for funding. Payback periods fluctuate between five and ten years, and upstarts are eligible to raise a certain level for every 1% of income they give back to the fund during that time period.
The current going rate is about $7,000 for 1% of income, Girouard says. Typical borrowers are already done with college, and often use the funds borrowed to repay educational debts or to pay for graduate school or alternative education such as coding schools, he says.
"Our funding approach is informed by what you accomplish in college," he says. "Once their major is set, and they graduate, the basic tradeoff with a fixed-rate loan is that you pay [for example] $1,000 a month, every month. The version here is fixed rate repayment, and if you don't earn much, you don't pay much. It's meant to be accommodating for the unknowns of your life."
Borrowers have to raise at least half of the money they are shooting for in order to accept the funding.
Upstart makes money by charging 3% of the money raised on the platform, so if a borrower raises $50,000, they actually raised only $48,500, Girouard says. And an account management fee is also charged on the back end.
The Mentor Effect
Many of the backers on the system are personally invested in the upstarts they choose to fund, says Girouard, however mentorship is not promised.
"They are entrepreneurial people who love the idea of investing and participating in the next generation," he says. "They tend to be people who have seen success in their own careers."
Backers include Reddit founder Alexis Ohanian, along with Google VPs Bradley Horowitz and Claire Hughes Johnson, as well as an array of mentors, private investors and entrepreneurs. There is also a built-in portion of the model that allows upstarts to update their backers on their progress.
"The backers can chime in all they want," he says. "And upstarts are typically very self-motivated."
For Shefali Friesen, having these backers means failure isn't an option. She raised $70,000 from 14 backers to learn to code and become a programmer and create a platform that intersects art and music. She will pay back 6.8% of her income for the next ten years.
"I do think this was a smarter choice for me, because the loan rates I was getting were much higher," Friesen says. "For SBA loans, they wanted me to leverage my parents' house. The main reason [for choosing Upstart] is having these advocates really invested in your life. It helps from a lot of different angles from confidence to support… it was a no-brainer for me."
Is Crowdfunding Education the Future?
Despite his enthusiasm for the model he has created, Girouard says there are many challenges in attempting to mainstream crowdsourcing education.
"I don't know that everyone at the age of 18 will be able to raise funding for their education, but I do think there is a broad consensus across the U.S. that it is required as a ticket to success, to have a degree," he says. "I think the first thing this funding will do is fund alternative education, like coding schools that are inexpensive and fast compared to traditional education."