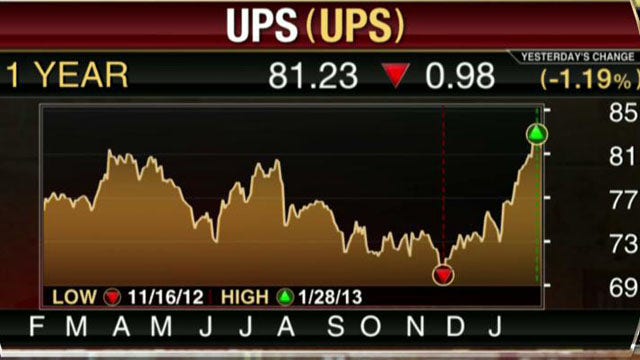 Hit by a $3 billion pension charge, economic bellwether UPS (NYSE:UPS) said Thursday it swung to a fourth-quarter loss of $1.75 billion and the shipping giant's adjusted profit and 2013 outlook trailed Wall Street's expectations.
Shares of UPS dropped nearly 2% in premarket trading, though the losses were likely offset by the company raising its guidance for 2013 share buybacks.
The world's largest shipping company logged a net loss of $1.75 billion, or $1.83 a share, last quarter, compared with a profit of $725 million, or 74 cents a share, a year earlier.
UPS's net results were hurt by mark-to-market pension charges of about $3 billion and by Hurricane Sandy expenses. Excluding one-time items, the company earned $1.32 a share, trailing the Street's view of $1.38.
On the other hand, revenue rose 2.9% to $14.57 billion, surpassing consensus calls from analysts for $14.43 billion.
"2012 presented its challenges, most notably weak global trade. Nonetheless, UPS executed well, delivering superior service to customers," UPS CEO Scott Davis said in a statement.
Looking ahead, UPS projected 2013 EPS growth of 6% to 12%, translating to EPS of $4.80 to $5.06. The midpoint of that new range, $4.93, would widely miss estimates from analysts for $5.11.
"Despite modest macro growth expectations for 2013 and uncertainty in the U.S. caused by the lack of progress in Washington, the UPS business model will deliver consistent results, with operating profit growth in all segments," Davis said.
However, UPS did increase its outlook for 2013 share repurchases, projecting $4 billion worth of buybacks, compared with just $1.5 billion previously.
Atlanta-based UPS saw its shares fall 1.82% to $79.75 ahead of Thursday's opening bell, putting them on track to trim their 2013 rally of 10%.