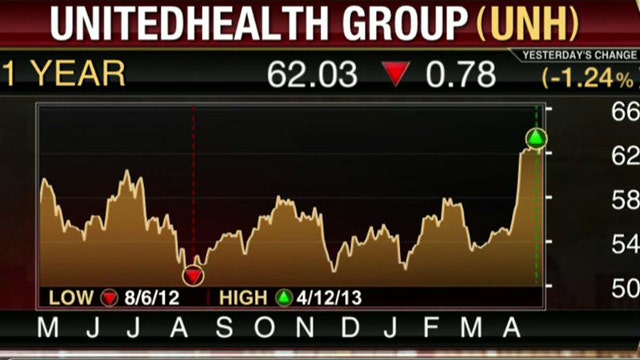 UnitedHealth Group (UNH) revealed mixed first-quarter results including a 14% year-over-year earnings decline on Thursday amid seasonal and other pressures, leading the company to sharply narrow its full-year sales outlook.
Revenue for the three months ended March 31 grew 11% to $30.34 billion from $27.28 billion a year ago but missed the Street's view of $30.51 billion.
While the improvement was led by its Optum technology business, it was partially offset by seasonal margin pressure in its Medicare Advantage and Part D prescription drug plan product lines. Meanwhile, UnitedHealth said the revenue growth rate included the conversion of one unidentified "large public sector customer" from risk-based to fee-based benefits, which was not included in its prior outlook.
That caused UnitedHealth to lower its fiscal 2013 outlook revenue outlook by $2 billion. The company now sees full-year revenue climbing 10% year-over-year to $122 billion, down from its earlier view of $123 billion to $124 billion.
While it maintained its full-year EPS outlook of $5.25 to $5.50, it warned the sequestration could weigh on the high-end of its earlier outlook.
Analysts on average are looking for stronger fiscal 2013 non-GAAP EPS of $5.52 and revenue of $123.85 billion.
Shares of UnitedHealth fell more than 3% to $60 in recent trade.
The Minnetonka, Minn.-based health insurer reported quarterly net income of $1.2 billion, or $1.16 a share, compared with a year-earlier $1.38 billion, or $1.31.
The company last year benefited from left-over reserves, and the results this year still topped average analyst estimates in a Thomson Reuters poll by two pennies a share.
"UnitedHealthcare is achieving market-leading growth in health benefits, now including Amil and TRICARE, and is positioned to achieve one of its strongest-ever growth years," UnitedHealth CEO Stephen Hemsley said in a statement.
Hemsley said the insurer will continue to look for medical and operating cost cuts.