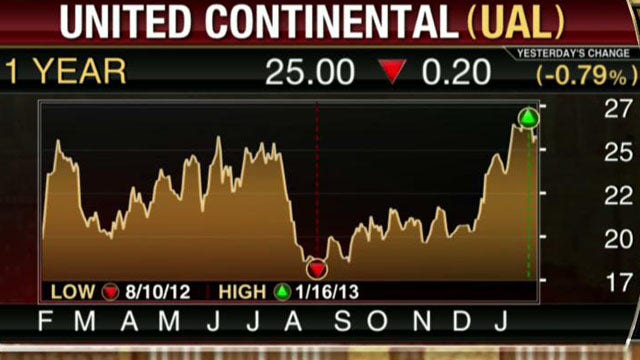 United Continental Holdings (NYSE:UAL) saw its fourth-quarter loss grow in the wake of higher charges related to the 2010 merger of United Airlines and Continental Airlines.
The airline also suffered from weaker passenger traffic and disruptions caused by Hurricane Sandy. United Continental, the world's largest airline, said the superstorm reduced revenue by about $140 million and the bottom line by $85 million.
"While we didn't meet our revenue goals in 2012, we have addressed the integration issues that drove our underperformance," Jim Compton, vice chairman and chief revenue officer for United Continental, said in a statement. "We're now positioned to capitalize on market opportunities across our network, and to earn back our share of revenue, based on solid operations and great customer service."
Passenger traffic was down 3.2%, while capacity declined 4.2% for the latest period. But load factor, or the percentage of available seats filled, edged up to 82.3% from 81.5%.
United Continental reported a loss of $620 million, or $1.87 a share, for the fourth quarter. That reflects a sharper decline from a year ago, when the company reported a $138 million loss, or 42 cents a share.
Excluding integration-related expenses and other items, adjusted per-share losses widened to 58 cents from 30 cents. Fourth-quarter revenue dropped 2.5% to $8.7 billion, and passenger revenue slid 3.6% to $7.5 billion. Analysts had expected a loss of 61 cents per share on revenue of $8.67 billion.
Passenger revenue per available seat mile, a closely-watched measure of performance in the airline industry, edged up 0.6%.
Shares of United Continental were up $1.12, or 4.48%, in morning trading Thursday.