Under Activist Pressure, Darden to Separate Struggling Red Lobster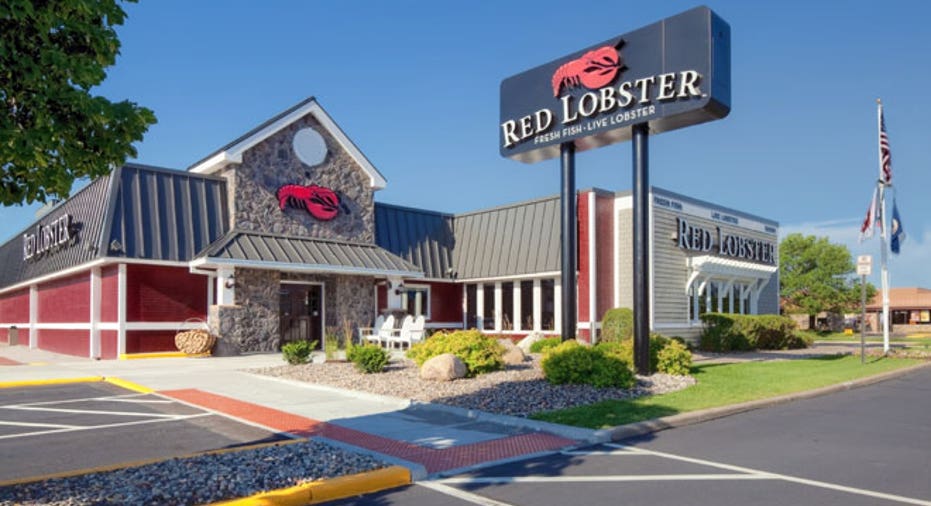 Caving to activist shareholder pressure, Darden Restaurants (NYSE:DRI) unveiled plans on Thursday to spin off or sell its Red Lobster chain as quarterly profits tumbled by a worse-than-expected 42%.
However, activist Barington Capital was dissatisfied by the announcement, calling it "incomplete and inadequate."
Shares of the largest U.S. full-service restaurant operator tumbled 6% Thursday, trimming their subpar 2013 gain to just 10%.
In addition to the Red Lobster news, Darden announced plans to increase cost savings, reduce unit growth and boost returns to shareholders.
The separation decision comes two months after activist Barington publicly pressed Darden to address its underperformance by separating Red Lobster and Olive Garden from its higher-growth brands like Capital Grille.
Darden said no final decision on the form of separation of Red Lobster has been announced. The company expects to execute a tax-free spin-off of Red Lobster to its shareholders, but said it "may also consider" selling the brand.
The restaurant giant believes the spinoff will allow executives to focus on Red Lobster's needs and more closely tailor their strategies to the needs of their guests.
"While we are highly confident the future is bright for both Red Lobster and Darden excluding Red Lobster, we also recognize that the operating priorities, capital requirements, sales and earnings growth prospects, and volatility profiles of the two parts of the business are increasingly divergent," Darden CEO Clarence Otis said in a statement.
New York-based Barington, which owns more than 2% of Darden, had called for a more comprehensive separation to enable executives to focus on the divergent brands. Barington also wants Darden to place its real-estate assets into a REIT.
In a statement, Barington CEO James Mitarotonda called the announcement "a first step toward improving focus and operating execution," but said the plan "fails to address significant additional opportunities to enhance long-term shareholder value."
"We believe that Darden can and should be doing more to improve value for its shareholders," Mitarotonda said.
Darden tapped former Red Lobster president Kim Lopdrup to serve as the brand's new CEO following the separation. Lopdrup is currently president of Darden's specialty restaurant group.
"As a stand-alone company, we will be free to focus in a more single-minded manner on the many current and prospective guests who find what Red Lobster brings to the marketplace highly relevant," Lopdrup said.
Moody's placed Darden's credit rating on review for a downgrade on Thursday, citing the challenging outlook to improve Olive Garden, which will now make up a larger chunk of the "less-diversified and smaller" company's earnings.
Darden said it plans to cut unit growth and forgo acquisitions, primarily by suspending unit growth at Olive Garden.
The company also plans to boost cost savings, now projecting savings of at least $60 million annually, up from $50 million previously. Barington had called for more aggressive moves to save $150 million a year.
Meanwhile, Darden said it earned $19.8 million, or 15 cents a share, last quarter, compared with a profit of $33.6 million, or 26 cents a share, a year earlier. Analysts had called for EPS of 20 cents.
Revenue fell 4.6% to $2.05 billion, compared with the Street's view of $2.07 billion. Same-restaurant sales fell 4.5% at Red Lobster and 0.6% at Olive Garden.
Management also dimmed its forecast for full-year U.S. same-restaurant sales for Red Lobster, Olive Garden and Longhorn Steakhouse, projecting a decline of 1% to 2%. Previously it called for flat sales or a 1% rise.
Darden confirmed it has hired Goldman Sachs (NYSE:GS) as its financial advisor tied to the separation announcement.
Orlando-based Darden fell 4.97% to $50.29 in recent trading Thursday afternoon.