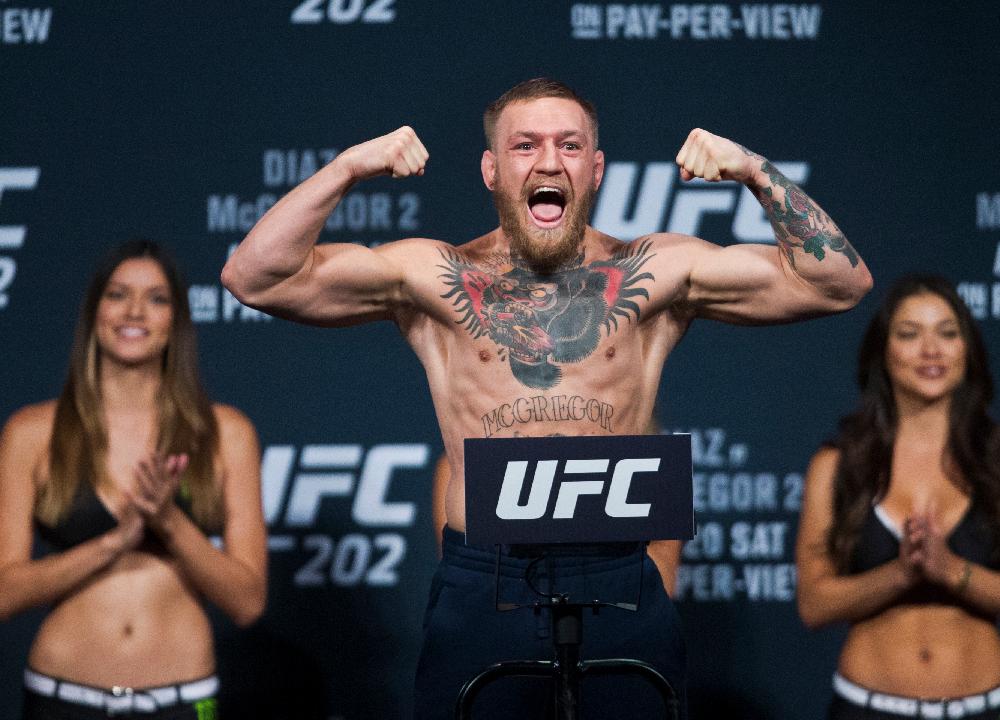 For UFC President Dana White, the fight promotion's exceptionally successful event in New York last month provided the perfect blueprint for what the brand is aiming to accomplish when UFC 208 arrives in Brooklyn next February.
UFC's first-ever event at the Barclays Center will feature a main event battle between Holly Holm and Germaine de Randamie for the promotion's inaugural women's featherweight title. The Feb. 11 show also mark the second pay-per-view event UFC has held in New York since state legislators voted to legalize mixed martial arts last summer.
UFC 208 will have to exceed expectations to match the company's showing at Madison Square Garden last November. Bolstered by a mega-card that featured three championship fights and a knockout victory by superstar Conor McGregor in the main event, UFC 205 shattered several company records.
In an interview with FOXBusiness.com, White said UFC 205 was an ideal example of what the brand can accomplish in New York.
"That event was perfect as it could possibly be," White told FOXBusiness.com. "It was one of our most amazing events, record-breaking in every way, shape and form. If we could carbon-copy that one, I would. I didn't learn anything other than, that was awesome, and let's do this again."
UFC's return to New York occurred after two decades of political wrangling and legal clashes. Governor Andrew Cuomo, a noted proponent of MMA's economic potential for the state, included expected tax revenues from the sport in the state's proposed 2017 fiscal budget. Even before the ban was lifted, New York was one of the company's biggest markets for pay-per-view sales.
Aside from the events at MSG and Barclays, UFC held a card in Albany on December 9 and plans to hold more events in upstate New York. While most major New York venues are in the mix to host cards in the future, White says he feels a particularly loyalty to MSG officials, due to their support during the battle to bring MMA back to New York.
"[Madison Square Garden] had our back the whole time that we were talking about coming to New York," White said. "They fought side by side with us, so I really do have an allegiance to MSG. But we're going to Barclays this time and I appreciate them. They've done a lot and they've treated us well and I look forward to doing business with them."
By the numbers, UFC 205 was among the biggest events the brand has ever held. The card drew $17.7 million in gate receipts, which broke records both for UFC and for Madison Square Garden. It was also one of UFC's highest-performing pay-per-view events in terms of buys and gross revenue.
Detractors criticized the card's length, noting that the main event clash between McGregor and Eddie Alvarez took place well after midnight. Still, McGregor's victory generated massive buzz on social media, and the rest of the card, which included a five-round draw between welterweight champion Tyron Woodley and Stephen Thompson, was largely well-received by viewers.
Tickets to UFC 208 are selling for an average of $203 on the secondary market, according to data from SeatGeek, which aggregates ticket prices. Prior to UFC 205, tickets to the event were selling for more than $1,300, dwarfing previous records for UFC events.
Well-known fighters Travis Browne, Derrick Lewis and Glover Teixiera are expected to compete at UFC 208, which will culminate in the match between Holm and de Randamie.