UFC 196: Will Injury To McGregor's Opponent Derail PPV Buys?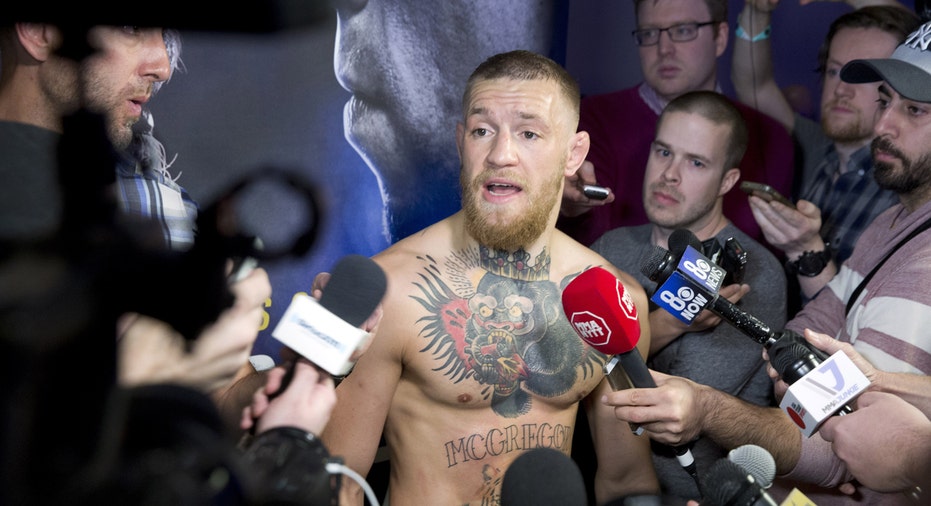 An untimely injury derailed UFC 196's scheduled blockbuster main event on Saturday, but it won't be enough to have a major impact on the mixed martial arts company's pay-per-view payday. UFC's breakout stars Conor McGregor and Holly Holm are both on track to fight at the MGM Grand Garden Arena in Las Vegas, and experts say that's more than enough to draw a strong audience.
The event's fight card originally called for McGregor (19-2), who already holds the featherweight title, to move up a weight class and challenge Rafael Dos Anjos (25-7) for the UFC's lightweight championship. But Dos Anjos withdrew from the event on February 23 after he suffered a severe foot injury while training. Instead of fighting Dos Anjos, McGregor will face off against Nate Diaz (19-10) in a nontitle match at welterweight (170 pounds).
Dos Anjos' absence caused some disappointment among mixed martial arts purists, but McGregor's popularity continues to drive the conversation leading into the event. Known for his colorful press conferences and penchant for trash talk, the 27-year-old Irish fighter has gained a cult following since he knocked out Jose Aldo in just 12 seconds last December. UFC 196 also features the return of Holm, fighting for the first time since her stunning victory over the previously undefeated Ronda Rousey last November.
"Both McGregor and Holm had over one million PPV buys each in their last fights, and I would be hesitant to think that replacing Dos Anjos with Diaz will negatively impact the buys as much as one may think," Michael Devlin, an assistant professor of advertising at DePaul University in Chicago, told FOXBusiness.com. "[Die-hard] fans will watch regardless, and moderate to light fans will still be interested in the card because they will recognize two marquee names - McGregor and Holm."
Devlin, an expert on consumer interest in sports, predicts fan interest in McGregor and Holm will push UFC 196 to roughly 900,000 pay-per-view buys, which would place it among the most-purchased cards in the organization's history. The event costs $59.99 to order.
UFC did not immediately respond to a request for comment upon publication of this story. The company does not typically reveal pay-per-view figures.
Dos Anjos is a highly-regarded competitor in the mixed martial arts community, but his last headline bout at UFC 185 drew just 310,000 pay-per-view buys, according to widely-cited estimates.
Diaz, his replacement, is popular in his own right. Like McGregor, Diaz is known for a willingness to speak his mind. The two fighters have traded public insults in the days ahead of their bout, and a video of their shoving match at a UFC 196 pre-fight press conference went viral on social media Thursday.
Unless a fight is an anticipated rematch or the culmination of a media feud, fans tend to focus on an event's star and ignore the opponent, according to Michael Lewis, an assistant professor at Emory University's Goizueta Business School who specializes in marketing analytics and research.
"If Holly Holm and Ronda Rousey meet up again, that's going to be a huge thing. That's going to be one of those instances where both sides of the fight matter," Lewis said. "[Boxers] Manny Pacquiao and Floyd Mayweather, both sides of that fight matter. But for the most part, unless you've got a 'Mr. T'-type villain, then [the event] is driven almost entirely by the favorite, the champion or the star."