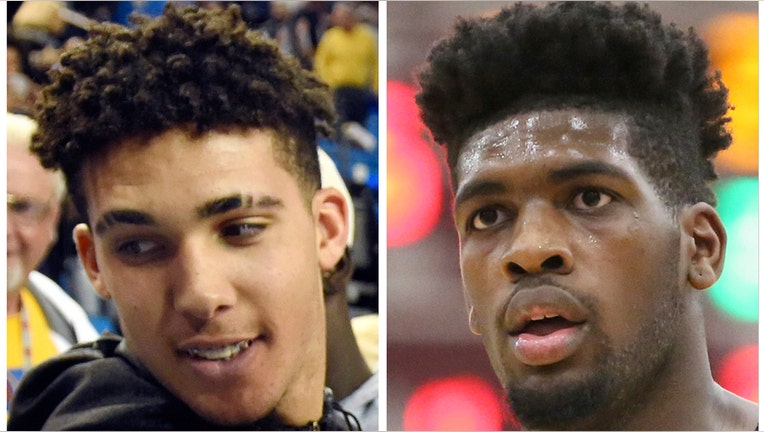 Chinese authorities released UCLA freshmen basketball players LiAngelo Ball, Cody Riley and Jalen Hill from custody on Tuesday, after the trio were held on suspicion of shoplifting.
"The three UCLA men's basketball student-athletes involved in the incident with authorities in Hangzhou, China are on a flight back home to Los Angeles, and the matter has been resolved to the satisfaction of the Chinese authorities," Pac-12 Commissioner Larry Scott said in a statement. "We are all very pleased that these young men have been allowed to return home to their families and university."
The three UCLA basketball players were arrested by Chinese authorities last week before a scheduled game between the Bruins and Georgia Tech in Shanghai. The Pac-12's annual China game is sponsored by Alibaba, the Chinese ecommerce giant.
Ball, Riley and Hill are set to address the situation in their first public comments since the arrests on Wednesday, the Associated Press reported. UCLA basketball coach Steve Alford and athletic director Dan Guerrero will also be in attendance. It's unclear if the three players will face further discipline from UCLA.
"We are aware of reports that the three U.S. citizens arrested in China were permitted to leave the country," a U.S. State Department spokesperson told FOX News. "Due to privacy considerations, we have no further update to offer.  We refer you to UCLA for additional information."
President Donald Trump said on Tuesday he discussed the case directly with Chinese President Xi Jinping. Trump met with his counterpart as part of a two-week trip through Asia.
A top college basketball recruit, Ball is the younger brother of Lonzo Ball, a first-round pick in the 2017 NBA Draft who currently plays for the Los Angeles Lakers. His father, Lavar, founded the "Big Baller Brand" sneaker and apparel company.