U.S. Strength Drives GM's 1Q Surprise; Overseas Results Ebb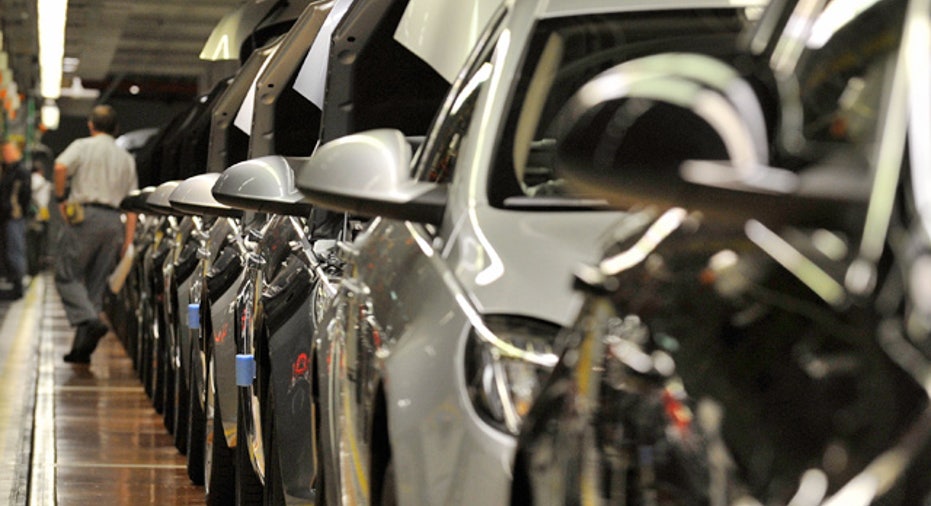 General Motors (NYSE:GM) suffered a 69% plunge in first-quarter earnings amid the absence of year-ago asset sales, but the auto giant's results managed to surpass expectations thanks to strength in the U.S.
Shares of GM rallied more than 1% in premarket action Thursday morning in the wake of the results.
The Detroit auto maker said it earned $1 billion, or 60 cents a share, last quarter, compared with a profit of $3.15 billion, or $1.77 a share, a year earlier. Last year's first quarter was inflated by $1.5 billion in gains generated by the sale of investments in Delphi and Ally.
Excluding one-time gains, it earned 93 cents a share, topping the Street's view of 85 cents.
Sales slipped 2% to $32.4 billion, compared with consensus calls for $37.59 billion.
"The U.S. economic recovery, record demand for GM vehicles in China and the global growth of the Chevrolet brand helped deliver solid earnings for General Motors," CEO Dan Akerson said in a statement.
GM reported adjusted earnings before interest and taxes of $1.7 billion last quarter, up from $1.3 billion year-over-year, as net sales rose 9.3% to $24.18 billion.
Those healthy results and improvements in the domestic economy prompted GM to upgrade its full-year U.S. vehicle sales forecast to 14 million to 14.5 million, up from 13.5 million to 14 million. GM said it expects its second and third quarter results to be "comparable" to the first quarter.
But GM continues to struggle overseas amid the double-dip recession in Europe and other factors.
The auto maker's European segment suffered an adjusted pre-tax loss of $300 million, compared with a break-even period the year earlier. Sales tumbled 19.75% to $5.51 billion.
GM International, which includes its China segment, saw adjusted pretax earnings ebb to $500 million from $600 million even as sales jumped 16.36% to $6.06 billion.
In South America, GM posted flat pretax earnings of $100 million, but sales gained just over 1% to $3.94 billion.
"New products are starting to make a difference in South America, but Europe remains a work in progress," said Akerson. "We'll continue to work on both revenue and cost opportunities until we have brought GM to competitive levels of profitability."
Shares of GM, which have rallied more than 13% so far this year, rallied 1.35% to $23.24 ahead of the opening bell.