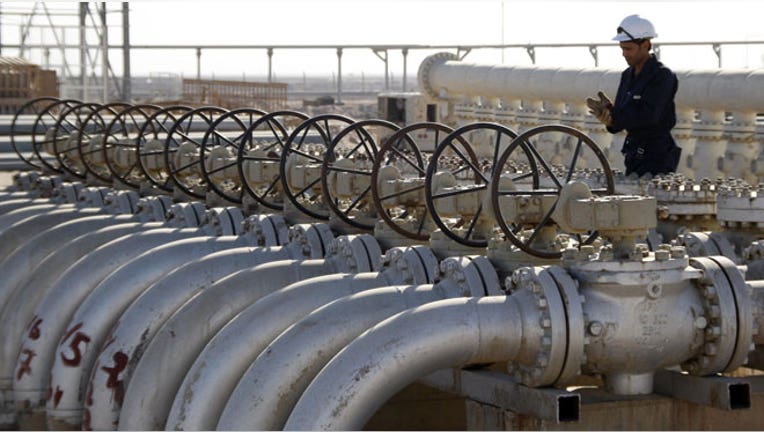 U.S. oil prices fell Wednesday as domestic crude stockpiles grew to a record, while lower-than-expected refinery activity boosted gasoline prices.
Light, sweet crude for June delivery settled down 45 cents, or 0.8%, at $56.16 a barrel on the New York Mercantile Exchange. Brent, the global benchmark, rose 65 cents, or 1%, to $62.73 a barrel on ICE Futures Europe.
U.S. crude-oil stockpiles last week rose by 5.3 million barrels to 489 million barrels, the highest in weekly data going back to 1982, the U.S. Energy Information Administration said Wednesday. In monthly data, which don't exactly correspond with weekly data, inventories haven't been this high since 1930.
The amount of domestic crude oil in storage has increased for 15 straight weeks.
"Everyone knows there's a lot of crude around," said Elaine Levin, president of energy brokerage Powerhouse. "We're building inventories everywhere."
The amount of crude stored in Cushing, Okla., the delivery point for the Nymex futures contract, rose to 62.2 million barrels. That's a record based on data going back to 2004 and near maximum capacity for the storage hub. Crude stored along the Gulf Coast also reached a record, totaling 242.5 million barrels, the highest in history based on data going back to 1990.
The EIA data also showed that refineries processed less crude oil into gasoline and other fuels, as their utilization rate fell from 92.3% of capacity to 91.2% in the week. This is the time of year when refinery utilization typically rises, as refiners complete seasonal maintenance and ramp up output of gasoline and other fuels ahead of the busy summer-driving season.
Gasoline stockpiles fell by 2.1 million barrels last week, more than analysts had expected. The May gasoline contract settled up 3.64 cents, or 1.9%, at $1.9245 a gallon.
The drawdown in gasoline supplies may not be a sustained trend, said Donald Morton, senior vice president at Herbert J. Sims & Co., who runs an energy-trading desk. Sellers are likely trying to get rid of the winter-grade gasoline they still have in storage to make room for summer-grade fuel, he said. "That drop in gasoline supplies is the last, or second-to-last, drop that we will see for a while," Mr. Morton said.
U.S. crude output fell for the third time in four weeks, averaging 9.37 million barrels a day last week. That is down 18,000 barrels a day from the prior week and down 0.6% from the multi-decade peak of 9.42 million barrels a day reached in March.
Traders have anticipated a drop in U.S. production for months, as companies have slashed spending and the number of rigs drilling for oil has fallen sharply in response to last year's plunge in prices. However, companies are also becoming more efficient at extracting oil from existing wells, so some analysts expect production levels to stay high for months or even years.
Supplies of distillates, including diesel fuel and heating oil, rose by less than expected. The May diesel contract settled up 1.76 cents, or 0.9%, at $1.8708 a gallon.
(By Nicole Friedman)