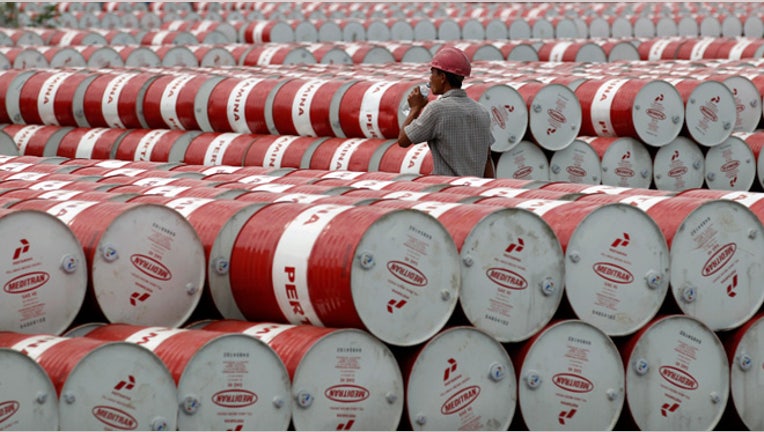 Oil prices diverged on Friday, with Brent hitting 4-1/2-month highs on continued fighting in Yemen as U.S. crude fell on concerns of another upcoming stock build, though both benchmarks headed toward weekly gains.
Fighting between Yemen's warring factions raged in southern and central parts of the country, and air strikes from a Saudi-led coalition hit Houthi militia forces, creating more tensions over the security of Middle East oil supplies.
A softer dollar also lent support to Brent and formed a floor beneath falling U.S. crude prices.
Worries that crude stockpiles in the United States could hit a new record next week weighed on U.S. crude, even as overall demand for oil and fuel products, especially gasoline, picked up ahead of the peak summer driving season.
"It's a push-and-pull situation with the Yemen tensions giving Brent support while U.S. prices get pulled down as people steel themselves for another inventory rise next week," said John Kilduff, partner at New York energy hedge fund Again Capital.
Brent settled up 43 cents at $65.28 a barrel after hitting a Dec. 10 high of $65.80. Brent also finished up for a third straight week, gaining 3 percent this week.
U.S. crude closed down 59 cents at $57.15 a barrel, retreating from Thursday's 2015 high of $58.41. It rose for a sixth straight week, its longest such stretch since the first quarter of 2014. This week's gain was 2.5 percent.
After a sell-off between June and January driven by oversupply, oil prices seem to have found their footing in the last three months, gaining about 20 percent in April.
Even so, oil producers and Wall Street are at odds on whether the slump is over, with the financial community betting the recovery will be quicker than the industry expects.
On Friday, Societe Generale raised its 2015 average price forecast for Brent by $4.33 to $59.54 a barrel and for U.S. crude by $4.28 to $53.62.
Some analysts warn that recent price gains could encourage more U.S. shale oil production.
OPEC crude production, meanwhile, outstrips demand by nearly 2 million barrels per day.
Some oil majors are considering further spending cuts to deal with an extended period of low prices.
"The hard facts are rather speaking for low prices," said Eugen Weinberg at Commerzbank.
(By: Barani Krishnan; Additional reporting by Libby George in London and Jacob Gronholt-Pedersen in Singapore; Editing by Dale Hudson, Meredith Mazzilli and Jonathan Oatis)