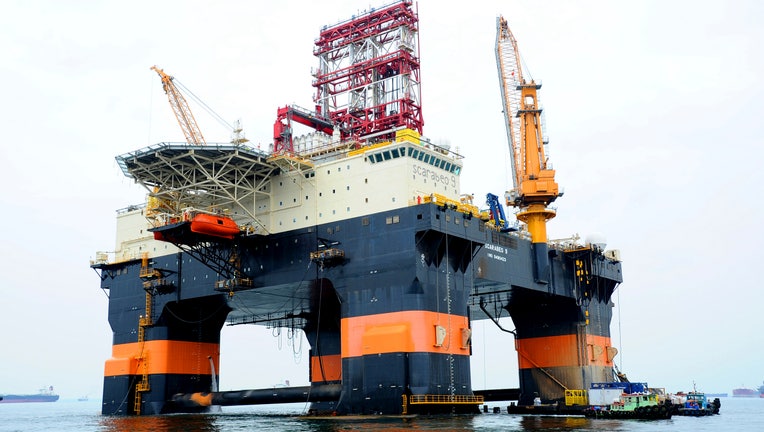 Oil rose by more than $2 to one-month highs on Friday, fueled by a sharp rally in gasoline and heating oil as supplies tightened and refiners started to shut down plants for maintenance.
U.S. crude oil rose above $100 a barrel for the first time this year, following a rally in the equities market triggered by the U.S. unemployment rate falling to a five-year low.
The expectation for tight diesel and heating oil supplies sent oil prices soaring as persistently cold weather across the U.S. continued to eat into heating fuel stocks. Spiking natural gas prices in the U.S. Northeast have prompted utilities to turn to fuel oil for electricity generation in the region.
At the same time, European refiners cut processing runs, meaning less product is being made, while Britain's biggest oilfield, Buzzard, will undergo a total nine weeks of maintenance in 2014, rather than the two weeks traders had expected as supplies tightened.
Brent blasted above the 200-day moving average of $107.89, then the 100-day at $108.68 and the 50-day of $108.73, setting off additional buying pressure that boosted both the European benchmark and U.S. crude, analysts said.
"The Brent market definitely helped lift WTI along with the product markets," said Tariq Zahir, managing member of commodity trading advisor Tyche Capital Advisors in New York. "We're getting to the technical levels that give us instantaneous buying."
Brent crude oil futures settled $2.38 higher at $109.57, the highest point since Jan. 2.
U.S. crude settled up $2.04 to $99.88 a barrel, its highest point since Dec. 27. U.S. crude touched above $100 a barrel toward the end of the trading day and moved higher after the market's close.
Brent's premium to the U.S. benchmark <CL-LCO1=R> widened 34 cents to $9.69 a barrel. The spread had narrowed on Wednesday to $7.94, the tightest since Oct. 10.
U.S. heating oil futures settled 5 and 1/2 cents higher at $3.0503 per gallon. U.S. gasoline futures rose 6.35 cents to settle at $2.7489 per gallon.
Traders raised their net long U.S. crude positions in the week to Feb. 4, the U.S. Commodity Futures Trading Commission (CFTC) said Friday.
U.S. REFINING SEASON, IRAN
Any gains in U.S. crude that would have been capped as refiners enter maintenance season were offset by the need for refiners to make heating and transportation fuels.
Citgo Petroleum Corp began a shutdown of both plants at its refinery in Corpus Christi, Texas, on Wednesday and Motiva Enterprises LLC said it began maintenance at its 235,000 barrel-per-day refinery in Convent, Louisiana, on Thursday.
The market was keeping a wary eye on Saturday's talks between Iran and the United Nations' International Atomic Energy Agency in Tehran.
The U.N. nuclear watchdog hopes to persuade the Islamic state to start addressing long-held suspicions it has worked on designing a nuclear bomb.
Tough international sanctions over the past two years have cut Iran's oil exports in half.
(By Jeanine Prezioso and Elizabeth Dilts; Additional reporting by Christopher Johnson, Simon Falush and Ron Bousso in London and Jacob Gronholt-Pedersen in Singapore; Editing by William Hardy, Dale Hudson, Chris Reese, Peter Galloway and Meredith Mazzilli)