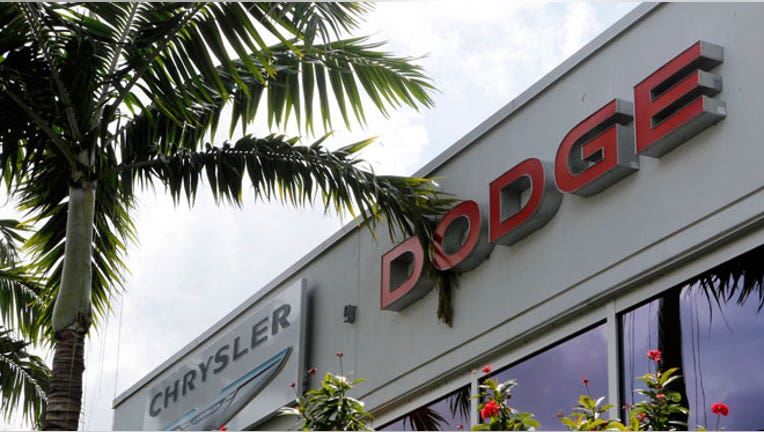 Chrysler Group reported a 22% gain in its second-quarter profit, as U.S. sales continued to grow.
The third-largest American car manufacturer said Wednesday it earned $619 million compared to $507 million in the same period last year. On an adjusted basis, year-ago earnings checked in at $530 million.
Revenue improved 14% to $20.5 billion. Chrysler booked global vehicle sales of 723,000 units, up 12%.
Fiat acquired full ownership of Chrysler in January with a $4.32 billion deal. Shareholders of the Italian automaker recently approved a merger of the two companies into Fiat Chrysler Automobiles. Fiat has already provided details of an ambitious plan to expand FCA's footprint worldwide by investing heavily in Jeep, Alpha Romeo and other brands.
In the U.S., Chrysler has benefited from a strong market for auto sales, offsetting weakness at Fiat.
Chrysler's domestic market share rose to 12.1% in the latest period from 11.4%. Market share in Canada ticked higher to 15.3% from 15.1%. Chrysler also raised its forecast for worldwide vehicle shipments to roughly 2.9 million, up from prior guidance of 2.8 million.
Fiat reported last week that its second-quarter net income dropped 55%, saying North American results missed expectations. The company also cited tepid sales in South America.
During a conference call with analysts, Chrysler chief financial officer Richard Palmer said the manufacturer has to be diligent in order to achieve its margin aspirations. While per-unit incentive spending is up, "we're not out of whack with competitors in the industry," Palmer noted.
FCA's five-year plan, which was announced in May, calls for margins of 6.6% to 7.4%. In the second quarter, Chrysler logged a profit margin of 4.8%. Rivals General Motors (NYSE:GM) and Ford Motor Co. (NYSE:F) reported North American margins of 9.2% and 11.6%, respectively.
Chief executive Sergio Marchionne added that Chrysler's partnership with Fiat has improved international distribution channels. He said Chrysler could sell more Jeep vehicles in the U.S. than it currently provides its U.S. distribution network, but the automaker is focused on globalizing the brand.
When asked about boosting production capacity amid a period of strong U.S. demand, Machionne said Chrysler must avoid "recreating the conditions that essentially led to the reorganization in 2008."
"I'm reluctant to engage in wholesale capacity expansion," he added. "I think it's ill advised."
Chrysler may consider raising prices for its Ram pickup trucks, with sales currently on a tear. Ram sold 239,481 pickups through the first seven months of 2014, a 19% increase year-over-year.
"There's not a doubt that if we can, we will" seek higher prices for Ram trucks, Marchionne said. Rival truck makers offer "benign expressions of love and affection," he joked, but it "continues to be competitive market."
Stock Listing
FCA has said it will list its shares on the New York Stock Exchange in addition to the exchange in Milan. The debut in New York is expected in October.
Marchionne said he remains committed to the listing plans.
"We have seen some relatively strange performances in equity markets. If we had to choose a time, we could have probably chosen a better time," he remarked.
FCA will be incorporated in the Netherlands and have a tax home in the U.K. Marchionne said Chrysler's Auburn Hills, Mich., headquarters will continue to be a base of operations for North America. The European business will be run out of Fiat's headquarters in Turin, Italy.
Fiat shares in Italy fell 5.6% on Wednesday, reflecting concerns that investors who voted against the merger could move to unload their shares. The combination is still subject to certain conditions, one of which is a limit on how many shareholders can exit.