U.S. accuses cyber exchange of laundering $6 billion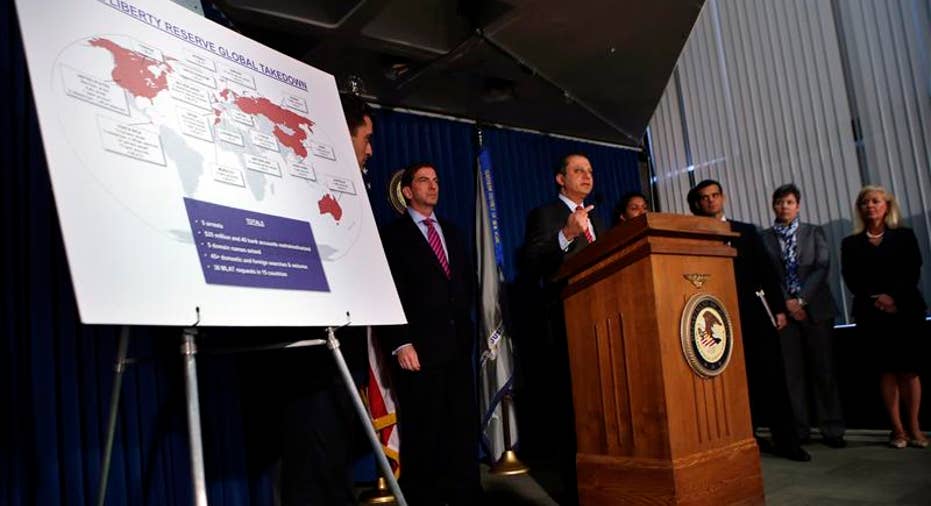 U.S. prosecutors have indicted the operators of digital currency exchange Liberty Reserve, accusing the Costa Rica-based company of helping criminals around the world launder more than $6 billion in illicit funds linked to everything from child pornography to software for hacking into banks.
The indictment unsealed on Tuesday said Liberty Reserve had more than a million users worldwide, including at least 200,000 in the United States, and virtually all of its business was related to suspected criminal activity.
"Liberty Reserve has emerged as one of the principal means by which cyber-criminals around the world distribute, store and launder the proceeds of their illegal activity," according to the indictment filed in U.S. District Court for the Southern District of New York.
Officials said authorities in Spain, Costa Rica and New York arrested five people on Friday, including the company's founder, Arthur Budovsky, and seized bank accounts and Internet domains associated with Liberty Reserve.
Digital currency is made up of transferable units that can be exchanged for cash. Over the past decade, its use has expanded, attracting attention from the media and Wall Street. The most widely known digital currency is called Bitcoin. Liberty Reserve's currency was not connected to Bitcoin.
The indictment detailed a system of payments that allowed users to open accounts with little information and move money around with anonymity.
The U.S. Treasury named Liberty Reserve under the USA Patriot Act as a company "specifically designed and frequently used to facilitate money laundering in cyber space."
That designation, the first against a virtual currency exchange, prohibits banks or other payment processors from doing any business with Liberty Reserve, even if it should reopen under a new name.
In addition to pornography and drug trafficking funds, Liberty Reserve's virtual currency was also used to anonymously buy and sell software designed to steal personal information, according to a statement from the U.S. Treasury.
Users could also buy malware programs designed to assault financial institutions, as well as lists of information from thousands of compromised personal accounts, the Treasury said.
In addition to Budovsky, his deputy, Azzedine El Amine was arrested, as was co-founder Vladimir Kats, and two technology designers, Maxim Chukarev and Mark Marmilev.
Two more company employees were still at large in Costa Rica according to officials: Ahmed Yassine Abdelghani and Allan Esteban Hidalgo Jimenez. According to the indictment, almost all of the men used the alias, Eric Paltz.
None of the men could be reached for comment.
According to the indictment, Liberty Reserve's currency unit was called the "LR." Users opened accounts at Liberty Reserve giving only a name, address and date of birth that the company made no attempt to verify.
Once a user had a Liberty Reserve account, he or she could use cash to purchase LRs from third-party exchange merchants, which traded LRs with each other in bulk and charged fees to make the exchanges between LRs and hard cash.
Liberty Reserve users could transfer the digital currency units called LRs to each other, to be redeemed in different parts of the world for cash using the third-party exchange companies.
The third party exchange companies provided the gateway to more conventional payment systems. According to information Liberty Reserve's archived web pages, the company had relationships at one time with at least 35 different exchange companies, some of which transferred cash back and forth to customers using PayPal, Western Union, MoneyGram, credit cards including Visa, Mastercard, American Express, and CitiBank Global Money Transfer.
The indictment said Liberty Reserve did not collect any banking or transaction information from the third-party exchange companies. It also let its users hide their Liberty Exchange account numbers when making transactions, which offered another opportunity for the users to mask their true identities.
The company processed around 12 million financial transactions per year. Since it began operating in 2006, the indictment said, Liberty Reserve laundered over $6 billion in criminal proceeds.
On Tuesday, the company's website, www.libertyreserve.com, displayed the message: "This domain name has been seized by the United States Global Illicit Financial Team."
It was not clear whether the people arrested in Spain and Costa Rica would be extradited to the United States or when the two people arrested in Brooklyn, New York, would appear in court.
Regulatory obligations to combat money laundering have emerged as a major challenge to digital currency firms. The U.S. Treasury Department's anti-money laundering unit, the Financial Crimes Enforcement Network (FinCEN), issued guidance in March that labeled digital currency firms as money transmitters, thereby obliging them to enact anti-money laundering programs and register with FinCEN.
A top Bitcoin exchange, Tokyo-based Mt. Gox, failed to register with FinCEN earlier this month and had its U.S. dollar accounts seized by authorities.
Over the past week, a Bitcoin unit has traded at around $130, according to the website Bitcoincharts.com.
(Reporting by Emily Flitter in New York; Additional reporting by Brett Wolf in St. Louis and Isabella Cota Schwarz in San Jose, Costa Rica and Matthew Goldstein in New York; Editing by Jeffrey Benkoe, Tim Dobbyn and Jan Paschal)