Tyson Reveals Subpoena Likely Linked to Alleged Price Fixing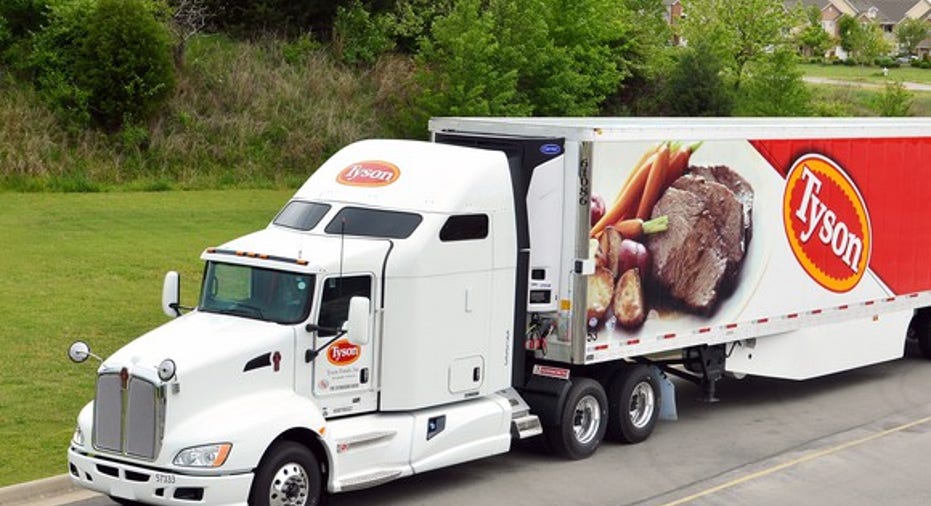 Tyson Foods Inc (NYSE:TSN) disclosed on Monday it had received a subpoena from U.S. authorities that it said likely stemmed from allegations the company conspired for years with rivals to fix chicken prices.
Last year, U.S. poultry buyers sued Tyson, the nation's biggest chicken processor, and other companies, claiming they had colluded since 2008 to reduce production in violation of antitrust laws. Tyson has denied the accusations.
The seller of Jimmy Dean sausage and Ball Park hot dogs received a subpoena from the U.S. Securities and Exchange Commission on Jan. 20 in connection with an investigation related to the company, according to documents filed with the SEC.
Tyson said it had limited information and was cooperating with the investigation, which it believes to be in an early stage.
Chief Executive Tom Hayes declined to share details about the subpoena with reporters on a conference call after the company reported better-than-expected quarterly revenue and profit.
Pilgrim's Pride Corp (PPC.O), which was also sued for allegedly conspiring to fix chicken prices, said it had not received a subpoena from the SEC. The company has said it will fight the accusations.
Tyson's stock was last down 2 percent at $64.06 after earlier falling more than 3 percent. Shares of Pilgrim's Pride, which is mostly owned by meat packer JBS SA (JBSS3.SA), were down 1.7 percent at $19.08.
Shares of Sanderson Farms Inc (SAFM.O), which was also named in the price-fixing lawsuit, fell 1.7 percent to $89.65. Sanderson did not immediately respond to requests for comment and has previously denied the allegations.
Commenting on the SEC subpoena, JPMorgan analyst Ken Goldman said "obviously it is not a positive" for Tyson shares.
The subpoena and strong financial results come as Hayes is getting his footing as Tyson's new chief after taking over for former CEO Donnie Smith on Dec. 31.
Last month, chicken farmers sued Tyson and other poultry companies for allegedly conspiring to depress their pay. Tyson has denied those allegations.
"We wonder what exactly is being investigated and what risk this creates for Tyson," RBC Capital Markets said.
Tyson has sought to increase profits by selling more value-added items such as pre-seasoned products and heat-and-serve meals, which command higher margins than basic meats.
Net income attributable to the company rose to $593 million, or $1.59 per share, in the first quarter ended Dec. 31, from $461 million, or $1.15 per share, a year earlier. Sales were $9.18 billion, up from $9.15 billion a year ago.
Analysts on average expected earnings of $1.26 per share and revenue of $9.05 billion, according to Thomson Reuters I/B/E/S.
Tyson raised its forecast for full-year profit to $4.90 to$5.05 per share, up from its earlier forecast of $4.70 to $4.85.
(Editing by Sriraj Kalluvila and Meredith Mazzilli)