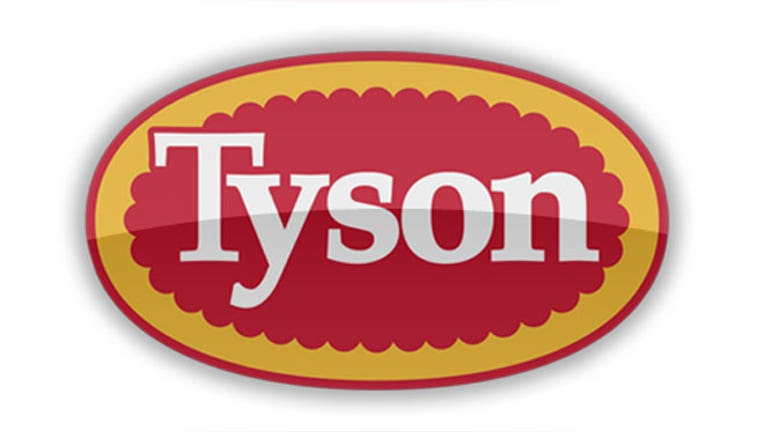 Tyson Foods (NYSE:TSN) beat Wall Street expectations with a 41% increase in its fourth-quarter profit, as the chicken producer's prepared foods business lifted the top line.
The company also said Monday its chief operating officer, Jim Lochner, plans to retire at the end of the current fiscal year. Tyson didn't name a replacement.
Springdale, Ark.-based Tyson earned $261 million, or 70 cents a share, compared to a year-ago profit of $185 million, or 51 cents a share. Analysts were looking for per-share earnings of just 62 cents in the latest period.
Revenue jumped 7% to $8.89 billion, topping estimates for $8.78 billion. Gross margin widened to 7.5% from 7.1%.
President and CEO Donnie Smith said the company's performance in 2013 set new annual records for sales and earnings per share.
Fourth-quarter revenue was driven by 5.2% growth in Tyson's prepared foods segment, which benefited from the acquisition of Mexican food makers Don Julio Foods of Utah and California's Circle Foods.
Beef revenue climbed 4.1% to $3.75 billion, while revenue from chicken sales was up 2.4%. Pork sales declined 5.6% amid lower supplies and exports.
Tyson raised its quarterly dividend to 7.5 cents a share from five cents. It will continue to repurchase shares under its current buyback program, with 14.2 million shares remaining as of Sept. 28.
The company expects revenue for the new fiscal year to hit $36 billion, primarily due to growth in domestic chicken product sales, prepared food sales and international chicken production. Tyson's guidance checked in ahead of the $35.68 billion projected by analysts.
Shares were trading 3.1% higher at $29.67 early Monday morning. The stock was up about 48% year-to-date as of Friday.