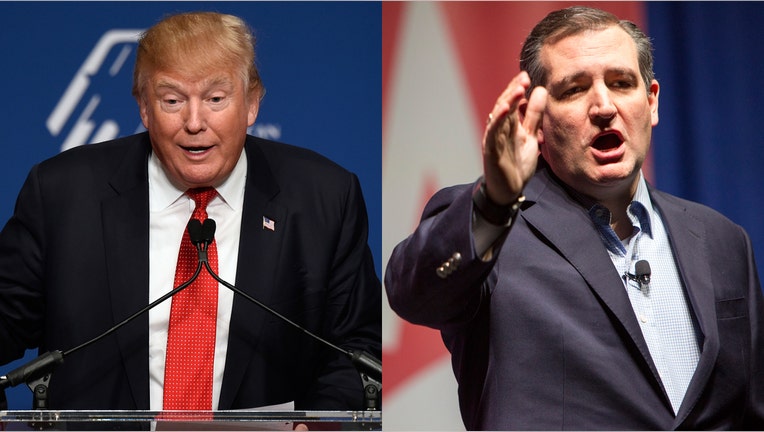 The political 'bromance' between Donald Trump and Ted Cruz could be coming to an end. GOP frontrunner Donald Trump sent two threats via Twitter to Senator Cruz on Friday morning. The billionaire businessman was sounding off about audio from a private fundraiser for Cruz, first obtained and reported by The New York Times. At the event, Cruz challenged Donald Trump's and Ben Carson's state of mind as president and questioned their ability to effectively deal with critical issues.
"People are looking for who is prepared to be a commander-in-chief. Who understands the threats we face," said Cruz at the fundraiser. "Who am I comfortable having their finger on the button?' Now that's a question of strength, but it's also a question of judgment. And I think that is a question that is a challenging question for both of them."
Cruz also explained his strategy to beat the outsider candidates.
"My approach, much to the frustration of media, has been to bear-hug both of them and smother them with love because I think, look people run as who they are, I believe that gravity will bring both of those campaigns down and I think the lion's share of their supporters come to us," said Cruz.
Time and time again Trump has promised to "hit" his Republican opponents hard, but only if they attack him first. So far Cruz has tip-toed around Trump when other GOP presidential contenders have condemned the businessman and former reality star for his proposals and tone on the campaign trail. The freshman senator even invited Trump to join him on Capitol Hill for a rally on the Iran nuclear deal earlier this year. Now that there's proof of Cruz officially throwing the first stone at Trump, the gloves are off.
The real estate mogul took to Twitter to send two warning shots at Cruz:
Trump could be feeling pressure as Cruz creeps up on his lead and garners key endorsements before the Iowa caucus in February. In a recent Monmouth University poll, Cruz surged to the top with Iowa Republican primary voters with 30% support compared to Trump's 18%. However, in a new Fox News Poll, Trump is leading among South Carolina GOP primary voters with 35% compared to Cruz's 14%. In a CBS/New York Times poll, 35% support the media mogul nationally with 16% favoring Cruz. Donald Trump heads to the Hawkeye state for a campaign rally on Friday night, as he continues to court Iowa supporters in one of the key primary states.
Hours after Trump's targeted tweets, the Texas senator responded with a complimentary tone:
At the time of publication, there was no immediate response from Donald Trump's campaign for comment.