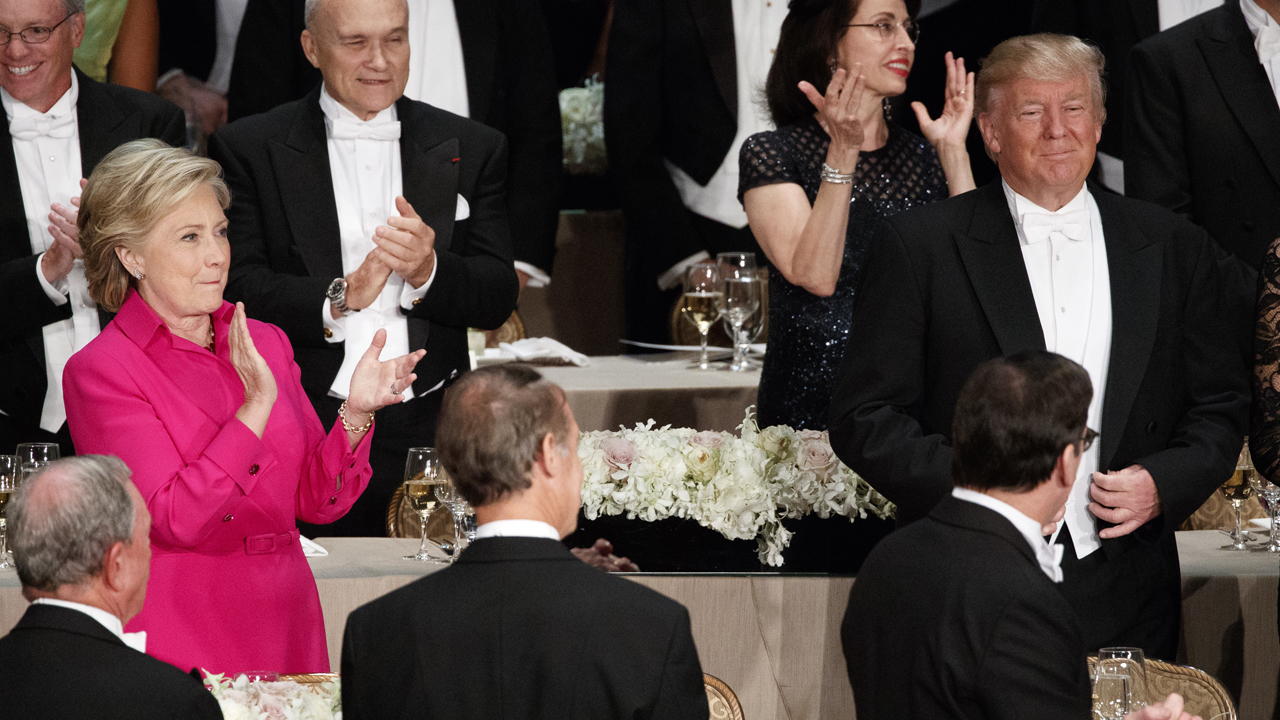 Donald Trump and Hillary Clinton both survived the jabs back and forth at the 71st annual Alfred E. Smith Memorial Foundation dinner on Thursday night.
Since 1960, the dinner has become a customary event for presidential candidates. Typically a time of light-heartedness in the weeks leading up to the primary election, some say this year's occasion went too far.
"It was like watching mud wrestling, you know? Neither one of them are that funny. Trump has made it very difficult to be funny. You can't be funny…when the clown does a pratfall you laugh. But when a cripple does a pratfall, you say no. Well watching Donald Trump is like watching a three-car accident. He just says anything he wants," said George Schlatter, co-creator of American sketch comedy television show "Rowan & Martin's Laugh-In."
He added: "Trump started out okay, but then the wheels came off. When he said 'she hates Catholics'…Donald, no. And when he said 'nasty woman,' no Donald, no."
During the event, boos could be heard coming from the audience as the Republican presidential candidate took shots at Democratic candidate Hillary Clinton from the dais.
One of "Laugh-In's" most memorable moments came when then-Republican presidential candidate Richard Nixon appeared in a seconds-long scene and said quizzically, "sock it to me?" This was a boost to Nixon, who would go on to win the election just months later.
Schlatter, who said Hillary Clinton did "very well" and that Trump "pretends to be a comic," had his own advice for the candidates.
"I would tell both of them to just back off a little bit and take a breath and stop snowballing," he said. "I mean he's [Trump] ranting and raving like a small child. And then he says they're not being fair to him, then he says he's not going to accept the verdict. It's impossible to add any sanity to this. In the '60s Nixon said 'I am not a crook' and we had fun with that—we had fun with all of that stuff. But now it's serious because one of these people could win."
The "Laugh-In" co-creator also explained how to find balance between making fun of oneself without going too far.
"It's called taste and it's called intelligence and it's called restraint," said Schlatter. "And say, 'okay, is it mean? Is it funny? And is it true?' There's got to be a little bit of truth."