Trump, Patriots Criticize NY Times Over WH Obama Photo Comparison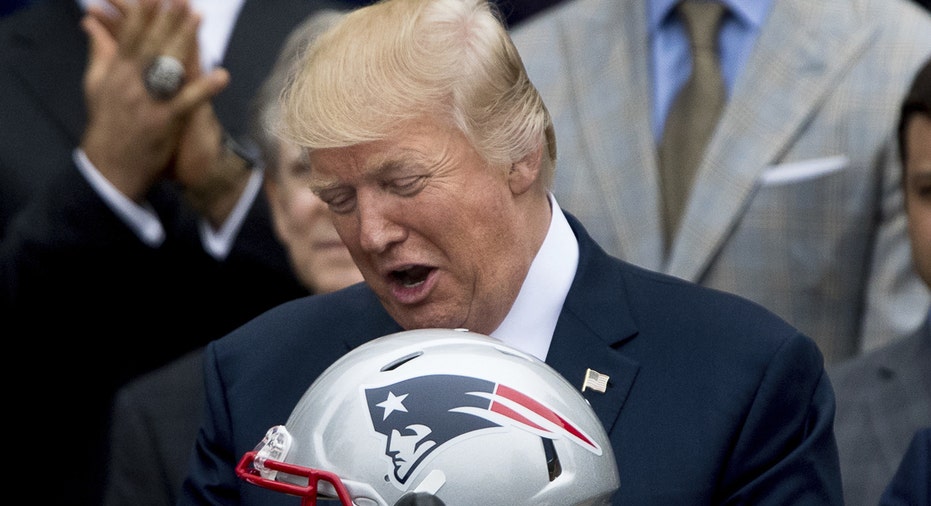 President Trump criticized the "failing" New York Times on Thursday for what he called a "big lie," hours after the New England Patriots called out the news organization for posting a purportedly misleading side-by-side photo comparison of the team's attendance at Super Bowl ceremonies with Trump in 2017 and former President Obama in 2015.
Failing @nytimes, which has been calling me wrong for two years, just got caught in a big lie concerning New England Patriots visit to W.H.

— Donald J. Trump (@realDonaldTrump) April 20, 2017
Photos posted to the New York Times sports section's Twitter account appeared to show that the crowd at the Patriots' meeting with Trump was far smaller than it was at its meeting with Obama. The tweet quickly went viral with tens of thousands of retweets and "likes."
The Patriots quickly issued a fact-check on their official Twitter account, noting that "over 40 football staff" members sat on the South Lawn for the Trump ceremony. The same personnel stood on the steps behind team players and Obama in 2015.
These photos lack context. Facts: In 2015, over 40 football staff were on the stairs. In 2017, they were seated on the South Lawn. https://t.co/iIYtV0hR6Y

— New England Patriots (@Patriots) April 20, 2017
The New York Times subsequently removed the photos from its website and issued a correction.
"An earlier version of this article included photos comparing the size of the Patriots' gathering at the White House in 2015 and the gathering on Wednesday. The photo from Wednesday only showed players and coaches; the 2015 photo showed players, coaches and support staff and has been removed," the correction note said.