Trump Jr. tweets 'Top Gun' video of dad shooting CNN jet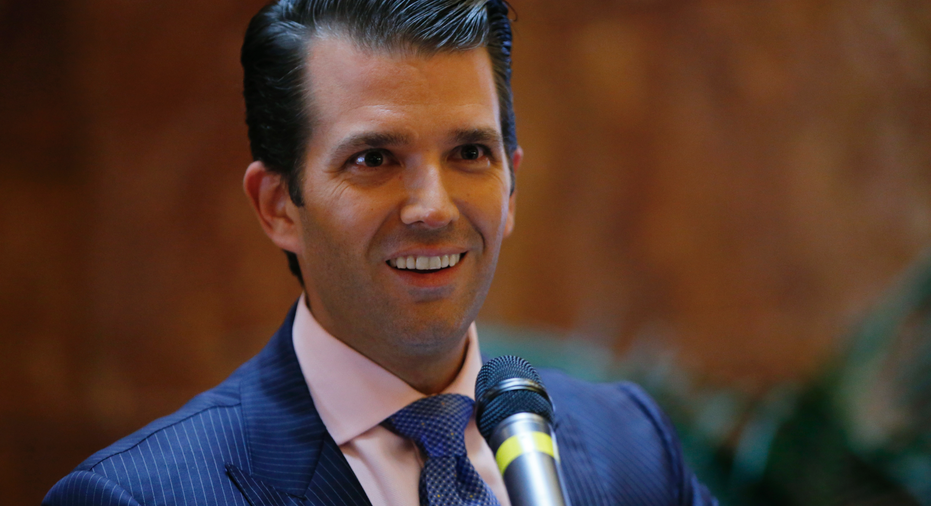 Donald Trump Jr. is promoting a new mock video of his father attacking CNN.
Trump Jr. tweeted a video of a doctored clip of the 1986 military thriller "Top Gun" on Saturday. In the video, President Donald Trump's face is superimposed over Tom Cruise's character as he shoots down a Russian jet bearing a CNN logo.
In the clip, Trump repeats his "you're fired" catchphrase before launching a missile.
Trump Jr. called the video "one of the best I've seen." It wasn't immediately clear where the video came from.
Earlier this month, President Donald Trump tweeted a doctored video clip from a pro-wrestling appearance that shows him pummeling a man whose face is covered by the CNN logo. The tweet became Trump's most-shared tweet, but also sparked criticism of alleged juvenile behavior by the president.
Trump's tweet of the anti-CNN video came a few days after the president lashed out, also on Twitter, at Joe Scarborough and Mika Brzezinski, co-hosts of MSNBC's "Morning Joe."
A White House aide defended the president, saying no one should perceive the video as a threat.
"I hope they don't. But I do think that he's beaten up in a way on cable platforms that he has a right to respond to," said homeland security adviser Tom Bossert.
At the time, CNN said the president was engaging in "juvenile behavior far below the dignity of his office."
Trump adopted a hard line against the mainstream news media dating to the presidential campaign. He also regularly dismisses CNN as "fake news," including last week during a stop in Poland.