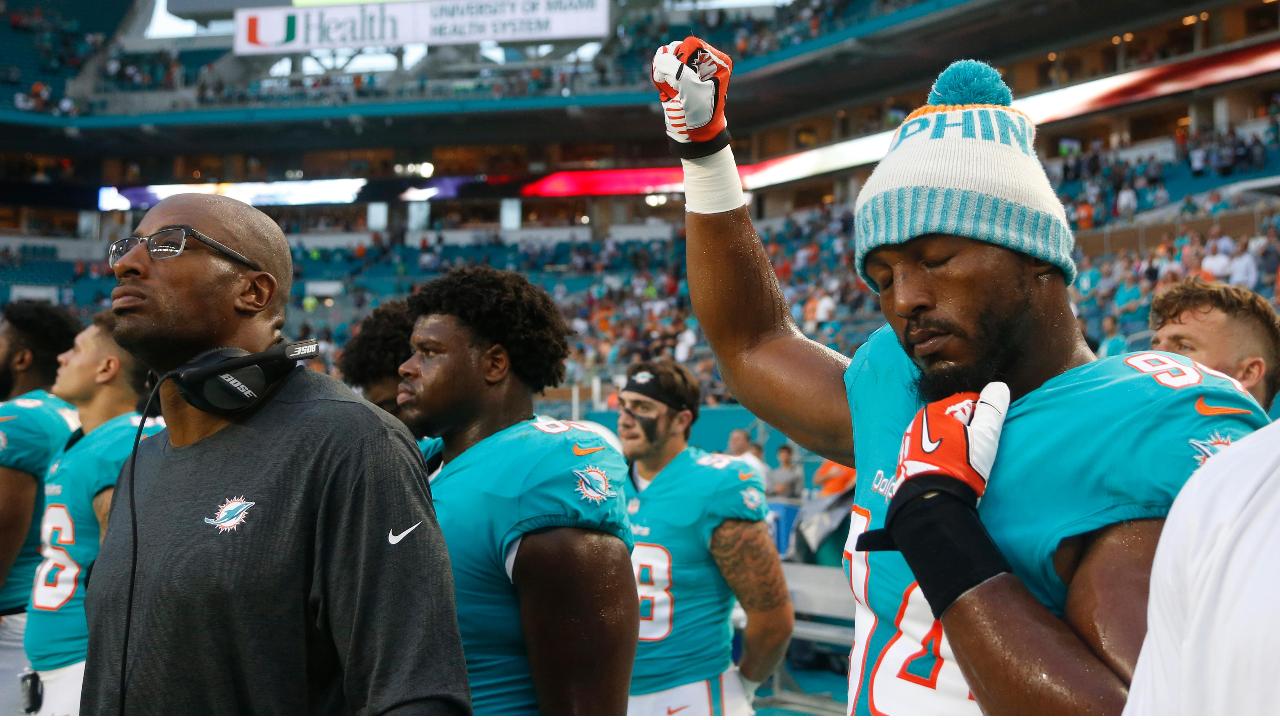 President Donald Trump's claim Friday that NFL players get "most" of the money that fans spend on the league is inaccurate, according to the NFL's current collective-bargaining agreement.
Trump renewed attacks on NFL players who protested during the national anthem prior to the league's first preseason games of the year. In a series of tweets, the president said players "make a fortune doing what they love" and should not conduct the demonstrations, which began before the 2016 season in protest of social and racial injustice in America.
"A football game, that fans are paying soooo much money to watch and enjoy, is no place to protest," Trump wrote. "Most of that money goes to the players anyway. Find another way to protest. Stand proudly for your National Anthem or be Suspended Without Pay!"
Under the terms of the NFL's current CBA, which runs through the 2020 season, players are entitled to no more than 48.5% of the NFL's revenue, including income from media rights deals, corporate partnerships and other sources. The NFL earns nearly $15 billion in revenue annually, according to Sports Business Journal.
As of the 2015 season, the average NFL player earned a salary of $2.1 million, according to Forbes. The average NFL career lasts 3.3 years, according to the NFL Players' Association. The vast majority of the league's contracts are not guaranteed, which means teams can often release players without paying the balance of their remaining contract.
Trump and the NFL have engaged in an escalating war of words for more than a year. The dispute intensified during the 2017 season, when the president first said that NFL owners should fire any player who kneels during the national anthem.
This offseason, the NFL announced a new policy that required players to either stand at attention on the sideline during the national anthem or to remain in the locker room. However, the league froze the policy after public criticism from the players' union, which said it was not consulted. Negotiations between the two sides are ongoing.
"There has been no change in the NFL's policy regarding the national anthem," league spokesman Brian McCarthy said in a statement Thursday night. "The anthem will continue to be played before every game, and all player and non-player personnel on the field at that time are expected to stand during the presentation of the flag and performance of the anthem. Personnel who do not wish to do so can choose to remain in the locker room."