Trophy Husbands: More Men Getting Plastic Surgery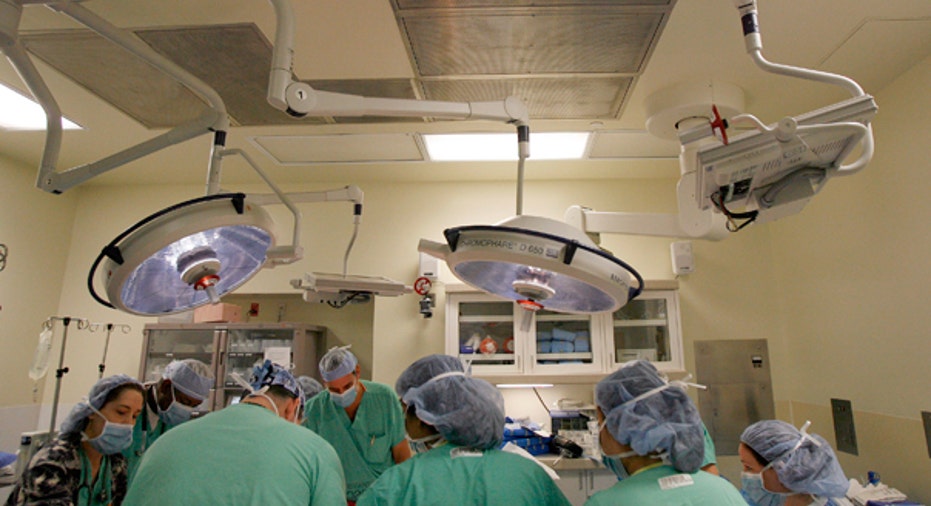 Masoud Mojarradi wants to look younger.
The 42-year-old entrepreneur from Fort Lee, N.J., wasn't happy about the wrinkles that recently appeared on his face and the baldness that had been with him since his early twenties. In spring 2010, at the urging of his daughter, he visited Dr. Ramtin Kassir and received hair transplants and Botox fillers in his forehead.
"I look much younger, and everyone likes to be young," Mojarradi says. "My family is happy with that. When I go to school to pick up my kids, they feel better. When I am out with my family, they feel more comfortable and confident."
Mojarradi isn't alone, plastic surgeons across the country have more men looking to get procedures to make them look younger and more fit.
Kassir sees it all the time -- men in their 50s and 60s sheepishly accompanying their wives to his office to see what can be done to turn back the clock on their own faces and bodies.
"It's less intimidating than a man coming in by himself," says Kassir, a double board-certified facial plastic and reconstructive surgeon and director of the Mona Lisa Cosmetic Surgery Center in New York City."Sometimes the young wives bring them in…and say, 'By the way, this is my husband, can take a quick look at him?' "
But it's not just wives pushing their husbands to go under the knife, just as many men are coming into Kassir's office solo wanting to look and feel better. They may have an event coming up, or simply want to remain competitive in an increasingly ageist society, says Kassir. While men are still in the minority of people seeking his practices, Kassir says they are the fastest growing segment of his patient population. In 1997, when Kassir started, about 8% of his practice was male. Today, that number has grown to 18%.
"They realize it's not a lot of downtime, especially for noninvasive fixes. A lot of men have a lot of sun damage; many are golfers and athletes, so they have a lot of premature aging of the skin and face."
In the U.S., women still dominate the world of plastic surgery, while men account for 9% of all procedures in 2010, up 2% from 2009, according to the American Society of Plastic Surgeons. Men had 1.1 million cosmetic procedures in 2010, 203,000 surgical and 918,000 minimally-invasive.
The most popular invasive procedures Kassir performs on male patients include liposuction, rhinoplasty, eyelid surgeries to lift hooded lids, and facelifts. Noninvasive procedures that top the list include Botox, inject-able fillers and laser skin tightening.
Kassir says he also does a lot of hair transplants on male patients. "Hair is just as important to men as anything is to women."
Mojarradi has received hair transplants and Botox fillers and unlike many of Kassir's clients, his wife has had no work done—but is very happy with her husband's transformation.
He feels more confident too thanks to the nearly $8,000 he has spent on cosmetic surgery in the past year. Each Botox session is $500, and his hair transplant sessions are $4,000 each. He plans to continue receiving Botox injections every three months.
Dr. Craig Vander Kolk, plastic surgeon at Mercy Medical in Baltimore, says many of the male patients he sees come in for age-dependent procedures. They are often in their 20s and 30s, he says, and are looking for liposuction, breast tissue reduction and sculpting to highlight their muscles. His older patients in their 50s and 60s are looking for eyelid surgery to get rid of that "heavy, tired look," he says.
"The economy is still fragile, but it's turning around,"says Vander Kolk. "The job market has stabilized for a lot of people. These guys want to make sure they are in a good position to stay competitive. They want to look less tired."
Adam Hanft, founder of Hanft Projects, says the increasing popularity of "manity" or male vanity has been a slow growing phenomenon for years. Society in general is more open-minded toward men altering their appearance, because women have been talking about it honestly for decades.
"It's part of the conversation and men are encouraged to be more vocal about it," Hanft says. "In this economy, you need to look younger and be more competitive."
Aside from more aggressive marketing from cosmetic surgery companies targeting men, Hanft says another driving force may come from the "trophy wife" or a younger wife that may have had work done herself--much like what Kassir described in his own patients.
"I'm sure there is a trophy wife connection that pushes men to look younger so they are not so visually discordant," Hanft says. "[Men] don't want to be the grandpa at parent-teacher days. We are a youth culture—that will not change."