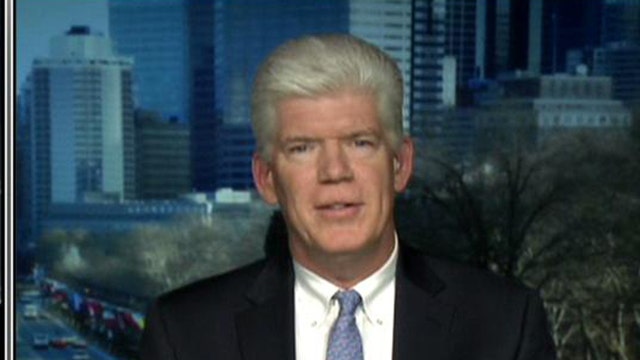 Boeing's Dreamliner 787 took off Monday in the first of two flights aiming to prove that the plane's battery troubles are over. Boeing hopes the test flights will convince the Federal Aviation Administration that the Dreamliner's new lithium-ion battery system lives up to regulatory standards.
Boeing (NYSE:BA) is Triumph Group's (NYSE:TGI) largest customer and makes up almost half of its commercial business.
"We've always felt that time would produce a solution, and we have great confidence in this aircraft and great confidence in our customer," said Jeffry Frisby, Triumph Group CEO and President.
Triumph Group provides aircraft wings, hydraulic system and landing gear systems for Boeing 787 planes.
"We're glad to see that this flight is taking place so we can get back to having deliveries to our airline customers, because we certainly know they want to operate their aircraft," said Frisby.
If successful, Boeing will present the data from this week's two test flights to the FAA in an effort to get the Dreamliners back in the sky.
Triumphing Over Defense Cuts
Almost a third of Triumph Group's business comes from military spending, which will take a significant hit as sequester spending cuts go into effect. The Pentagon must cut $500 billion over the next decade, but has yet to outline where exactly the cuts will come from. Triumph's customers include Honeywell (NYSE:HON), Lockheed Martin (NYSE:LMT), Raytheon (NYSE:RTN) and General Dynamics (NYSE:GD) – all companies with huge exposure to the defense sector.
"We do see a potential downturn in our defense business," said Frisby. "We've projected about a high single-digit sales reduction over the next three years." As the industry waits for the details from the Pentagon, Frisby says Triumph Group is already preparing.
"Our companies are flexible. We don't have any factories that are specifically focused on any specific military program so that as soon as the actual details of sequestration and what programs that will be affected are announced our companies can really turn on a dime and may in fact escape without much reduction in military."
Triumph Group's stock has survived the uncertainty around defense spending cuts. Triumph shares are up almost 20% so far this year.