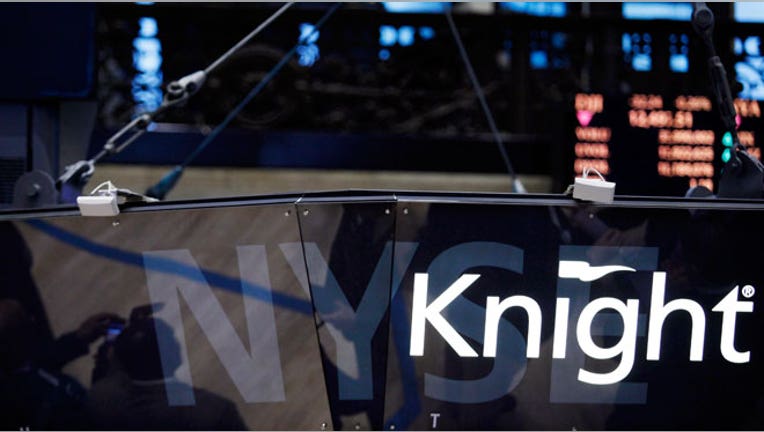 Knight Capital Group (NYSE:KCG) swung to a hefty third-quarter loss of almost $400 million on Wednesday due largely to enormous losses from a trading glitch over summer that nearly collapsed the market maker.
The Jersey City, N.J.-based company said that besides the scary technology troubles, it made money in the third quarter and is now better capitalized than before the glitch.
Knight Capital said it lost $389.9 million, or $6.30 a share, last quarter, compared with a profit of $26.9 million, or 29 cents a share, a year earlier.
Excluding the one-time items, Knight said it earned $817,000, or about one cent a share.
"Obviously, consolidated financial results were negatively impacted by the trading losses, related expenses and subsequent non-cash write-downs," CEO Tom Joyce said in a statement. "We are gratified though that, if one backs out these items, we made a small profit on an operating basis."
The red ink was driven by a whopping loss of $461.1 million caused by the August 1 trading glitch. By comparison, the entire company's market valuation is just $469 million.
Knight may have been forced into bankruptcy by the incident but the company received a $400 million rescue from a consortium that included midsize investment bank Jefferies (NYSE:JEF), discount brokerage TD Ameritrade (NASDAQ:AMTD) and private-equity giant Blackstone (NYSE:BX).
"In the aftermath of the technology issue that occurred on August 1, 2012, Knight began the process of effecting a recovery," said Joyce. "The recapitalization restored the firm's liquidity and capital, Knight's market share in U.S. equities substantially rebounded, and we've undertaken measures to enhance processes and controls."
Joyce said his technology team continues to analyze the trading error, which he said was caused by "simple human error."
Shares of Knight rose 0.39% to $2.59 Wednesday morning, doing little to eat into their 78% plunge so far this year.