TrackingPoint Sees Growing Demand for Precision-Guided Rifles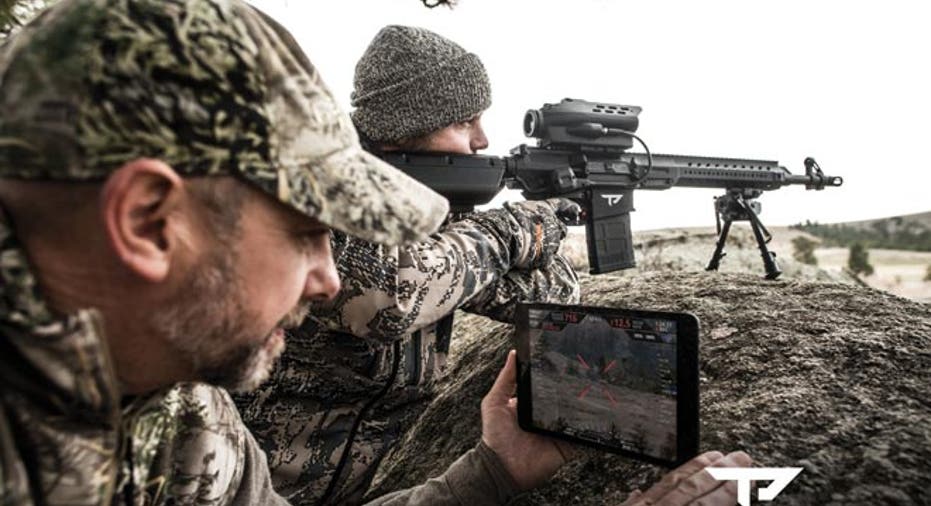 TrackingPoint, the creator of the precision-guided firearm, is aiming to put its rifles in the hands of more hunters and target shooters.
The four-year-old company was the first to sell a firearm that uses precision-guidance technology -- think fighter jets -- to turn even novice shooters into expert marksmen. TrackingPoint launched its first rifle in 2013, and many early adopters are from the hunting community.
A recent rebranding put greater emphasis on introducing sportsmen to TrackingPoint's high-tech rifles and connected apps. While TrackingPoint continues to make their pitch to military and law enforcement, precision-guidance technology has opened up a new market in consumer firearms.
"Given our position in the gun industry, we want to make sure we're not associated with the old-world gun community. We're unlike any other gun company," CEO Frank Bruno said. "The technology is like nothing else on the market. Nothing is even close, quite honestly."
Bruno, who took over the CEO position in January, characterized TrackingPoint's marketing shift as a brand update. "We wanted something clean and fresh," he added.
TrackingPoint firearms use a digital tracking optic powered by the Linux operating system. Through a heads-up display, shooters designate their target by pressing a red button near the trigger. The scope makes the appropriate adjustments for distance, wind and other factors.
The last step is to squeeze and hold the trigger, which communicates with the tracking optic. The rifle automatically fires at the precise moment the sight is aligned with the target.
TrackingPoint's optic has another secret weapon. Onboard wireless connectivity turns the rifles into WiFi hotspots, enabling real-time video streaming to mobile devices. Using the company's ShotView app, users can see what the shooter sees.
In another high-tech twist on hunting, TrackingPoint created an app called ShotGlass for Recon's Jet smartglasses. Video from the optic is streamed to the Recon Jet, so shooters can tag targets and fire rounds without looking directly through the scope. This allows shooters to take aim from behind cover and around corners.
TrackingPoint is selling ShotGlass and Recon Jet glasses, which use Google's (NASDAQ:GOOGL) Android software, for $995.
Bruno said ShotGlass has been "incredibly popular," thanks in part to TrackingPoint's entry into the AR-15 market. ShotGlass and TrackingPoint AR-15 rifles were launched around the same time late in 2014.
The wireless and software features were central to TrackingPoint's latest brand efforts, according to Bruno.
TrackingPoint started with bolt-action models before introducing AR-15 rifles, a widely used platform. The cheapest TrackingPoint rifle is a 5.56mm semi-automatic AR-15 that carries a price tag of $7,495. It can track targets moving 10 miles per hour from 0.3 miles away, or 528 yards.
At the high end, TrackingPoint's new .338 TP bolt-action rifle goes for $49,995. It's nicknamed the "Mile Maker," boasting the ability to lock onto targets out to one mile. The .338 TP model, which launched early this year, is the first one designed by TrackingPoint from stock to barrel.
It's no surprise that hunters are scouting TrackingPoint. The Austin, Texas-based startup was born after founder John McHale, a veteran of the tech industry, missed a gazelle from 300 yards during a hunting trip to Africa.
"There are plenty of traditionalists that love the technology and see the value," Bruno said. "For training purposes, and for someone who never held a rifle in their hands, it's an undeniable asset. Even traditionalists find the value in that, and we've seen some great adoption."
TrackingPoint's digital take on shooting also creates an opportunity to bring a younger, tech-savvy crowd into shooting sports. In addition to ShotView, TrackingPoint has a namesake app that offers the ability to download and share videos recorded by the rifle. Both apps are available on Android devices and Apple (NASDAQ:AAPL) iPhones and iPads.
"For younger shooters comfortable with technology, the experience is very intuitive. They can adapt to it very quickly," Bruno said.
ShotView is also a valuable training tool, Bruno noted, since experienced shooters can guide rookies with the help of live video.
The company expects to gain more traction in the consumer market as TrackingPoint's dealer network continues to expand. With more dealers on board, potential buyers will have an easier time finding the rifles at local gun stores.
TrackingPoint rifles are beginning to catch fire. The Wall Street Journal reported in June that TrackingPoint was on pace to book $20 million in revenue last year, doubling the company's 2013 sales.
"It's one thing to see our products on the website. It's another thing entirely to actually experience it. That's the best way to sell the gun," Bruno said.
As for TrackingPoint's military ambitions, Bruno couldn't comment on the possibility of defense contracts, only saying that TrackingPoint has received interest from the military and law enforcement.
The U.S. Army purchased TrackingPoint smart-rifles for testing purposes last year, but the military has yet to adopt the system. On its website, TrackingPoint touts ShotView's live video feed as an aid for spotters who help fellow soldiers locate and engage targets.
There may be more applications for TrackingPoint technology, too. Consider how precision-guidance technology could, for instance, help drones fly to a designated target or improve the accuracy of other weapons like bows.
Bruno didn't go into details, but he said TrackingPoint is "looking for all sorts of opportunities to expand our technology."
For now, TrackingPoint is devoting most of its time to accelerating adoption of precision-guided rifles.
"The core of the technology right now is based on the ability to shoot long distance shots with great precision. It definitely has other applications, but that's what we're focused on right now," Bruno said.