Tour de France: Peter Sagan's team appeals cyclist's surprise ejection from race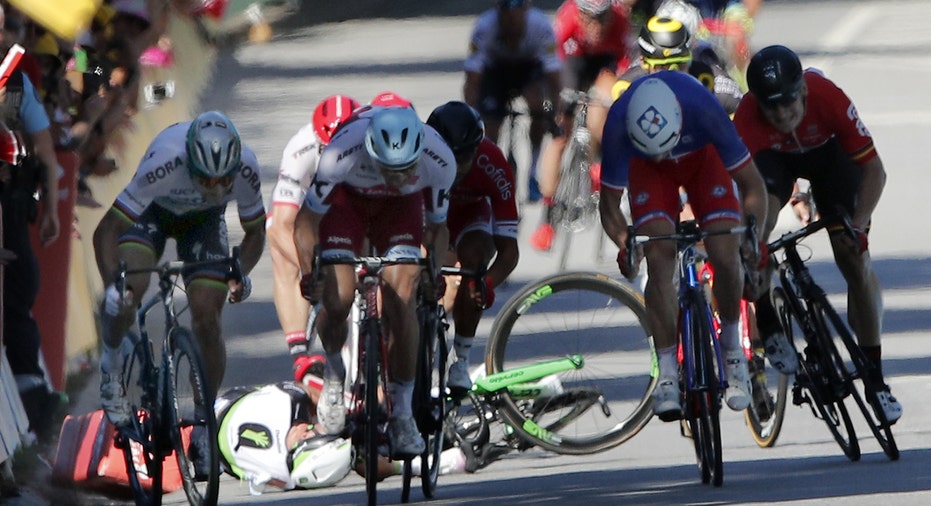 German cycling team Bora-Hansgrohe on Thursday said it would appeal the decision by Tour de France officials to disqualify world champion Peter Sagan for his role in a crash that forced British rider Mark Cavendish to withdraw from the high-profile race.
"The Team and Peter Sagan, represented by their counsels Prof. Dr. Rainer Cherkeh (Hannover) and Dr. Maurice Courvoisier (Walder Wyss AG, Basel), have lodged an appeal with the [Court of Arbitration for Sport] yesterday including an urgent motion to suspend the decision of the 'Commissaires Panel' taken on late July 4, 2017 and confirmed by the President of the UCI," the German team said in a statement obtained by Reuters.
A two-time world champion and five-time winner of the Tour de France's points classification, Sagan is widely considered to be the cycling world's most popular competitor. The 27-year-old Slovak was ejected after he appeared to elbow Cavendish during the race's fourth stage. Cavendish suffered a fractured shoulder blade in the resulting crash.
"We have decided to disqualify Peter Sagan from the 2017 Tour de France after the tumultuous sprint here in Vittel, where he endangered several riders, including Mark Cavendish and others who were involved in the crash," said Philippe Marien, race jury president of the UCI, cycling's governing body.
Sagan said he apologized to Cavendish shortly after the incident.
"It's not nice to crash like that. … It's the sprint. I just didn't know that Mark is behind me, he's coming from the right side," Sagan said, according to the Associated Press. "Mark was coming pretty fast from the back and after I just didn't have time to react, to go left, and he just came (into) me and after into the fence."