Touchdown! Couple Finds Vince Lombardi Jacket That May Fetch $20K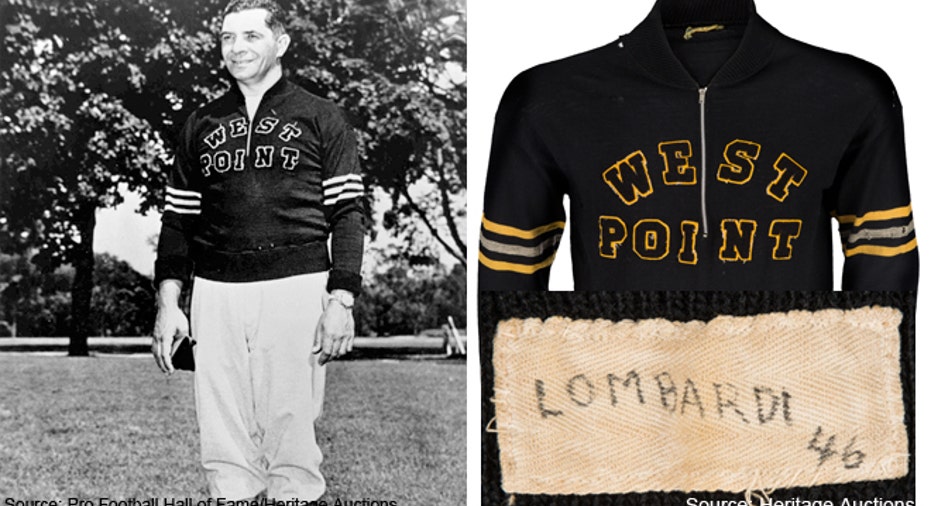 A Tennessee couple scored big when they unknowingly purchased a West Point jacket worn by football legend Vince Lombardi for a mere 58 cents.
The team-issued sweater is now in the hands of Heritage Auctions, and the Dallas-based auction house expects a winning bid of at least $10,000.
Chris Nerat, consignment director at Heritage, said the estimate is very conservative.
"At this point, with all the media attention, it could go over $20,000. I have little doubt about that," Nerat told FOXBusiness.com, adding that a bidding war would easily push the price even higher. "This is a famous item now. It's the West Point jacket that everyone has heard about."
Sean and Nikki McEvoy found Lombardi's jacket last June at a Goodwill thrift store in West Asherville, N.C., according to ABC News. In December, the McEvoys realized what they had in their possession after watching a documentary on HBO that showed Lombardi wearing the very same West Point sweater.
They checked the tag inside the jacket. It reads, "Lombardi 46."
The Pro Football Hall of Fame in Canton, Ohio, wanted the jacket, but the McEvoys chose to sell it instead. The jacket was authenticated by MEARS and sent to Heritage for auction.
Lombardi's West Point jacket, lot 80088, will be auctioned off on Feb. 21 with no reserve. Online bidding is already open at Heritage's website, and the current bid sits at $7,000.
Lombardi, whose name adorns the trophy given to each year's Super Bowl champion, arrived at West Point as an assistant coach for the 1949 season. He coached for the Army Black Knights through the 1953 season. After that, he joined the NFL's New York Giants.
The Hall of Fame coach is widely known for his time with the Green Bay Packers, who hired Lombardi as head coach in 1959. In nine seasons, Lombardi led the Packers to five NFL titles followed by victories in Super Bowls I and II.
Nerat called the West Point jacket a once-in-a-lifetime find, noting how very few game-worn Lombardi items have surfaced. The item has been viewed more than 46,000 times online, a new record for any piece of sports memorabilia ever offered by Heritage.
Heritage once sold golf clubs that Lombardi used in a celebrity tournament. Autographs and original photography of Lombardi are more common.
"I'm a Green Bay Packer guy. I never could have dreamed that something like this would come to light," Nerat said.