Toshiba's Westinghouse brings in bankruptcy lawyers; disclosure deadlines loom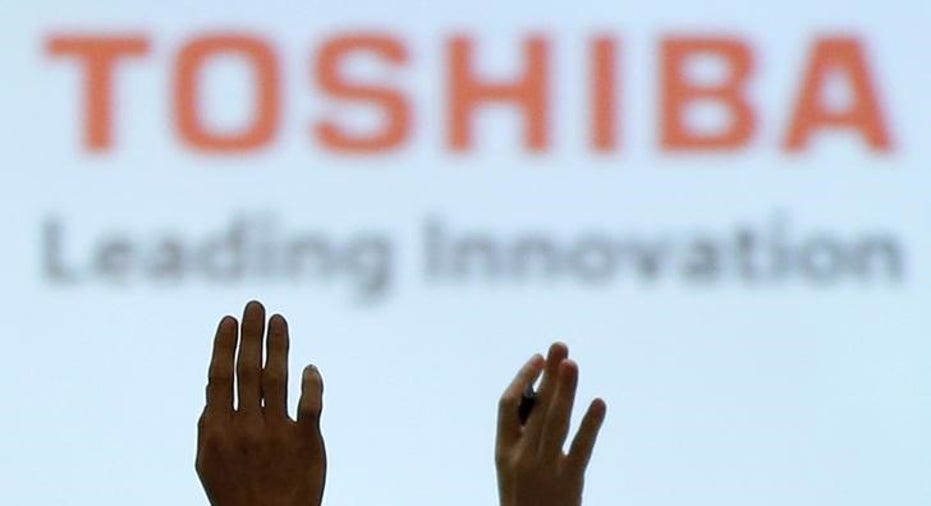 U.S. nuclear firm Westinghouse Electric Co LLC has hired bankruptcy attorneys, in a sign that owner Toshiba Corp <6502.T> is more seriously weighing a Chapter 11 filing as an option to help it rein in a multibillion dollar financial maelstrom. 6502.T>
People familiar with the matter said the nuclear engineering company had brought in law firm Weil Gotshal & Manges LLP as an exploratory step, and had not yet taken a decision on a bankruptcy filing.
The news comes as the Japanese conglomerate faces huge pressure to meet a Tuesday deadline to publish audited earnings, postponed a month ago so that it could probe potential problems at Westinghouse further.
It is also pushing forward with the sale of most or even all of its prized flash memory chip business, as it seeks to plug not only an upcoming $6.3 billion writedown for Westinghouse but also to create a buffer against future financial problems.
Toshiba said it was not aware of any intention for Westinghouse to file for Chapter 11 bankruptcy.
Sources familiar with the company have said, however, it is one of several options being considered as it struggles to limit losses in the United States where it is facing cost overruns at two projects. It has also hired a Japanese law firm to help estimate the impact of a U.S. bankruptcy for the broader group, those sources said.
Japanese Trade Minister Hiroshige Seko said on Wednesday that a Chapter 11 filing would not necessarily be a negative step and that Westinghouse was one topic that he may discuss with U.S. officials when he visits in the near future.
"If the U.S. side raises the issue, it will be necessary to discuss it," he told a parliamentary committee.
One complication may be financing guarantees given by the U.S. government to help fund the construction of reactors at the Vogtle plant in Georgia, one of the two projects at the core of Westinghouse's problems.
According to a 2014 statement on the U.S. Department of Energy Website, the loan guarantees totaled $8.3 billion.
CRUNCH WEEK NEXT WEEK
The most immediate challenge for newly appointed Chief Executive Satoshi Tsunakawa - who comes from the healthcare side of Toshiba's business and has no direct nuclear experience - is to get third-quarter earnings over the line.
One source with direct knowledge of the matter said the likelihood of Toshiba meeting its March 14 deadline was 'fifty-fifty' as Westinghouse auditors and lawyers were fussing over details. If it fails to meet that deadline it has until March 27 to file or it could face a delisting.
Toshiba's shares slid to end down 7 percent, giving it a market value of just $7.5 billion, hurt both by investor concern it may not make the deadline and Westinghouse's hiring of bankruptcy lawyers.
The TVs-to-construction conglomerate must also submit next week a report to the Tokyo Stock Exchange on its internal controls in the wake of its latest financial woes as well as a separate 2015 accounting scandal. That could eventually also lead to a delisting if the bourse finds Toshiba's efforts unsatisfactory.
Even with all those items on its plate, it needs to proceed with the sale of much of its flash memory chip unit - a business it values at least 1.5 trillion yen ($13.1 billion), with bids due at the end of the month.
Toshiba has sent invitation letters to around 10 potential bidders, a source said.
Taiwan's Foxconn <2317.TW>, the world's largest contract electronics maker, is so far the only suitor to acknowledge publicly its plans to bid. SK Hynix Inc <000660.KS> has said it is considering a bid. 000660.KS>2317.TW>
Sources have said other potential bidders include Taiwan's TSMC <2330.TW>, the world's largest contract chip manufacturer, data storage firm Western Digital Corp which operates a Japanese chip plant with Toshiba, rival Micron Technology Inc , as well as financial investors such as Bain Capital. 2330.TW>
While Foxconn has said it is very confident it can buy into Toshiba, sources with direct knowledge of the deal said it is not a favored bidder due to Japanese government's opposition to its close ties with China.
Desperate for cash, Toshiba is also hiving off peripheral assets, from a $2 billion smart meter unit to minority stakes in smaller affiliates, like molding machine maker Toshiba Machine.
($1 = 114.4800 yen)
(Reporting by Jessica DiNapoli in New York and Makiko Yamazaki in Tokyo; Additional reporting by Tom Hals in Wilmington, Delaware, Kentaro Hamada in Tokyo and JR Wu in Taipei; Editing by Edwina Gibbs)