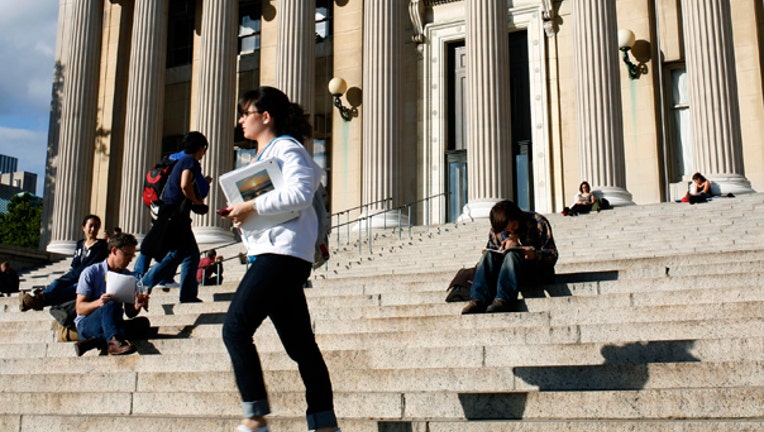 Get a Good Education at a Bargain
Many factors determine the value of a school: net price, graduation rate, academic selectivity, job placement rate, how well graduates can pay back their student loans, quality of instruction and the real-world work experiences the school offers -- just to name a few.
Value is also based on what students need, making it impossible to determine which, of the thousands of U.S. higher education institutions, definitively offer the best college deals.
Bankrate presents a list of schools that offer tremendous bang for the buck and, more importantly, a guide to how students can find low-cost, high-value institutions that fit their needs. We enlisted a panel of six college finance experts to help with the selection process.
All panelists were independent, meaning they weren't enlisted by or affiliated with any individual schools, and all weighed in on the institutions they felt offered the best deals for students.
Read on to see the best college deals for 2012.
Special thanks to the following panelists for their help in selecting schools: Mark Kantrowitz, Joseph Orsolini, Kelly Tanabe, Maura Kastberg, Ronald Ramsdell and Troy Onink.
U.S. Service Academies
Location: Various
2012-2013 tuition and fees: $0
It's hard to knock free education. The five U.S. service academies all provide a free four-year education to enrollees, plus room and board. They include: the U.S. Coast Guard Academy in New London, Conn.; the U.S. Military Academy at West Point, N.Y.; the U.S. Air Force Academy in Colorado Springs, Colo.; the U.S. Naval Academy in Annapolis, Md.; and the U.S. Merchant Marine Academy in Kings Point, N.Y.
"The U.S. (service academies) provide an outstanding education, on-the-job training, leadership development and a job," says Troy Onink, contributor to Forbes.com's "College Crossroads" blog and CEO of Stratagee.com, a college finance planning firm for families and financial advisers. "Meanwhile, your high school peers are paying $200,000 for a quality education that involves no on-the-job training, no pay and no leadership opportunities."
Of course, these college deals aren't really "free." In exchange for a debt-free education, attendees of these service academies commit anywhere from five to 10 years of service to the U.S. armed forces after graduation.
Debt-free colleges
Location: Various
2012-2013 tuition and fees: $0
Service academies aren't the only schools that offer a debt-free education. The Cooper Union in New York City; Macaulay Honors College in New York City; Barclay College in Haviland, Kan.; The Webb Institute in Glen Cove, N.Y.; and the Curtis Institute of Music in Philadelphia all offer 100% of their undergrads a full four-year scholarship.
Other schools do, too, including Alice Lloyd College in Pippa Passes, Ky.; Berea College in Berea, Ky.; and College of the Ozarks in Point Lookout, Mo. But students are required to work on campus part time during the school year.
The catch is that free-tuition schools are small, and many offer a limited scope of majors. They also frequently require families to pay for room, board and books. However, they're still excellent college deals, since many schools offer scholarships and financial aid to reduce those costs as well.
Williams College
Location: Williamstown, Mass.
2012-2013 tuition and fees: $44,920
This financial-aid-friendly private school has all the hallmarks of the Ivies -- a heavily lauded faculty, a student-teacher ratio of 7-to-1 and a 91% four-year graduation rate -- but with the net price of a public school. Williams meets 100% of demonstrated student need, and nearly 75% of the student body receives financial aid. The median financial aid package for the class of 2015 approached $50,000.
Ronald Ramsdell, founder and president of College Aid Consulting Services in Minneapolis, says that many pricey, private schools such as Williams boast high sticker prices but proportionally high aid packages, too.
"I always encourage parents to call the school and talk to the financial aid people," he says. Ramsdell adds that families should ask how much in scholarships and grants is available for the incoming freshman class, and for an estimate on how much financial aid your family will be given.
Families can also check out the net price calculator located on the school's website to get a rough estimate of how much aid they'll be awarded.
Massachusetts Institute of Technology
Location: Cambridge, Mass.
2012-2013 tuition and fees: $40,732
The creme de la creme of faculty, some of the best research facilities in the world, more all-star alumni than most colleges can boast -- you name it, MIT's got it. Another high-cost, high-financial-aid school, the average need-based award at Massachusetts Institute of Technology totals $32,917, with 74% of MIT students receiving a need- or merit-based scholarship.
"MIT also provides a generous 'no loans' financial aid policy," says Mark Kantrowitz, publisher of the financial aid site Finaid.org.
"No loans" schools calculate how much they believe each family can afford for education, using either the federal financial aid methodology or their own formula. Then they use grants, scholarships and work-study jobs to defray remaining costs. The policy prevents middle- and lower-income families from taking on too much education debt to get their kids through school. According to the Project on Student Debt, a nonprofit research group, more than 50 schools have pledged to meet full financial need. (A list of the schools is available at its website.)
MIT doesn't open its doors to many students. If you can't make the admissions cut, many MIT course materials, including recorded lectures, are available for free through the school's OpenCourseWare program.
Rice University
Location: Houston
2012-2013 tuition and fees: $37,387
Like Williams College, Rice's tuition sticker price is high, but the school gives out generous aid, with the average grant and scholarship package totaling $28,196 for full-time beginning undergrads, according to the National Center for Education Statistics, or NCES.
This highly selective school meets 100% of student need and maintains a strict "no loans" policy for families with income below $80,000 per year. Aside from having top-caliber faculty and research facilities, Rice is also a great college deal because students get through on time.
"A strong four-year graduation rate is an important quality to look for in a college because it gets you in the workforce sooner," says Certified Financial Planner Joseph Orsolini, president of the college finance planning firm College Aid Planners in Glen Ellyn, Ill.
Statistically, only 58% of all first-time full-time students graduate from a four-year institution within six years, reports the NCES. At Rice, that number jumps to 92%, and roughly 8 out of 10 students make it through in four years. Families can research four-year graduation rates as well as typical financial aid packages at NCES.ed.gov/collegenavigator. (Be advised that the NCES figures are from the 2010-2011 academic year.)
Georgia Institute of Technology
Location: Atlanta
2012-2013 tuition and fees: $10,098 in state, $29,402 out of state
"I chose Georgia Institute of Technology because they have an excellent return on investment for graduates," says Maura Kastberg, executive director of student services for the college consulting firm, RSC: Your College Prep Expert in Schenectady, N.Y.
She's not kidding. With internationally renowned faculty and research programs, Georgia Tech grads earn a median starting salary of $57,300 after turning the tassel. A whopping 78% of full-time beginning undergrads receive grant or scholarship packages that average $10,946, reports the National Center for Education Statistics.
Kastberg adds that the school is an especially good value for those entering science and technology majors. "When looking at schools, students should attempt to go to a school where their desired major is the most popular or the school is well-known for that major. The school's focus on your major leads to better connections in the field and, in general, a better outcome, particularly if the student wants to go on for a graduate degree," she says
The University of Florida
Location: Gainesville, Fla.
2012-2013 tuition and fees: $6,170 in state, $28,448 out of state
"Besides its strong programs in business administration, journalism and communications, engineering, and pre-health advising, the university is a bargain for in-state students and attainable for out-of-state students," says Kelly Tanabe, co-author of "The Ultimate Guide to America's Best Colleges 2013."
In addition, the university has invested more than $750 million in new research facilities, she adds.
The University of Florida is a dream for in-state students, not only because of its low tuition price, but also because it offers aid. An amazing 91% of undergrads receive grant or scholarship aid, and in-state families with incomes of $75,000 or less pay less than $4,500 per year to attend school, according to the NCES. Nearly two-thirds of all UF grads leave campus without any student loan debt.
The University of Virginia
Location: Charlottesville, Va.
2012-2013 tuition and fees: $11,794 in state, $36,788 out of state
Consistently ranked as one of the top public schools in the country, UVA boasts all-around strong academics, excellent research facilities and an enviable list of notable alumni. It also boasts a particularly strong financial aid program among public institutions.
Approximately one-third of full-time beginning undergrads receive scholarship and grant aid, according to the NCES, with the average package totaling $15,498.
One reason Kastberg put this school on her list is its high four-year graduation rate. "Graduating in four years saves students a lot of money, and (this) should be considered when looking at overall cost," she says.
The NCES reports that 87% of UVA enrollees turn the tassel in four years, and 94% make it out within six.
Pomona College
Location: Claremont, Calif.
2012-2013 tuition and fees: $41,438
Making it through the doors is a challenge -- 91% of the current Pomona freshmen class were in the top 10% of their high school class -- but the payoff is high. Pomona students enjoy small classes, a 7-to-1 student-teacher ratio and access to five different institutions.
As part of the Claremont Colleges Consortium, Pomona students may take undergrad courses on their own campus as well as at Scripps College, Claremont McKenna College, Harvey Mudd College and Pitzer College. What they don't get is the full tuition bill. More than half of the student body receives scholarship assistance, and the average grants and scholarships package tops $38,000 per year.
If a school doesn't offer the financial aid you need, "parents and students have a right to go back and negotiate for money," says Ramsdell, adding that institutions that hand out generous scholarships and grants such as Pomona may very well adjust the aid package in response.
North Carolina State University at Raleigh
Location: Raleigh, N.C.
2012-2013 tuition and fees: $7,788 in state, $20,953 out of state
Small, private liberal arts institutions can't open their doors to the majority of students, but there are deals to be had at larger state schools. The largest four-year school in North Carolina, NCSU Raleigh, offers grant and scholarship money to more than half of all full-time beginning undergrads, with the average package totaling $9,508, reports the NCES.
In addition to scholarships and grants, the school also provides opportunities for students to work off their tuition bill. "The university's Cooperative Education Program offers more than 1,000 students a chance for real-world work experience," says Tanabe.
Cooperative education programs at schools such as NCSU Raleigh, Northeastern University in Boston and Drexel University in Philadelphia allow students to alternate between studying on campus full time one semester and working a full-time paid job in their field the next.
Students get a steady paycheck, the ability to test drive their major before graduating and valuable industry contacts. In addition to investigating what happens while school's in session, students should also research co-op and internship programs, job placement statistics and the school's alumni network.