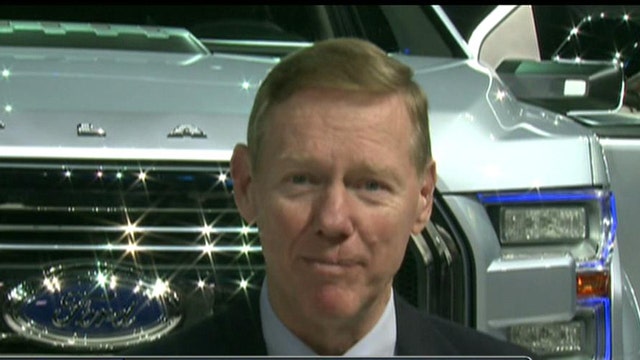 Alan Mulally, Ford (NYSE:F) CEO and President, vows the American automaker has learned its lesson from over-expansion that eventually results in layoffs.
"The fundamental transformation of Ford was to size our production and all of our capability to the real demand," said Mulally, "We're going to be laser focused on that going forward."
The automaker plans to add 2,200 white-collar positions in 2013 – its largest increase in new salaried jobs in more than 10 years. Ford's top executive is confident that the new positions will allow the company to boost production, meet the rising demand for automobiles and launch new vehicles.
Ford revealed its latest development, the Atlas Concept, at the North American International Auto Show in Detroit on Tuesday. The Atlas Concept, the vision for Ford's future F-series pickup trucks, features an emphasis on fuel efficiency – with an EcoBoost engine and aerodynamic build.
"We are already incorporating more aluminum and composites in the vehicles. Not only are they lighter weight but also very strong and durable," said Mulally.
Mulally hopes the fuel efficiency will be a factor in getting back to peak F-Series sales. In 2005, Ford sold a record 2.5 million F-series trucks, compared to 645,000 trucks sold in 2012.
"I think it will be a while before we get there," said Mulally, "Today with the improvements of fuel efficiency and quality and reliability we can economically obsolete an older vehicle with these new vehicles. There's a lot of pent up demand."
Ford Atlas Concept Features
Fuel Efficiency:
EcoBoost powertrain with Auto Start-Stop engine shutoff technology
Aerodynamic elements to reduce wind resistance
Active Grille Shutters: Automatic shutters behind the grille stay open when extra engine cooling is needed, such as during low-speed stop-and-go driving or while working in hot weather. The shutters automatically close to improve aerodynamics when cruising on the highway at steady speeds.
Active Wheel Shutters: Automatic shutters in the wheels are hidden to improve style at rest and low speeds, but automatically close at highway speeds to improve aerodynamics. Self-charging batteries use energy from the wheels' motion to power the shutters.
Drop-Down Front Air Dam: A drop-down front wind spoiler lowers at highway speeds to improve underbody airflow. The air dam is raised at low speeds to improve ground clearance – helpful for off-roading.
Power Running Boards: Auto-deploying running boards help passengers enter the truck at rest and tuck up against the truck when it is moving to improve aerodynamics and ground clearance. 
Capability Durability & Productivity
Dual-Purpose Tailgate Step and Cargo Cradle: The acclaimed Ford Tailgate Step goes a step further by adding the ability to also act as a cargo cradle – lifting and holding extra-long cargo items above the truck and freeing valuable bed space.
Trailer Backup Assist: This segment-first innovation allows drivers to back a trailer with the twist of a knob. Ford research shows that backing a trailer is often the most intimidating task a truck customer can face.
Dynamic Hitch Assist: Hitching a trailer can be time consuming and difficult. Dynamic Hitch Assist helps precisely line up the truck's hitch with the trailer coupling, eliminating maneuvering guesswork by showing visual cues in the truck's center display screen.
360-Degree Point-of-View Camera: A Ford truck first, the system gives a bird's-eye view of the truck to help position the vehicle in tight places or when there are obstacles near the truck – such as on a busy job site or grocery store parking lot.
LED Headlamps and Taillamps: Advanced LED lighting offers better road illumination than conventional halogen or HID lights and lasts longer. LED lamps also offer near-instant response, giving valuable extra warning time for following traffic.
LED Cargo Box and Side Mirror Lighting: Advanced, powerful yet efficient LED lighting brightly lights the cargo box and job site after the sun goes down with minimal battery drain compared to standard headlights or plug-in lights.
Hidden Cargo Ramps: Lightweight, durable loading ramps stowed below the cargo box can be quickly removed and set up to assist with loading wheeled items into the bed – from landscaping equipment to dirt bikes.
Source: Ford Motor Company