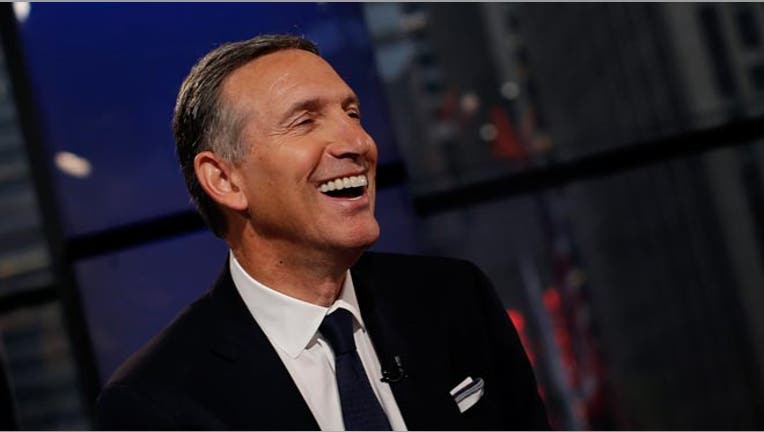 At the 2015 annual EY World Entrepreneur of the Year Awards top entrepreneurs and executives gathered from around the world to celebrate entrepreneurialism and discuss what truly sets great entrepreneurs apart.
The human side of business and leadership was front and center. During the four day event the top leaders from Starbucks (NASDAQ:SBUX), Coca-Cola (NYSEKO), and Twitter (NYSE:TWTR) each sat down for very candid conversations with EY Global Chairman and CEO Mark A. Weinberger and EY Global Managing Partner, Client Services, Carmine Di Sibio about humility, relationships, and empathy.
Howard Shultz on Humility
Starbucks (NASDAQ:SBUX) Chairman and CEO Howard Schultz made it clear he believes "businesspeople are responsible not only to shareholders, employees, and customers, but to society at large." He went on to explain that it starts with building the right foundation. Schultz believes companies have a responsibility to create "a culture and set of values where humility is the foundation" because you have to set the right tone not only for your people, but the world they touch. Schultz clearly believes you have to get culture right because as he put it "culture always trumps strategy" and you must have the right attitude at every level of the organization before you can build sustainable success.
When it comes to taking care of his people, Schultz walks the talk. Starbucks was the first company in the world to offer a college education to every employee, which is remarkable considering those employees who pursue a college education will likely move on to other careers. As for the health and well-being of the barista community, Starbucks spends more money per year on employee health benefits than they do on buying coffee beans. As Schultz put it "the equity in the Starbucks brand are the people who wear the green apron" and he is committed to taking care of that equity.
When Weinberger asked what frustrates him most, he simply responded with one word: "arrogance." "We are a performance driven organization through the lens of humanity" and there is just no place for arrogance at Starbucks.
Muhtar Kent on Relationships
"Never miss an occasion to break bread with someone else" advised Muhtar Kent, Chairman & CEO, The Coca-Cola Companies (NYSE:KO). Relationships are powerful and you cannot have success in today's world without strong partners. He shared that he actively encourages all his team members to spend more time having meetings with people external to the business because that is how you grow and foster your network of current and prospective partners who at some point may become critical to your business. AS Kent put it, "we need to meet with our stakeholders, not with each other."
Similar to Schultz the one thing that keeps Kent up at night is arrogance. "You have to carry your own bag" he explained. You should treat everyone with dignity and in a way where you expect to see them again.
Biz Stone on Empathy
In his conversation with Di Sibio, Biz Stone, Co-founder of Twitter shared his passion for fostering more empathy in the world. His latest venture Jelly Industries is focused on creating tools that will help foster empathy and create opportunities for us all to better comprehend each other in more in-depth ways. Stone believes "people are fundamentally good and if you build the right tools they will prove it every day."  The reason we often fail at building empathy is because the tools we use to communicate don't readily allow for that deeper connection and understanding that occurs when we interact in-person. He hopes to find a way to "bring nuance and emotion to communication" to bridge this gap. His hope is to at the very least "nudge the global empathy quotient a little bit."
A Winner and Model of Humanity
The celebration culminated with the selection and announcement of the 2015 World Entrepreneur of the Year Award winner, Mohed Altrad of France. A true representation of a humble leader with a passion for humanity, Altrad grew up as part of a nomadic tribe in the Syrian desert who emigrated to France at age 17 and was able to earn a PhD in computer sciences and go on to build the global powerhouse Altrad Group.
Rebecca MacDonald, Executive Chair of Just Energy Group and Chair of the World Entrepreneur of the Year Judging Panel summed him up perfectly, "Mohad has built a highly successful, fast growing international business having overcome a humble and very challenging upbringing. The judges were impressed by his ability to build and sustain growth over 30 years and by his humility and character."
Biz Stone said it best, "you have to be emotionally invested in what you are working on" and it is clear all these leaders truly are emotionally invested in the human side of their businesses and creating a better world for future generations to come.