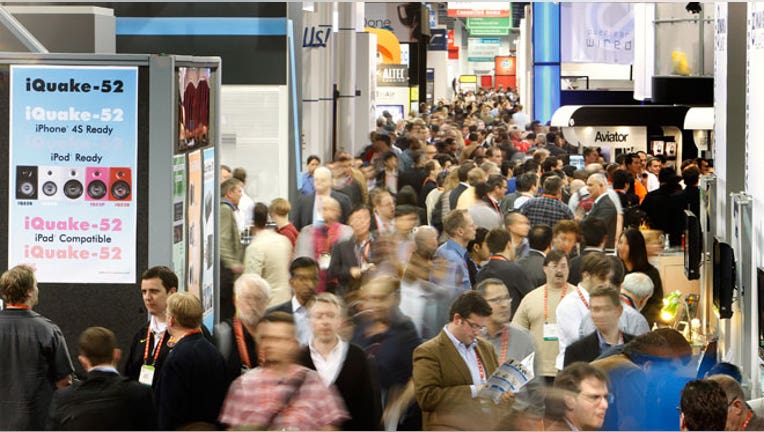 The year 2011 was heralded as yet another successful one, after having introduced a number of top-notch gadgets to the tech world.
Apple's legendary iPad was the platform for some tough competition that triggered a massive influx of top-notch products from a variety of contenders.
Amazon's Kindle Fire set the benchmark for low-cost gadgets packing state-of-the-art features and even wound up with an edge over many high-end cousins.
While the iPad3 may not have made its highly-anticipated appearance at the 2012 Consumer Electronics Show (CES) that was held in Las Vegas, other manufacturers showcased an exciting range of light and more powerful gadgets. These new gadgets will be among the first to sport Android's newest mobile operating system - the Android 4.0 Ice Cream Sandwich (ICS) operating system.
Here is a rundown of the top five devices displayed at the CES and expected to arrive sometime this year...
ASUS eee Pad Transformer Prime TF700
Just a month after ASUS officially launched the Transformer Prime, the computer titan has now rolled out an upgraded version of the tablet - the ASUS eee Pad Transformer Prime TF700. The hottest new feature of the TF700 is the 1,920x1,200 pixel resolution Super IPS+ display. The TF700, in addition, will launch on the ICS platform.
The tablet, like the original Prime, is powered by a quad-core 1.3GHz Nvidia Tegra 3 processor and sports a new back-panel design that should allow for better GPS, Wi-Fi and Bluetooth performance. Other features include a 2 megapixel camera with a keyboard dock accessory similar to the existing model.
The TF700 is expected in the second quarter of 2012 and will retail for $600 (32GB) and $700 (64GB).
Samsung Galaxy Note
The Samsung Galaxy Note is the hybrid of a smartphone and a tablet... all packed into a very snappy device.
The device sports a 5.3-inch WXGA Super AMOLED HD display, with 1280×800 resolutions at 285 ppi density. The gadget runs on the Android 2.3 Gingerbread software but is expected to receive an upgrade to the ICS OS sometime soon. The Galaxy Note is powered by a Qualcomm MSM8660 1.5GHz dual-core processor and has 16GB of memory that is expandable to 32GB, via a microSD card. Other features include a fairly standard 2 megapixel front-facing camera backed by an 8-megapixel unit at the rear.
The Galaxy Note coming to the U.S will run on AT&T's network. However, neither Samsung nor AT&T has revealed details on price and release dates.
Toshiba Excite X10
Toshiba unveiled the thinnest tablet, so far. The device weighs just 558g and is 7.7mm thick. The Honeycomb OS-based tablet features a brilliant 10.1-inch 1280×800 resolution display and is powered by a 1.2GHz dual-core TI OMAP 4430 CPU. Other features include a microUSB port, a microSD and a microHDMI slot, along with Bluetooth and Wi-Fi. The Excite X10 also sports a 2 megapixel front-facing camera and a 5 megapixel rear-facing camera, which captures 720p video. Toshiba have announced the tablet will debut in the spring of 2012. Furthermore, according to the company, the tablet will either launch with ICS or be upgraded shortly after.
The tablet will retail in both 16GB and 32GB models, at $530 and $600, respectively.
Acer Iconia Tab A700
According to reports, the Acer Iconia Tab A700 is powered by 1.3 GHz quad-core Tegra 3 processor built on the NVIDIA chipset with 1GB of RAM. Other key features include a vivid 10.1-inch 1920x 1200 pixel resolution HD display, a 5 megapixel camera, a micro USB port, a SIM card slot and a micro HDMI connector. If early reports are to be believed, the A700 is also expected to get the ICS update soon after its launch.
ASUS ZTE T98
ASUS ZTE's T-98 is all set to be something of a hit with all the tech geeks out there, considering it packs the famed Nvidia Tegra 3 quad-core processor and runs on ICS software, all at a price tag of $249. As per reports, the 7-inch tablet is said to sport a sharp 1,280x800 pixel resolution LCD display and includes a handful of the required ports - microSD, SIM card slot and HDMI output. Additionally, it is further believed the device will feature a 1.3 megapixel front-facing camera and a 5 megapixel rear-facing camera, capable of recording videos at 1080p.
ASUS has not disclosed details on pricing or date of launch, as yet.