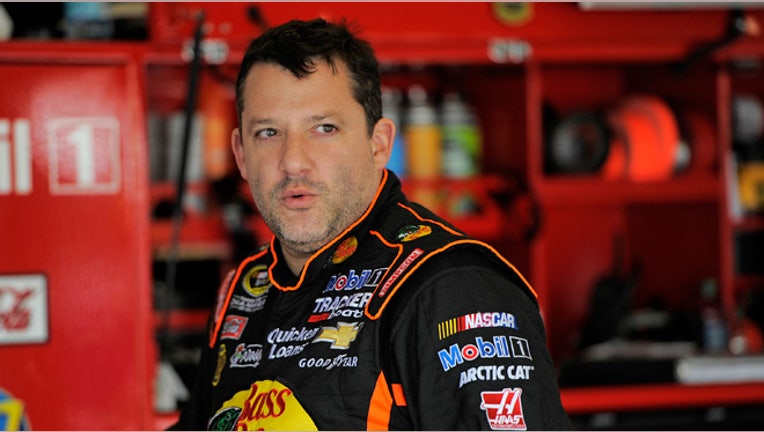 The death of a dirt-track racer who was struck by NASCAR driver Tony Stewart has brought safety back to the forefront, potentially spurring changes to the sport and its business.
Stewart was racing at the half-mile Canandaigua Motorsports Park in New York on Saturday night when he got tangled up with a car driven by Kevin Ward Jr. The 20-year-old driver exited his sprint car, walked toward the middle of the track and angrily gestured toward Stewart.
After one driver narrowly missed hitting him, Ward was struck and killed by Stewart's car. Police questioned Stewart, with Ontario County Sheriff Philip Povero calling him "visibly shaken" by what happened. Povero said no charges are being filed as of now.
Stewart was slated to race in the Cheez-it 355 at Watkins Glen the next day. Stewart, who drives the No. 14 Chevrolet in NASCAR's Sprint Cup Series, pulled out of event.
The incident raised questions over how NASCAR might further address safety on the track, and whether Stewart's sponsorships could be on the line.
It was a tragic accident that happened and it is an emotional time for all involved. Our partners realize this and we continue to be in close communication with all of them.
Stewart has interests in short tracks around the country and, along with Gene Haas, co-owns his own racing team, Stewart-Haas Racing. The team races four cars driven by Stewart, Danica Patrick, Kevin Harvick and Kurt Busch.
NASCAR drivers are known for their close relationships with fans. Stewart, who regularly competes against amateur drivers in small races, is one of the most visible drivers in the sport. His loyal fan base is something sponsors like Mobil 1 and retailer Bass Pro Shops surely appreciate.
"One of the things that makes NASCAR special is its connection to fans and the grassroots. It would be like Major League Baseball players routinely going back and playing in the minor league system," said Ramsey Poston, the president of communications firm Tuckahoe Strategies.
Stewart-Haas Racing has been in close contact with its corporate partners, according to executive vice president Brett Frood.
"While they are all thinking about the family and friends of Kevin Ward Jr., they also care about the emotional well-being of Tony, and they are very supportive of him during this difficult time," Frood said in a statement. "It was a tragic accident that happened and it is an emotional time for all involved. Our partners realize this and we continue to be in close communication with all of them."
Frood also said Stewart and the team have "forged strong partnerships over the years." Those relationships "transcend professional and business objectives and possess pillars of friendship, loyalty and genuine caring for one another," he added. "Tony is an individual with strong moral fiber and authenticity, and his partnerships are fostered from these principles."
Staying Close to Fans
Despite the potential dangers of racing in events outside of the Sprint Cup, it's hard to imagine that teams will ask drivers to forgo local races, Poston said.
"Sponsors have invested so heavily because of that connection between drivers and fans. If you start chipping away at that, you start losing that equity," said Poston, a former NASCAR executive who first worked with the sanctioning body after Dale Earnhardt's death in 2001.
But Stewart has also been a controversial figure. Known for his confrontations with other drivers, Stewart got into a shoving match with Joey Logano at the Auto Club 400 last year. He also had an exchange with Kurt Busch following another race. Busch joined Stewart-Haas racing for the 2014 season.
"Conflict between drivers is not going away. There are some sponsors in the past who have had relationships with Tony who haven't been thrilled with his on-track antics. In the same sense, other sponsors view that as part of his brand," said Kevin Adler, the president and founder of Engage Marketing.
Meanwhile, Stewart's participation in local short-track races has made headlines before. He suffered a compound fracture to his right leg during a race in Iowa last summer, ending his NASCAR season. In July 2013, Stewart was involved in an accident that injured a 19-year-old driver at Canandaigua.
Adler said Saturday's incident in New York doesn't appear to be a "byproduct of Tony Stewart's history of conflicts," adding that Stewart "is handling it as well as can be expected."
"I don't think marketing is on his mind right now," Adler remarked.
"There aren't words to describe the sadness I feel about the accident that took the life of Kevin Ward Jr. It's a very emotional time for all involved, and it is the reason I've decided not to participate in today's race at Watkins Glen," Stewart said in a statement. "My thoughts and prayers are with his family, friends and everyone affected by this tragedy."
It remains unclear if Stewart plans on racing in the Pure Michigan 400 on Sunday. The 43-year-old driver did drop out of a dirt-track race scheduled for this weekend at Indiana's Plymouth Speedway, according to a statement on the track's website.
Changes Coming to NASCAR?
Poston said NASCAR has historically responded to concerns over the safety of its races, regardless of whether an accident happens at a NASCAR event or another competition. He expects NASCAR executives to discuss whether they need to do something differently to ensure the safety of drivers and fans.
"There's a very good chance, even though it didn't happen at a NASCAR event, they're going to look at the rules and regulations when drivers get out of cars," Poston explained.
After Earnhardt and several other drivers died between 2000 and 2001, NASCAR prioritized the development of a new generation of vehicles that provided more safety features, including a new roll cage. The sanctioning body also changed regulations pertaining to seats and seatbelts. In 2002, tracks used by NASCAR, IndyCar and other circuits began installing steel and foam energy reduction (SAFER) barriers that are designed to absorb the impact of a crash.
NASCAR is now using its sixth generation of vehicles that include additional safety enhancements, as well as exterior designs that more closely resemble stock cars found in dealer showrooms.
NASCAR declined to comment on potential rule changes or the impact on sponsorships. In a statement issued on Sunday, NASCAR offered its condolences to Ward's family.
"We support Tony Stewart's decision to miss today's race and we will continue to respect the process and timeline of the local authorities and will continue to monitor this situation moving forward," NASCAR said.
Adler noted how NASCAR already discourages deliberate contact between race cars, even though it will always remain part of the sport. He also said NASCAR may look at its rules covering when a driver can get out of the car.
While Stewart's immediate future is uncertain, Adler believes the three-time Sprint Cup champion will eventually return to the track this season. The Sprint Cup has just four races left until the Chase for the Sprint Cup, a 10-race playoff that will determine this season's champion. Only four spots in the Chase are still up for grabs.
"I would expect Tony Stewart to be back in the car this season," Adler predicted. "I expect him to be same competitive, aggressive driver he has always been."