TOMS Debuts the 'TOMS of Coffee' at SXSW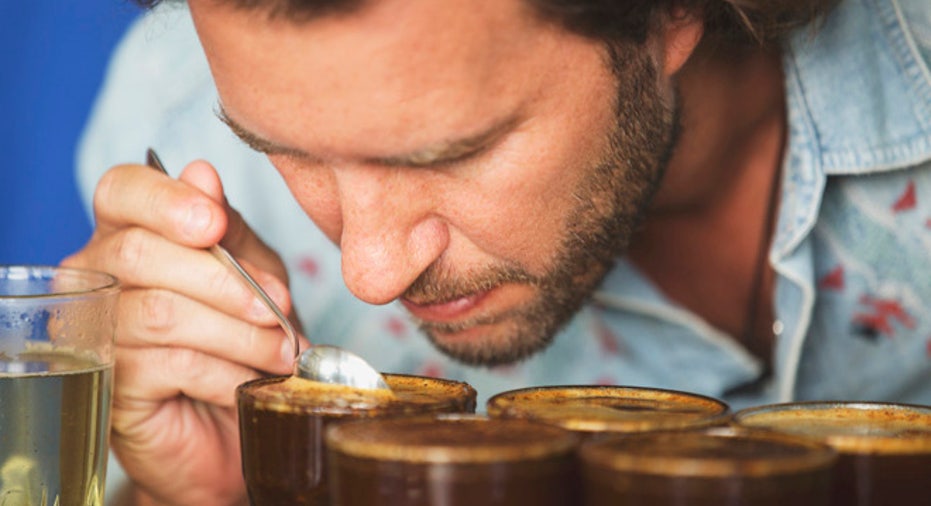 At South by Southwest (SXSW) in Austin, Texas this week, TOMS CEO Blake Mycoskie introduced the company's latest giving initiative: "Coffee for you, Water for all."
TOMS Roasting Co. will be the third product line for the brand that is famous for its social innovation and signature One-for-One business model. For every bag of coffee purchased, TOMS says it will provide one week of clean water to someone in need.
"We [will] buy the coffee from the farmers and then give back to those communities by investing in clean water projects," Mycoskie tells FOXBusiness.com. "It's ironic how much water [coffee growers] use to preserve the beans and prices, yet five kilometers away there are kids getting sick for lack of clean water."
Mycoskie says seeing the impact coffee farmers can make in areas of need is what led them into this phase.
"We've learned a lot through our Shoe and Sight Giving about what truly transforms communities in need -- and it was important that the next One for One [product] support economic opportunity," the Texas native said in a statement following the announcement.
The main ingredient in coffee is water, but in many developing countries where the bulk of coffee is grown, there is a striking percentage of the population without clean water access. There are 1.8 billion people around the world with no access to clean water and 2.5 billion people lack adequate sanitation facilities, according to a study by the University of North Carolina.
TOMS is teaming up with Water For People to address this need.
"The support TOMS provides Water For People is going beyond providing safe water, it's also helping our endeavors to provide long-term water solutions," Ned Breslin, CEO of Water For People, said in a statement.
One for One
The goal for the TOMS Roasting Co., which has been one year in the making, is to spur economic growth in developing countries by "creating a little more intimacy" with the coffee people drink every day, Mycoskie explains.
The process begins with TOMS sourcing and purchasing beans from partner coffee growers -- through Direct Trade efforts -- in the same five countries where clean water initiatives will be introduced. The beans are then shipped back to the U.S. to be roasted by TOMS' master roaster Angel Orozco.
The first batch of premium coffee varieties TOMS will offer come from Rwanda, Malawi, Honduras, Guatemala and Peru.
Whole bean or ground bags of TOMS Roasting Co. will be available for coffee connoisseurs to purchase on the TOMS website and at TOMS Cafés, as well as at Whole Foods Market for $12.99 for 12oz.
Beyond coffee and apparel, TOMS is expanding its retail footprint with a handful of TOMS Cafés that blend community and shopping in one space. Currently there are locations in Los Angeles and Austin, and cafés in New York, Portland and Tokyo are coming soon.
"People are yearning for an artisanal coffee experience, which they can now get at TOMS," Mycoskie says.
In addition to individual purchases, TOMS launched a Roasting Club through which people can sign up to receive personalized premium roasts each month, or gift a coffee club membership to somebody else. Club members will also receive periodic updates on the farmers and water projects their purchases are helping to support.
"Giving somebody shoes, you have to know their size; and giving somebody glasses, you have to know their taste; but giving somebody coffee is giving a gift that lasts," he says.
Subscriptions are available for three, six and twelve month packages, and range from $11.99 to $16.49. Mycoskie also revealed at SXSW that TOMS plans to push one new One for One venture each year for the foreseeable future.
Founded in 2006, TOMS promised that for every pair of shoes sold, a pair of shoes would be provided to a child in need.  In 2011 TOMS rolled out its sunglass venture, which follows the same One for One model, replacing shoes with glasses and instead providing eye care for people in need.
Since its launch, TOMS and its Giving Partners have donated 10 million pairs of shoes and helped restore sight to more than 200,000 people around the globe, according to the company.
"It's so disruptive and different from what people expected us to do next," Mycoskie says. "But we think there's a real opportunity to be a big player in the coffee space."