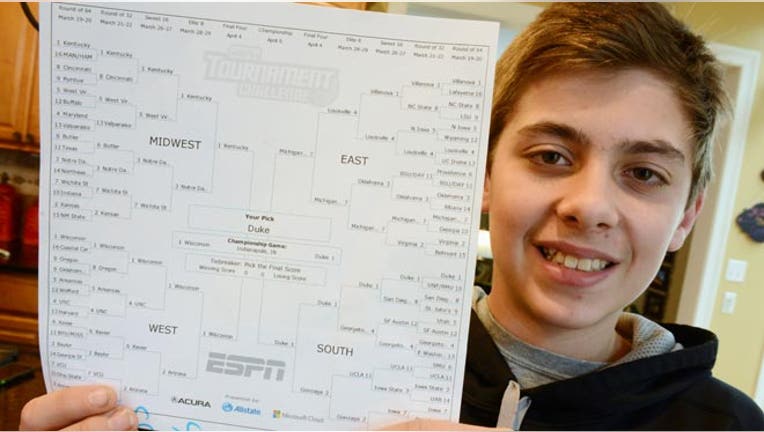 Most of us tried, and failed, to come up with a winning March Madness bracket. Except Sam Holtz—a sixth-grader from Hawthorn Woods, IL, who tied for first in the ESPN NCAA men's basketball bracket, where he predicted Duke's win against Wisconsin in the finals. He beat out over 11.5 million entries.
ESPN officials told Holtz that is he ineligible to claim the top prize—a $20,000 Best Buy (NYSE:BBY) gift card and a trip to the Maui Invitational basketball tournament—because he's under the minimum age requirement of 18 years old. But, he's not letting it get him down. "Well I just used my dad's email, I never expected to even come in first place and I thought I was just doing it with friends," Holtz said in an interview with FOX and Friends. Holtz managed to only miss six games out the 67 in the tournament. He was perfect in picking games played in the Sweet 16, Elite Eight and Final Four. So, how did this suburban Chicago kid do it? Here's tips from the whiz kid himself provided via email exclusively to FOXBusiness.com.1. Pick the teams that you want to win. Don't overthink it, just pick. March Madness is a tournament that no one knows the outcome of. No matter what the matchup is, ether team has a chance. You might as well go with the teams you want to win.
2. Be careful of upsets. You may be the kind of person that picks the higher seed to win every time. Makes sense right? Well, it turns out that there is always an upset somewhere in the tournament, you just never know who. You can be all in for number 1 seed and have them win it all cause they are best team right? Well, right when you say that--they lose the first round.
3. Don't listen to anyone about picking your bracket. With all due respect to the ESPN analysis, in reality, they don't know who will win the games. Don't just go search up who most people have to win the game, do it yourself. In fact, this may sound like I'm lying but when I was making my bracket, I was about to pick UAB over ISU but one of my friends said I was crazy, then I changed my pick. Holtz's next adventure? Baseball. "It's my favorite sport and I'm a huge Cubs fan."