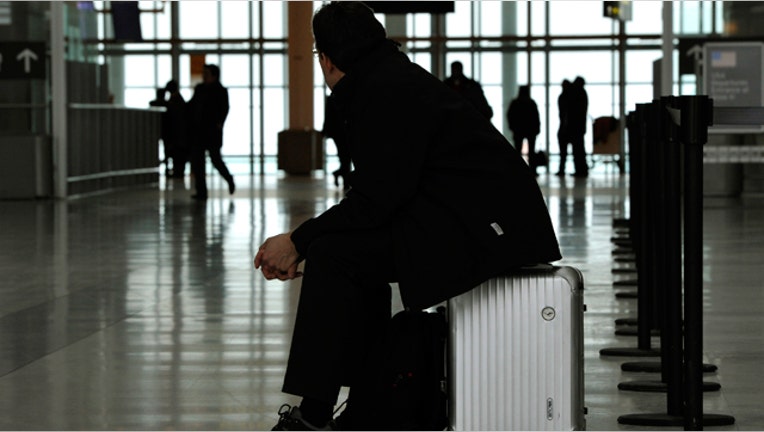 Growing up is tough enough without the worries of your financial future, so Money101  is here for you. E-mail us your questions and let us take off some of the pressure.
Spending a semester in Paris, London or Milan provides learning adventures and experience living in a different culture, but studying abroad comes at a hefty cost and often delays graduating on time if not planned carefully.
A fall 2011 online survey conducted by the Institute of International Education in cooperation with the Forum on Education Abroad showed that more than 53% of responding campuses said they had seen an increase in the number of students studying abroad in the 2010-2011 school year compared to the previous year.
Despite the opportunity for personal, intellectual and cultural growth, traveling across the globe for a semester or even a few weeks racks up a lot of bills, says Chuck DelCamp, product manager at StudyAbroad.com.
"Your experiences from studying abroad will stay with you forever, the cost however, should not," says DelCamp. "While you're abroad you will want to be able to enjoy your experience and not worry about money. A good financial plan, a solid budget, and savings can help make your trip smoother."
To efficiently plan out a semester abroad and avoid serious debt, here are tips from study abroad experts on how students can finance their trip.
Tip No.1: Plan Early and Break Down Cost
Students should start planning their trip abroad as soon as possible, but at least 12-18 months in advance, says Sean Lennon, managing director and co-founder of The Education Abroad Network.
"Along with talking with their academic program advisors about the course work they need to undertake to allow them to study abroad, it's equally as important to research the various aspects of financing their program as early as possible," he says.
It's crucial for families to factor in the total cost of attendance of a semester abroad, says Steve Nussbaum, director of student international academic affairs at the University of Illinois.
"[It's] the amount of money it takes to support a student over a semester, and therefore that includes books, room and board, tuition, it includes travel home at Thanksgiving…and then the total number of dollars that that student will consume over the course of the semester," he says.
"To the extent that students know what that figure is, that really should be the baseline figure that they need to think about."
In addition to consulting with a study abroad advisor and financial aid counselor to get specific destination options, financing alternatives, transferable course listings and housing availabilities, DelCamp also suggests reaching out to former study abroad students to get more of a personal perspective.
Tip. No.2 Apply for Scholarship, Grants
Once students calculate how much money they need to finance their time overseas, students should find applicable scholarships and grants to fund the venture.
Students should reach out study abroad advisors, the campus financial aid office, academic departments, civic and religious organizations, campus clubs, companies for which the student or parents work, national organizations, and through online research, suggests Lennon.
"Scholarship money doesn't always have to be exclusively for study abroad--a student might find a scholarship for 'a female from California, studying engineering' that could apply," he says.
Some colleges like the University of Illinois offer student-funded scholarship programs built into tuition costs, says Nussbaum, where an additional $5 a semester per student can help others fund a trip overseas.
Many programs and organizations that support location-specific scholarships, such as Freeman-ASIA for students studying in East or Southeast Asia, provide scholarships for U.S. undergraduate students based on financial need or merit.
For those eligible for Pell grants, programs like The Gilman Scholarship Program offer awards for undergraduate study abroad says Lennon.
Tip. No 3 Apply for Financial Aid, Loans
Before making any commitments, students should talk with their financial aid office to learn about their financing options--every institution has different rules for aid packages while abroad.
"In some cases it can be used on exchange or affiliated provider programs, while in other cases it can't be used at all," says Lennon. "This all relates to the research that students need to do early in the process [so] there are no surprises and they understand the options available to them."
For students considering taking out loans, Lennon emphasizes they read, understand and calculate their repayment options and total cost.
"It's crucial that they shop around and understand that in most cases, they need to be paid back immediately upon the completion of their degree or if they for some reason stop attending school prior to completing their degree," he says. "The credit of the student and co-signer can also have a significant impact on the interest rate of the loan."
Tip. No. 4L Find Alternative Aid Sources
Some professional organizations, groups, and networks will help send students interested in specific fields to study overseas.
Students can find additional funding by sharing their plan of why they are going abroad and what they hope to accomplish or learn with their personal and professional network, says DelCamp.
"By networking you might find an interesting source of funding--you can also ask friends and family to sponsor your trip in exchange for an awesome souvenir," he says.
Depending on the destination country's economy and work visa stipulations, students may be able to work part time while studying abroad, says Lennon.
"If they are considering working, students need to research the laws in their host country to see if paid work is a possibility and what they need to do to be in compliance with the local laws."