Tim Tebow Takes a Swing at New Career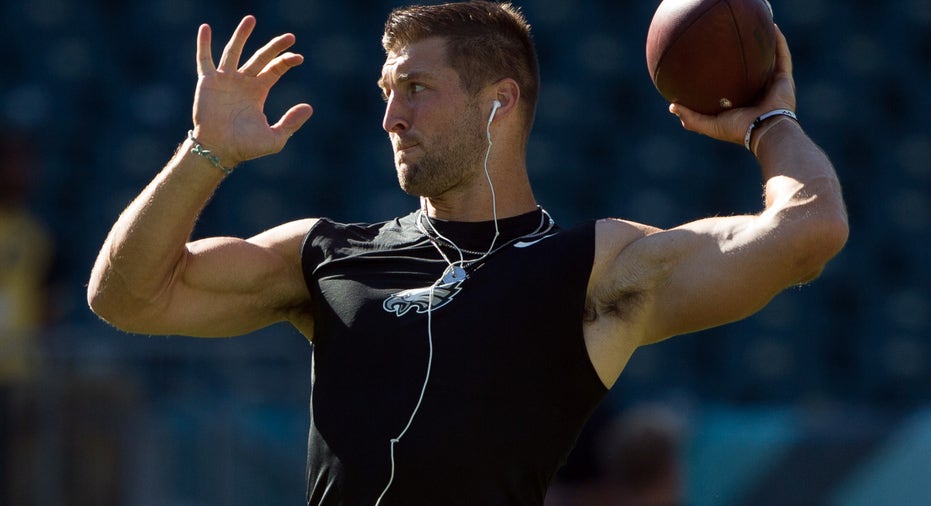 Tim Tebow wants to get back onto the field—just not the field you think.
The former NFL quarterback, who made a comeback attempt with the Philadelphia Eagles a year ago, now has aspirations to start a new career in baseball. Tebow has been working on his baseball skills in Arizona and California for nearly a year, and some former players believe he can eventually make it to Major League Baseball.
Agent Brodie Van Wagenen of CAA said Tebow is committed to becoming a professional baseball player.
"This may sound like a publicity stunt, but nothing could be further from the truth," Van Wagenen said in a statement, according to FOX Sports. "I have seen Tim's workouts, and people inside and outside the industry – scouts, executives, players and fans – will be impressed by his talent."
He added that Tebow "knows the challenges that lie ahead of him given his age and experience, but he is determined to achieve his goal of playing in the Major Leagues."
The news was first reported by ESPN (NYSE:DIS), which said Tebow's representatives will invite all 30 MLB teams to a workout at the end of August.
Former MLB catcher Chad Moeller believes Tebow could rise up the ranks "relatively quickly" based on his baseball talent and work ethic. Tebow has trained at Moeller's Scottsdale, Arizona-based facility, Chad Moeller Baseball, for the past two months. Gary Sheffield, another former MLB player, gave his vote of approval in a post on Twitter (NYSE:TWTR).
I spent time w @TimTebow in the cages recently, he's a NATURAL. I absolutley believe in his ability to play in the bigs. Tim has IT #focused

— Gary Sheffield (@garysheffield) August 9, 2016
Baseball isn't entirely a new venture for Tebow, who was a standout on his high-school baseball team. The left fielder hit .494 with four home runs in his junior year, leading Allen D. Nease High School of Ponte Verde, Florida, to the final four of Florida's state playoffs. The Los Angeles Angels reportedly were interested in taking Tebow a year later in the draft, but he chose to focus on football as a senior.
Tebow, who turns 29 years old on Sunday, is in line to make $507,500 a year if he makes it to the big leagues. If teams have any interest, a minor-league deal is more likely to start. Minor leaguers make approximately $1,000 to $3,000 a month before they earn a spot on the big-league club's 40-man roster. When a player makes the cut, his salary jumps to about $42,000 a year and doubles in his second season on the 40-man roster.
Tebow already has at least one baseball offer. The Schaumburg Boomers, a team in the independent Frontier League, said Tuesday they extended a contract offer.
During his NFL career, Tebow made $8.7 million guaranteed under his rookie contract signed with the Denver Broncos. The five-year deal was worth $11.25 million, and it included incentives that raised its max value to $33 million.
Tebow, who won a Heisman Trophy and two national championships at the University of Florida, was drafted by the Denver Broncos in 2010. He was inserted as the starting quarterback in the middle of the 2011 season. In his first game as an NFL starter, Tebow and the Broncos rallied in the finals minutes to beat the Miami Dolphins. Tebow then quarterbacked the Broncos to four straight come-from-behind victories late in the season, propelling Denver to the playoffs. An overtime win over the Pittsburgh Steelers in the first round added another chapter to an incredible run for Tebow's Broncos.
But the Broncos opted to sign Peyton Manning as their next quarterback and traded Tebow to the New York Jets, where he served as a backup. Tebow was released in the offseason, missed the cut for the New England Patriots in 2013, and didn't make the Eagles out of training camp in 2015.
Tebow, who has a large following particularly among Christian groups, has continued to work on other ventures since his last attempt at getting back on an NFL roster. The current ESPN analyst was also on TV building homes as the co-host of the FOX reality show "Home Free." His second book, "Shaken," is due out in October. Organizations can hire Tebow for speaking gigs. Autographed items from helmets to footballs are sold through Tebow's website.
The Tebow Foundation and CURE International partnered to build the Tebow CURE Hospital for children in the Philippines, where Tebow was born. He is known for other philanthropic efforts as well. In 2013, Florida Gov. Rick Scott designated Tebow a "Great Floridian," citing his charity work in Florida.
During his time on the gridiron, Tebow signed a sponsorship deal with Nike before the 2010 draft, followed by endorsements with TiVo (NASDAQ:TIVO) and clothing company Jockey International.